Best Times To Find Deals In 2016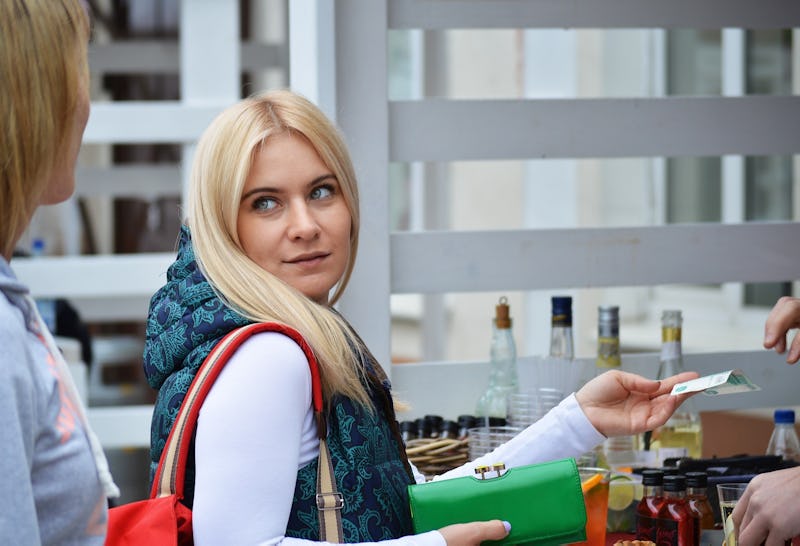 I've always been a "buy things as I need them" type of shopper because who wants to pick up Christmas decorations when barbecues and picnics are the only things on your mind? Lately, though, I've been keeping a close eye on the "Best Time To Buy Things During The Year" lists. It turns out that a little bit of planning can save you loads of money in the long run. You just have to know the best time to buy things you know you'll want later, and when to hold off on the "check out" button until a later date.
Sometimes, the rules of the seasonal shopping game can make tons of sense, and sometimes the best times to find cheap deals can be super counterintuitive. It's a careful balance of opportune sales and supply and demand, and it's hard to tell which one will dictate great deals. For instance, sometimes an approaching holiday means that you'll be able to pick up items at an awesome price (like when a store has a 50 percent off Father's Day sale), and sometimes an approaching holiday means that you'll be paying $40 for an inflatable snowman instead of $4. Either way, once you get into the swing of things, you'll be sure to save loads of money across the board. Check out these awesome things to buy this coming summer, as well as the products to look out for within the next few months.
1. Swoop In Early For Back-To-School Deals
Vbiger Canvas Backpack, $19 (from $29), Amazon
Back-to-school might seem like it's a ways off, but you can save yourself time and money by diving in before the September rush, especially on things like backpacks. This Vbiger canvas backpack is ridiculously cute and durable, and it's a functional way to hold all your books while still looking mature and classy. It comes in 20 different designs, and reviewers say it's got room for everything they need. There are also steep discounts on more sophisticated styles, like the below.
Kenox Vintage Leather Backpack , $26 (from $90), Amazon
For a work-ready pack, this vintage leather backpack is a durable and stylish choice. One reviewer said it comfortably fit their 13-inch Macbook, books, and phones. Plus, you can get it on Amazon Prime within two days.
Vibrant Colors 48 Colored Pencils , $22 (from $50), Amazon
Back-to-school deals also include school supplies themselves, and if you're on board with the current adult coloring book trend, then you can benefit from the ridiculously inexpensive and intensely-vibrant colored pencils on sale now.
2. Get Great Deals On Lingerie In June
Just Intimates Bras for Women (32A-44DD), $20-$30 (from $50), Amazon
June marks Victoria's Secret Semi Annual Sale, which means that lingerie prices plummet across the board to compete. Get a great deal on classy and comfortable lingerie with this six pack of Just Intimates bras. Because they're well made, super comfortable, come in all different colors, and provide just the right amount of support, reviewers are completely ecstatic.
3. Go For Outdoor Decorations In July
Globe Outdoor Solar String Lights, $15 (from $60), Amazon
July is right in the middle of wedding season, which is why decorative items like these Globe Outdoor solar string lights are an awesome buy. They'll instantly transform any backyard or indoor space with their whimsical yellow glow, but here's the best part: They're solar powered, so no clunky extension cords or annoying plugs.
Fire Sense Roman Fire Pit, $69 (from $130), Amazon
If you're a fan of s'mores or simply keeping things toasty outside, now is the time to get the fire pit. This one is designed to look like antique bronzed steel, and brush painted steel legs add a stylish touch to the functional backyard essential.
4. Get The Biggest Bang For Your Buck This July With Outdoor Projects
Eco-Safe Wood Stain Treatment, $20, Amazon
July is a great time for home-improvement projects, as a little maintenance in the beginning of the summer can keep things going smoothly all season. This eco-safe wood stain treatment is safe for children and pets, and it works wonderfully on everything from decks to picnic tables. It penetrates your wood to protect it from the inside out, and it's a great way to makeover your backyard in preparation for all those barbecues.
Vremi 9-Piece Garden Tools Set, $35 (from $70), Amazon
Now is the time to get that green thumb of yours in gear. This gardening set offers you all the tools you need for the garden of your dreams, so get to stress-relieving and join the other reviewers who are singing the praises of every gadget's carefully crafted detail.
5. Shop For Your Bathing Suit Before The Fourth Of July
Cocoship Retro 50s Floral High Waist Bikini (S-4XL), $24, Amazon
With the Fourth of July quickly approaching, you can get a great deal on some much-needed swimwear. This Cocoship Retro 50s Floral High Waist Bikini is crazy popular because it comes in eight different patterns, seven different sizes, fits wonderfully for any body shape, and is made from a high-quality material that stays put.
Cideary Cutout One Piece (Sizes S-XL), $26 (from $73), Amazon
This one piece is the perfect style for anyone who wants more coverage than a bikini with a few skin-baring cutouts. The top portion even has underwire support, while the nylon and spandex fabric will keep you cool and comfy.
6. Buy Your Tools In The Summer
Cartman Orange 39-Piece Tool Set, $22 (from $30), Amazon
Father's Day might be over, but tools tend to stay on sale throughout the summer months. This Cartman 39-piece tool set is marked down 27 percent, and it contains absolutely everything you'll need for any DIY project around the house. The tools are super durable, chrome plated, and fit in their own space-savvy box for easy travel and storage.
7. Shop For Organizational Products Alongside College Students
ClosetMaid Cubeicals Fabric Drawer, $4 (from $10), Amazon
August is a great time to save on any and all things organizational, as suppliers know that college kids are out looking for ways to organize their dorms. These ClosetMaid fabric drawers give any room a pop of color, all while keeping your clutter organized and out of sight. They come in countless colors and designs, and are durable, well-designed, and eye-catching.
8. Stock Up On Wine Gadgets Before September
Oster Rechargeable and Cordless Wine Opener Chiller, $30, Amazon
Come September, wine-harvesting season is in full swing, and that's why this Oster rechargeable and cordless wine opener chiller is a great buy. It opens all bottles with the touch of a button, and it includes a stainless steel chiller that keeps your beverages cold for hours. It's entirely rechargeable and wireless, and one reviewer said that it makes such an awesome gift, she's "purchased more than 5 for friends, clients and family."
9. Shop For Kitchen Essentials Way Before The Holidays Start
Wishstone Nessie Soup Ladles, $13 (from $30), Amazon
The holidays seemingly come earlier and earlier every year, and that's why October is a great time to find some serious deals on kitchen accessories. These Wishstone Nessie soup ladles are totally on my wish list this fall, so I can cook my autumn and winter soups in style. They stand up straight in your cookware so you don't lose them, and they're also non-toxic, dishwasher safe, and beyond adorable.
10. Prepare For December With Awesome Travel Gadgets
Knomo Balham Knomad Mini Portable Organizer, $60, Amazon
December is an ideal time for travel, as flight prices are at the lowest point all year. Organize all your carry-on gadgets in one place with this fashionable and sleek Knomo Balham Knomad mini portable organizer. It's got room for an eight-inch tablet, your smartphone, your passport, your cards, your cables, and your pens all in one place for the easiest, most hooked-up flight ever.
Rockland Luggage Melbourne (3-Piece Set), $130, Amazon
Deals on luggage can be scored before you book the trip — this lightweight three-piece luggage set has spinner wheels for easy navigating through crowded terminals. Plus, you can pick your favorite from 17 colors, and reviewers are saying it's this feature that makes them their go-to picks for travel.
Bustle may receive a portion of sales from products purchased from this article, which was created independently from Bustle's editorial and sales departments.
Images: quinntheislander/Pixabay; Amazon (16)