One '90s Fashion Trend That Deserves More Credit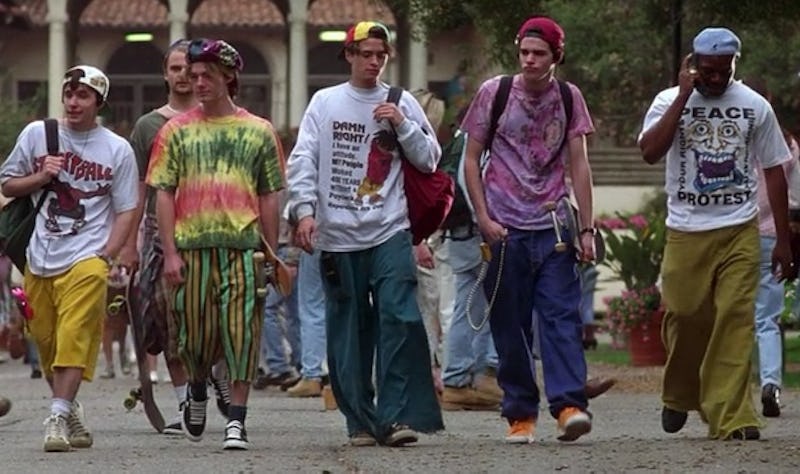 Let's just say the world seems to be in an open relationship with '90s fashion. One minute, platform shoes and chokers are religiously worshipped, the next, bucket hats and baggy shorts are savagely slandered. What is the deal with '90s trends, anyway? If anything, the dynamic is of the love/hate caliber — at the same time that shoppers are team mom jeans, they are also anti-windbreaker track suits (and honestly, I can't blame them).
However, beyond the classic fare of flannels and Dr. Martens is a somewhat underrated '90s fashion trend. No, not overalls, not slip-on sandals, but wait for it — everything tie dye. Yes, I'm talking about that glorious psychedelic pattern — the kind that translates to childhood DIY projects, the vintage '70s section at the thrift store, and lava lamps. And probably waterbeds. Personally, I'm all for tie dye, though the '90s spin on it was definitely another story.
From the backwards cap to the oversized tee, tie dye came in countless varieties in the '90s. That's the beauty of it — everyone had their own way of playing the color game. I mean, why settle for all-black when you can rock fifty shades of the rainbow? Though tie dye is often overshadowed by other '90s trends, I am here to give it the voice it rightfully deserves.
Don't let its trippy hues daunt you — tie dye may have lingered on the garish side decades ago, but modern tie dye is on a completely different level. Even then, I'll still gladly take a dose of '90s tie dye, I'm a sucker for nostalgia... and evidently, looking like the human version of ROYGBIV.
Presenting: ten reasons why tie dye is the one '90s fashion trend that deserves more credit.
1. Because of Sam Anders from "Clarissa Knows It All"
And not only that, but Clarissa Darling has it all — a best friend who aces the backwards cap look and restored my love for everything tie dye — yes, please! Also, is it normal if Sam Anders was responsible for your sexual awakening in the '90s? (Just asking for a friend)
2. Because You Can DIY It
If I can craft up a mean tie-dye tee right in my own backyard, then I'm all game. It's all about customization and convenience.
3. Because You Can Update Your Old Band Tees
Nirvana Smiley Logo Tie Dye Shirt, $5.51, etsy.com
You no longer have to fear about old concert tees collecting dust in the back of your closet. Simply re-purpose with a serving of tie-dye and you'll instantly have a new addition to your wardrobe.
4. Because Tie Dye Doesn't Always Mean Wearing The Rainbow
Surf Gypsy Tie Dye Beach Romper, $65, asos.com
If you're a recent convert to tie dye dressing, take it slow and steady with a muted palette.
5. But You Can Rock The Rainbow If You Want
Boohoo Tie Dye Denim Dungaree Shorts, $40.44, asos.com
On the contrary, if you're a seasoned tie dye expert, go all out and proud with an eye-striking design. Monochrome fans need not apply.
6. Because The Perfect Summer Beach Towel
Seafolly Tie-Dye Round Towel, $108.37, asos.com
Up your next beach trip with a touch of the '70s — this tie-dye beach towel not only makes for a chic alternative to your normal beach towel, but doubles as an Insta-worthy photo op.
7. Because of The "Clueless" Guys
Even the (cinematic) male population in the '90s was not immune to the contagious tie-dye trend — and the baggier the shirt, the better.
8. Because, Hello Hats
Empyre Breezy Tie Dye Hat, $9.97, zumiez.com
Now even your tresses can be graced by the wonder that is tie dye.
9. And Hello Swimwear
Blue Life Malibu Crush Tie Dye Bikini Top ($109.18) and Bikini Bottom ($84.11), asos.com
I've been eyeing tie dye print bikinis forever — there's just something very laidback and California-cool about tie dye and swimwear together. So yes, you can too pledge your loyalty to tie-dye even while on vacation!
10. And Because Totally Kyle
Need I say more?
Images: Nickelodeon, Paramount Pictures, Courtesy Brands