These Picnic Hacks Are Game-Changing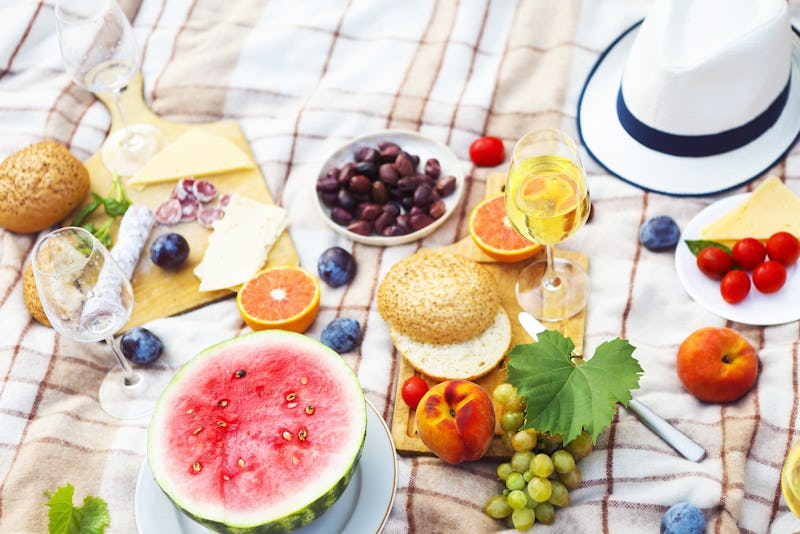 Confession: I love the idea of a picnic, but I often stop short of actually having one. Why? Because to be honest, they're often a lot more difficult to carry off than those fabulous Instagram images and Pinterest boards suggest. I may just have to get my rear in gear before the summer is out, though, because this infographic full of picnic hacks might solve most of my problems for me. I mean, hey, it's only picnic season for so long, right? YOLO. Or… something.
Created by Swissôtel, the infographic in question features a mind-boggling number of tips and tricks that even the most seasoned picnickers will likely find useful. My two favorites? Transporting bagels and bagel sandwiches on CD spindles and the many, many unexpected uses of a cupcake tin liner. Admittedly, many of us may not necessarily have CD spindles on hand anymore — the rise of the USB stick has more or less made writable CD-Rs obsolete — but believe or not, I did just find a bunch of them stuck in my filing cabinet while I was cleaning the thing out this weekend, so hey, you never know, right? And as for the cupcake tin liners? Anything that doubles as both a cute little serving dish and a way to stop a popsicle from turning my hands into a sticky mess gets a major plus in my book.
Oh, and if you're wondering exactly how to pack your picnic basket, we've got you covered:
The infographic also has some useful tips for keeping bugs at bay, as well as instructions for how to build your very own BBQ — but I'd be careful with that last one; it's for advanced picnickers only. Check out the full graphic below for more:

Images: Fotolia; Swissôtel Hotels & Resorts