11 Best Bras To Wear With Off The Shoulder Tops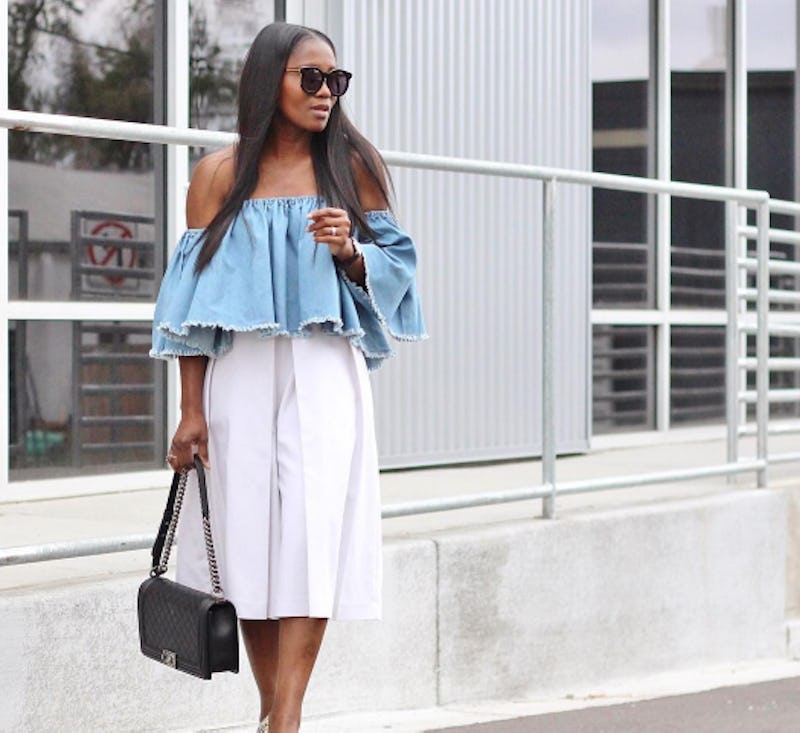 When a new trend takes the fashion world by storm, it's tempting to get swept up and play with the look. But when you've got boobs, sometimes it takes a little more planning. Let's take into account the new off-the-shoulder trend. What bras should you wear with off-the-shoulder tops? They're flirty and summery and usually come in a bohemian silhouette, like in the shape of a crop top or a plunging back. All those details can make picking out a bra a little more than challenging.
While the obvious choice might be a strapless, there are plenty of considerations you need to reflect on before selecting which support-wear is best for you. Questions need to be asked, like: Are you OK with a little bit of jiggle when you walk; do you always like to have cleavage; will it annoy you to have to shimmy up a sliding bra? Maybe you could even do a simple bandeau, but that option comes with its own set of problems — like its tendency to flatten your chest to flapper-like proportions. Or maybe you're brave enough to go bra-free?
See, there are a plethora of choices. So let's explore which one you might want to make when rocking your newest blouse. Below are 11 of the best bras to wear with off-the-shoulder tops.
Strapless Sensation Multi-Way Push-Up, $58, Lula Lu Petites Strapless, $58, Lula LuMaidenform Women's Plunge Convertible Strapless Bra, $17, Target
This one is the obvious choice: Most of us have been aware of strapless bras for as long as we've been aware of training ones. But the one negative side-effect of this option is that it oftentimes has a penchant to slide down from one's boobs and settle into a belt-like position. TBH, it's never fun to spend a good portion of your day hitching up your brasier like it's a baggy pair of pants. In order to avoid this, try looking for a bra that has rigid boning and stay-put strips for extra grip.
Longline Strapless Bra, $38, AmazonDalliance, $52, Blush Lingerie
A great alternative for a simple strapless is the bra top. Going with a bra top rather than a strapless can give you more lift and support because of the extra boning. Think of it as a cropped corset.
Longline Lace Torsolette, $18-$80, Amazon
Speaking of corsets, you can also go the full monty and wear one underneath those flirty, off-the-shoulder tops. Not only should it give you the most support out of any other strapless options, but it'll make you feel extra special to wear something so fancy for a non-big-occasion.
Invisible Self Adhesive Silicone Bra, $7-$12, Amazon
If you find yourself a top that might be airy in the back or even low-plunging, you might want to keep your back bare. Sometimes the back line of a bra ruins the mood of a piece, especially if one is aiming for a laid-back bohemian look. In cases like those, you can always try an adhesive bra. Strapless and backless, it sticks to your boobs, simultaneously lifting and covering.
Adhesive Gel Petal Set, $12, Amazon
No matter your bust size, some women don't mind free-boobin' it. If you'd rather leave the strapless bras at home and go natural, all the more power to you! But if you want to walk the line between coverage and total liberation, nip covers might just be the thing you're looking for. Stick the gel adhesives on top of your nipples, and not even the most cranked-up AC will convince the smooth line of your top to break.
Lace Bandeau, $6, Reversible Bandeau Bra, $14, Fashion Forms Women's Bandeau Bra , $15-$56, Amazon
Another great option for when you go strapless is the bandeau top. If you want a more natural, less cleavage-accented look, then this banded, soft bra will be just the trick. Instead of lifting, it generally straps your breasts down, giving you the kind of coverage a tank top typically would.
Full-Figure Convertible Plunge Bra , $28-$34, U-Plunge Bra, $9, Deep U-Plunge, $23, Amazon
This is like a hybrid between a strapless and an adhesive bra. Why? Not only is it without straps (they're removable), but the low back allows you to wear a flowy, open-backed shirt without giving away the fact that you're actually wearing support. On top of that, this option offers more support and less chance of jiggle because of the thick and boned bands.
Braza Self Adhesive Bra, $10, Amazon
Another great choice is these cloth stick-on bra cups that not only hide your nips but lift your breasts. All you have to do is lay down on your bed, stick them on, and enjoy your perky and almost-braless cleavage.
Pure Style Girlfriends Pick Me Up Breast Lift Tape, $17, Amazon
If all you want is a little extra lift when it comes to your cleavage, you can skip the bra altogether and instead opt for this nifty tape. It'll help you defy gravity for an afternoon and give your mangos an extra perk.
Sheer Lace Underwire Bra, $10-$46, Out From Under Adelina Fusion Triangle Bra, $20, Urban Outfitters
If seeing bra straps peeking out from underneath your shirt gives you flashbacks to your sartorially-confused high school years, I totally get you. But if you choose a bra that has two decorative straps, it automatically looks chic and street-style-esque. This time the strap is intentional, and it gives you a chance to add some color and another element to your look.
Strappy Fishnet & Lace Push-Up Plunge Bra, $49, Underwear Sheer Lace Strap Lingerie Bra Tops, $5, Amazon
Taking it one step further from suggestion number 10, you can add in some sweat-free layering during the summer by matching your off-the-shoulder tops with cut-out strap bras. The strappy designs will add an extra punch to your flirty look, and it's a great way to add something new to a top you've worn multiple times.
So there you go: 11 solid options that can give you all levels of help. Now you have no excuse but to give this summer trend a whirl.
Images: rantiinreview/Instagram (1); Courtesy Brands