9 Makeup Looks To Try For Fourth of July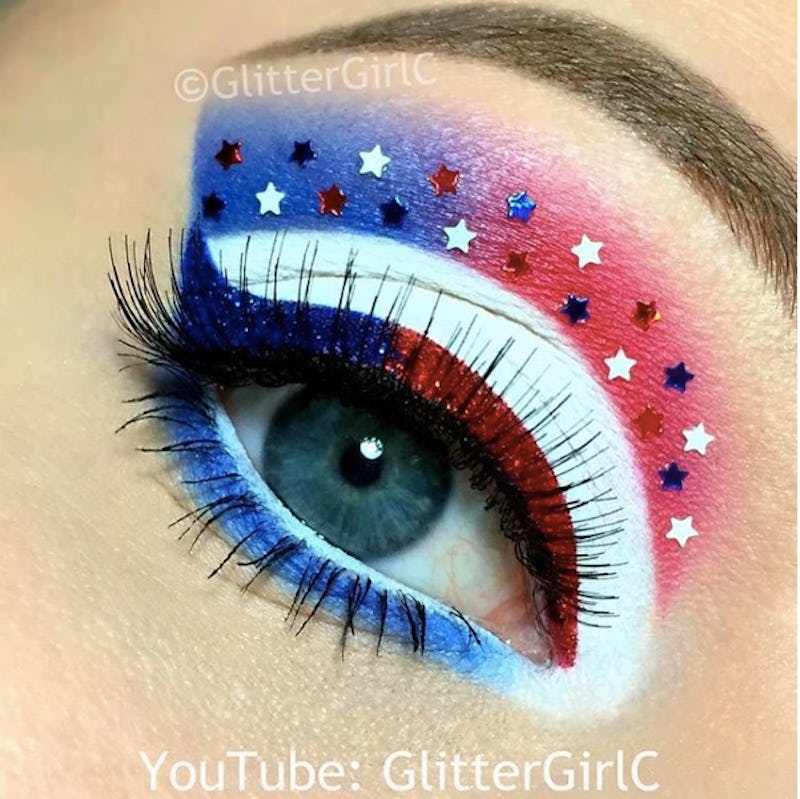 With Fourth of July right around the corner, it's time to embrace all things USA and ce-le-brate. Eating hot dogs, drinking lemonade and watching fireworks are some of the best parts of America's birthday, but none are more important than showing off your American pride, and there's no better way to do it than with red, white, and blue Fourth of July makeup looks.
Buying red, white, and blue clothing can be a pain (especially if you're a strictly-black-and-white girl, like me) so opting for red, white, and blue makeup as a way to show off your holiday spirit is a fun — and less expensive— alternative. Drugstores have an extensive range of products in the bold colors and you'll be able to create a full face for far less than it would take to create a full outfit. (Plus, drugstores have the best selection of bold colored products, in my opinion.) Just make sure you take some precautions to avoid sweating off all of your hard work.
Of course, you can always just slather on one of Kylie's new blue Lip Kit shades ("Freedom" and "Skylie") and call it a day, but if you're looking for something more exciting try out one of these easy, patriotic tutorials to show off your USA pride.
1. Red, White, And Blue Eyes
This red, white and blue striped eye is fairly straightforward, especially if you're looking for a bold, all-encompassing American look. Start out with a thick, white eyeshadow pencil as a base (this vlogger prefers NYX's Jumbo Pencil in "Milk") then use blue and red eyeshadows — really any brand and opacity will work because it's set on top of the white — to create the full look. Decorate with winged black liner, glitter and mascara to complete the look.
2. An American Flag For Your Lips
What better way to show your patriotism than with American Flag lips? Start out by painting blue gloss on your top lip with a lip brush. Then, do the same with an opaque white matte gloss on the bottom. Finally, paint a layer of red stripes on top of the white. Let the glosses dry completely, then use lash glue to stick star-shaped rhinestones onto the blue top lip. But take caution: this work of art will make you think twice before eating any messy barbecue food!
3. Patriotic Eyebrows
Looking for something totally different to celebrate the holiday? Decorate your eyebrows! Pair the look with red lipstick to really make your bold brows pop.
4. Understated USA
If you're looking to show off your American pride in a more understated way, try out this simple makeup look. With light blue winged eyeliner and a bold, glossy red lip, you can really rock this style any day of the year and look absolutely gorgeous.
5. Starry Eyed Surprise
This patriotic look offers an extra-American "Wow!" factor. The bold blue shadow and glossy red lips seem fairly low key, but the decorative silver stars set below the brow bones really make it pop. A bonus? All of the products in this vlogger's tutorial are cruelty free.
6. Glitter Girl
Want to give your every day makeup a glitzy Fourth of July upgrade? It's way easier than you'd think. After you're done with whatever makeup you'd like to wear (feel free to take this vlogger's USA-style look as inspiration), stick red and blue crystal star tattoos around the corners of your eyes.
7. Artsy Eyes
If you want to go all out with your eye makeup (and why shouldn't you? It is America's birthday after all) try this bold, glittery, rhinestone look that will ensure that everyone at the barbecue will come up to you and ask "how did you do that?!"
8. Star Spangled Nails
Wearing red, white and blue on your face not really your thing? Show your pride on your nails instead with one of these cool, artsy designs. (... or head to your local salon and treat yourself to a holiday mani/pedi!)
9. Full Flagtastic Face
Decorating your eyes and lips not enough for you? Check out these face painting looks to make a major statement.
Images: GlitterGirlC/Instagram