7 Glossier Quartz Haloscope Alternatives To Shop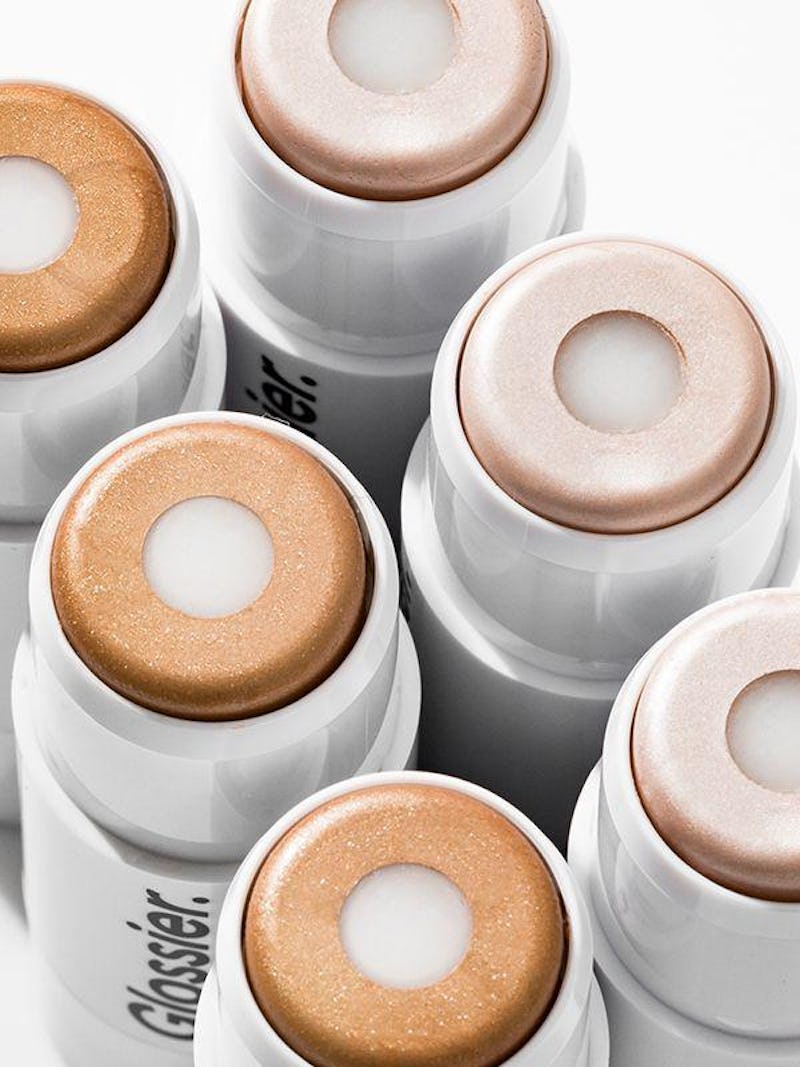 Let's all let out a communal "awww man!" at the fact that Glossier's Haloscope in Quartz is sold out. On Monday, the brand announced via it's Instagram that the extra-popular highlighter is on backorder until August 25. The glow-stick is a light pink, pearlescent shade that gives your skin a dewy, highlighted effect. Glossier's darker shade, Topaz, is still available (though I can't imagine it will be much longer...) and promises to leave a healthy, sun-kissed glow. The highlighter is enhanced with actual quartz crystals and coconut, castor, and almond oils, so it moisturizes your skin as you wear it.
It's a pretty amazing product — I can't deny that — but considering it's going to take at least another month for Glossier to restock, it's time to start looking into other options.
You can use any of these highlighters wherever you want — namely, anywhere you literally want to highlight — but Glossier suggests using it in a half-halo around each eye (from your brow bone to your cheek bone) and blending with your finger tips. Highlighters also work wonders on your cupid's bow and the bridge of your nose.
If you can't wait until August 25, check out these nine highlighters that will help you glow in the same way Glossier's would.
Benefit Cosmetic's Watt's Up Cream To Powder Highlighter in Champagne Glow, $26, Amazon
If you can read the name of Benefit's highlighter and not think of the early-2000's Budweiser commercial, I give you serious props. This product goes on smoothly and dries as a powder to give you a creamy, natural glow. It comes with a blender to leave you with an extra luminous sheen.
Nars Illuminator in Copacabana, $49, Amazon
This highlighter is light, pearlescent and extra-reflective, just like Quartz Haloscope. You can apply it with a brush or your fingers (clean fingers!) for an extra-blended finish.
Natasha Denona Face Glow Cream Shimmer in Light, $73, A mazon
Natasha Denona's highlighter is iridescent and adapts to the texture of your skin, so it won't leave you looking cakey.
Edward Bess All Over Seduction in Sunlight, $38, BergdorfGoodman
Looking for a celebrity-makeup-artist-approved product? Edward Bess's "All Over Seduction" is smooth and sheer, and will give you the same sheeny finish as Glossier's Haloscope.
Clinique Chubby Stick Heft Highlight in Satin, $14, Amazon
From face to lips to eyes, Cinique's chubby sticks are an all-over go-to. The highlighter version glides on easily to create a natural, light-reflecting finish that will make your cheek bones really pop.
Becca Shimmering Skin Perfecting Liquid, $19, Beautylish
Becca's highlighter is extra creamy, and will leave your skin with the most glorious dewy finish.
Physician's Formula Nude Wear Touch Of Glow Stick, $33, A mazon
Physicians Formula's highlighter is lightweight and glides on to help erase skin imperfections of while providing a iridescent, natural finish.
What are you waiting for? Go get your glow on!
Images: Courtesy of Brands