Makeup For Ever Is Launching 45 New Lipsticks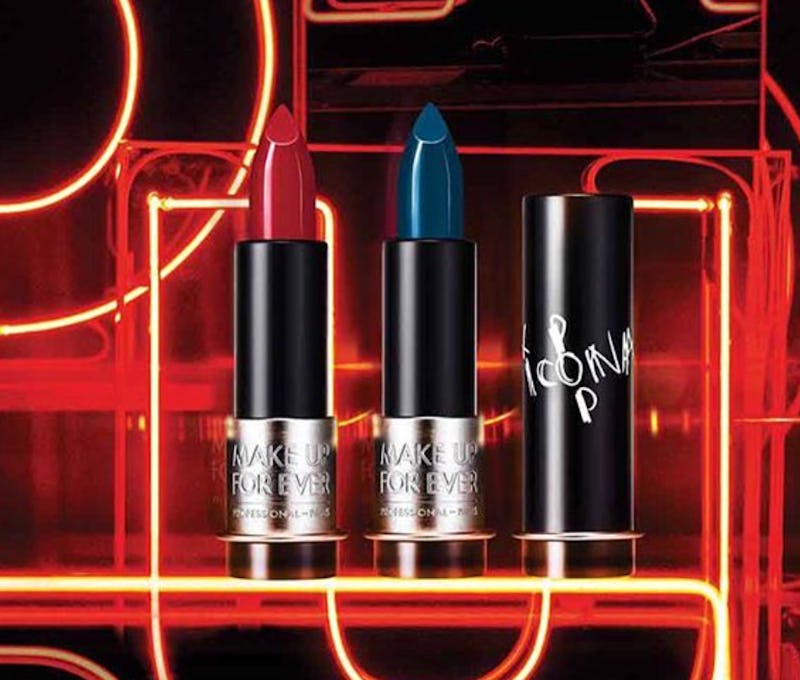 The lipstick bullet is reigning supreme in 2016. Urban Decay slayed lipstick life when it launched 100 shades of Vice lipstick. Now, Make Up For Ever is launching 45 Artist Rouge Lipstick shades. If you love to paint your lips in all sorts of long-lasting, high-pigment hues, you have to be shaking and crying with excitement, all the while lamenting another #ByeMoney moment in your (and your budget's) future. Make Up For Ever Artist Rogue lipsticks allow for low maintenance but high impact lips. All 45 Make Up For Ever lipsticks shades are coming to Sephora and the brand's boutiques. What date can you buy the Make Up For Ever Artist Rouge lippies, which includes two exclusive shades created with and promoted by dance music duo Icona Pop?
The Artist Rouge lipsticks will arrive on August 5. Go ahead and draw a heart —perhaps in red lipstick?— on that date in your paper calendar. Also, add a reminder in your iPhone or whatever smartphone you use. This is one lippie launch you do not want to miss.
The Artist Rouge lipsticks cruise into Sephora, cover the entire shade spectrum, and come in two finishes. There are 14 in the matte finish and 31 in the creamy finish. They also have a unique, teardrop-shaped tip, which allows for easy, lip brush-less application. Mwah!
Strong lipsticks with rich color payoff are the ultimate lazy girl hack. You can paint your pout with one of these quality lippies and pretty much do nothing else to your face and still look gorgeous. These babies will add just the right pop of color.
Remember that smash hit "I Love It" by Icona Pop? Of course you do. MUFE created a red velvet matte and a deep, creamy blue, both of which are limited edition, as part of the Artist Rouge launch. Icon Pop are promoting these sexy shades.
If you missed out on Kylie Jenner's blue Lip Kits, well, this beautiful blue is much more than a consolation prize.
What a classic, screen siren red!
OMG, what a gorgeous hue. Remember, it's coming on August 5.
There are plenty of neutrals in the Artist Rouge collection, too! As this caption notes, the teardrop-shaped tip is special since it leads to more controlled application and luscious lips. You won't need a lip brush! Swipe on straight from the bullet and go about your day. #MinimalEffortMakeup
2016 truly is the year of lipstick. Urban Decay and Make Up For Ever are dominating in the lipstick tube and bullet realm. But remember, liquid lippies ensure your matte lip game remains stronger than all, with continuous new shade launches from Kylie Cosmetics with Kylie Lip Kits and Jeffree Star Cosmetics with Velour Liquid Lipsticks. Those wet lipsticks dry down to a strong, matte finish.
But lipstick rules in 2016. Remember, 45 on 8/5.
Images: Make Up For Ever US/Instagram (7)