Introducing The Starbucks Green Drink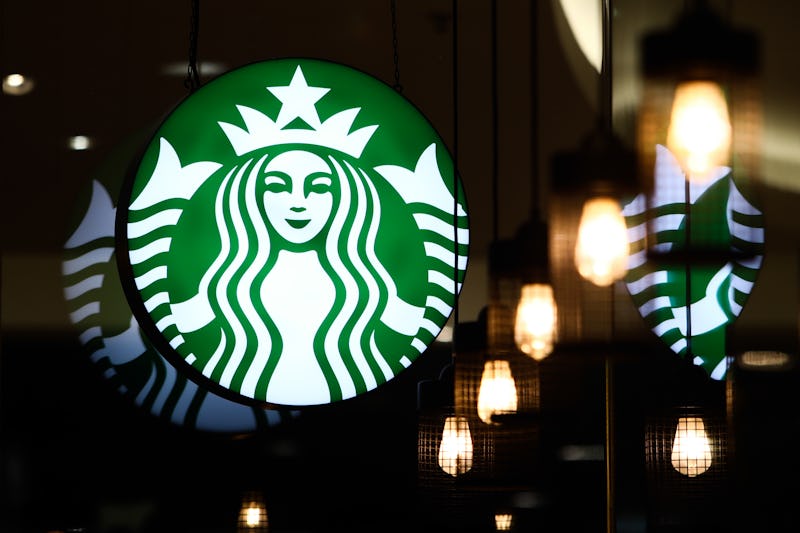 NurPhoto/NurPhoto/Getty Images
The beautiful rainbow iced drinks from Starbucks' secret menu have dominated on Instagram this summer. We are all too familiar with the Starbucks Pink Drink and Purple Drink, but just when we thought the rainbow was complete, we now have a new color poised to take over the 'gram — the Starbucks green drink. And you know, if it is green, it MUST be healthy!
If you want to start your morning off right with a colorful concoction, the green drink is your jam. This drink is unique as it packs a double dose of caffeine with both black tea and matcha powder (ground Japanese green tea and sugar). The purple drink and blue drink use Passion tea, which does not have any caffeine. The OG pink drink has just a touch of caffeine from green tea extract in its Strawberry Acai base (but not enough to make me open my eyes). While some of the rainbow drinks are on the sweet side, the green drink has a touch of bitterness from the matcha that offers respite from the sugar.
Green drink has sadly been lagging behind its fellow rainbow drinks on social media. But just because it is not as mysterious as the blue drink or as bright as the orange drink, doesn't mean that there isn't serious trending potential — especially when topped with sliced strawberries!
Here is a picture of #greendrink, as created by health blogger cookeatlift. Sadly, it is partially hidden in the background:
As Kermit the Frog wisely once said, "it's not easy being green." People tend to pass you over for flashier colors, and the #greendrink has waited long enough for its turn in the social media sun. The green drink, like its colorful companions, is not listed on any store menus. The drinks are in fact SO secret that not every barista knows the recipe. To order this delightful concoction ask for Black Tea with matcha and coconut milk over ice. Yum!
Let's make #greendrink the star.
Images: NurPhoto/NurPhoto/Getty Images; CookEatLift/Instagram