There's ANOTHER Rainbow Starbucks Drink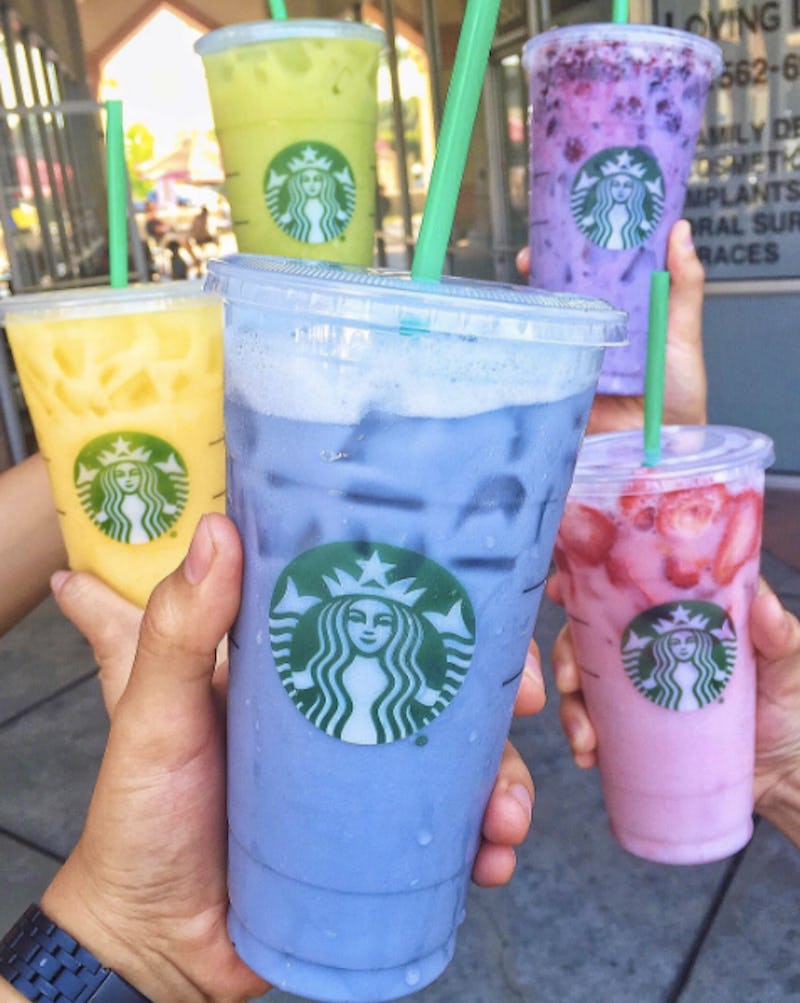 Another day, another rainbow Starbucks drink to obsess over on Instagram The Starbucks "Blue Drink" is the latest swanky Secret Menu item to hit the internet, and you better believe people are going nuts over it — you know, because it looks delicious, because it's freaking beautiful, and because it's Starbucks. The drink — which as you've probably figured out by now, is a bold shade of blue — is in good company as it joins ranks with the OG Starbucks #PinkDrink, the blackberry-infused #PurpleDrink, and the aptly named #OrangeDrink, which is pumped full of orange mango juice. This one, though, must have magic powers, because as Seventeen points out, when I look at its list of ingredients, I can't figure how the heck it's actually blue — but then again we already knew that Starbucks operates on a higher plane than we mere mortals, and I gotta say, this pretty blue potion sounds pretty amazing.
So what goes into this drink? Apparently all you have to do is order a Passion Iced Tea, ask for soy milk, a pump of vanilla syrup, and voila! You have Blue Drink on your hands. The concoction isn't that far off from its more violet cousin, Purple Drink, which is also made with Passion Iced Tea, soy, vanilla, and blackberries.
Like everything else on the Starbucks Secret Menu, this isn't a regular menu item that all baristas will immediately know by name. But, if you know what ingredients go into making the beverage (which you do, since you've been reading this so carefully), you just need to ask for them at the counter and Starbucks will do the rest. And it's worth getting a few unsure looks, too, because look how pretty this is, you guys. Instagram user cookeatlift took this lovely pic:
So, in case pink, purple, and orange don't do it for you, but blue seems like it might hit the spot, head to your local Starbucks and order one up. And then explain to me how it's actually blue. Thanks, team.
Images: cookeatlift/Instagram