9 Hacks For Solving Any Kind Of Bra Problem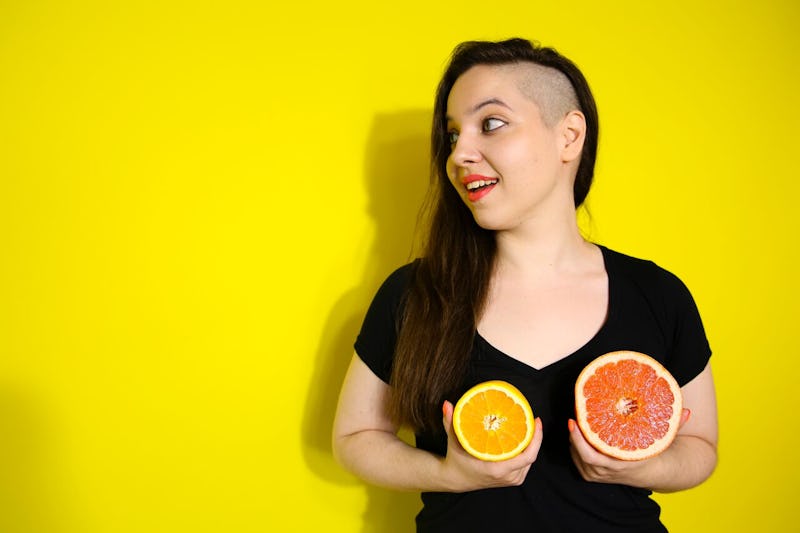 Bra shopping in and of itself is a massive headache. Forget when you leave the dressing room feeling awesome about your newest piece of lingerie, and three days later, for whatever reason, you're wondering if your bra no longer fits correctly. Did your breasts become uneven? Did everything shrink, or swell up? This is why there are some set guides for navigating the bra shopping challenge — because, for once in your life, it'd be nice to feel like you can find your best bra (and have it remain your best one), swollen-period-boobs or not.
There are tons of infographics and articles out there about how to measure your body for the best bra fit, but contrary to popular belief, women don't have trouble with bras solely because they "don't know their correct size." Your boobs don't just change with age — your boobs are changing all the time, as they're heavily impacted by things like hormones, weight, medications, birth control pills, exercise, diet, and even your sex drive. Toss in the fact that almost all women have one breast that's bigger than the other, and it's nearly impossible to find a bra that fits perfectly all the time.
Thankfully, you've got options. Check out these tiny but really effective ways to tweak your favorite bra so that it fits unbelievably well, no matter how big or small your boobs feel that day.
1. Extend Your Band For More Comfort
Elastic Adjustable Bra Extender , $10, Amazon
Maybe you shrunk your bra, maybe you're looking to let loose a little bit, maybe your breasts are swollen because of your menstrual cycle, or maybe you're pregnant, but whatever the reason, these elastic adjustable bra extenders can be a lifesaver. They clip on to any two-hook bra to offer a few extra inches of stretchy support, and because they're super durable, come in different colors, and stop the elastic from cutting into your skin, people are beyond excited.
2. Push Up One Breast — Or Both
Silicone Push-Up Bra Inserts , $20, Amazon
These silicone push-up bra inserts work wonderfully if your push-up bra has lost a bit of its oomph-factor, or if you're dealing with two different sized breasts. They're made with high-quality medical grade silicon, so not only are they waterproof, reusable, and easy to wash, but they're super comfortable in everything from a strapless bra to a bikini.
Double Scoop Women's Triangle Shaper, $20, Amazon
And if you're aiming for a little more balance in your triangle swim top, this specially shaped insert set comes in three sizes, and it even includes fashion tape for a little extra security where you want it.
3. Turn Any Bra Into A Supportive Racerback
3 Piece Bra Strap Clips , $7, Amazon
If the elastic on your favorite bra is starting to stretch, amp up the support with these bra strap clips. They turn any bra into a racerback, meaning that your chest is given a huge lift and the straps won't fall off your shoulders anymore. Reviewers love them because they're strong, reliable, and look pretty cool, too.
4. Tape Anything That's Not Working For You
Hollywood Fashion Tape , $8, Amazon
This double-sided tape is great for any bra mishap you could possibly think of. Its reliable and hypoallergenic adhesive sticks to both clothing and skin alike, so you can keep bra straps in place, give yourself a bit of a lift, or stop that annoying gap between your breast and a larger cup.
5. Replace Your Stretched-Out Straps
Wide Shoulder Adjustable Bra Straps , $9, Amazon
According to Michelle Lam, founder of True & Co. Bra Boutique, "Straps stretch out faster than the rest of the bra, so they need to be adjusted more often." Revive your favorite bra with these wide shoulder adjustable bra straps. Not only are they super stretchy and durable, but they're easy to adjust from 14 to 21 inches, and they have a plush back lining to comfort sensitive skin.
6. Wear Your Favorite Bra With A Low-Back Dress
Plus-Size Low Expectations Low Back Bra Converters , $10, Amazon
A lot of women have trouble with low-back bras, but with this plus-size low expectations low back bra converter, you can turn your go-to bra into one that can be worn under gowns and low-back outfits. It attaches straight onto your favorite two-hook bra, and then wraps around your tummy in a belt-like way to bring the whole thing down several inches. This one is super stretchy, durable, and longer than most.
7. Give Yourself That Extra Lift
Lady's Dream Breast Lift Set , $15, Amazon
This lifting set can be worn on its own for a bra-like cover and lift without the bra, but it can also be used alongside a bra to give you an extra lift or help your breasts to appear more even. They're latex-free and gentle on skin, and while they stay put for up to twelve hours (even in humidity and heat), they're easy and pain-free to take off at the end of the evening.
8. Keep Your Bras From Creasing
Cup Case Travel and Bra Storage , $25, Amazon
To keep a bra fitting as well as it did when you bought it, you need to take care of it. This Cup Case Travel and Bra Storage keeps your bras from creasing, wrinkling, and crushing, whether it's in your suitcase or in your bedroom drawer. It comes in two different sizes and nine different designs, and one reviewer says, "I have always found it a challenge to try and protect my expensive bras," but no more!
9. Prevent Pulling & Snagging By Washing Delicates In A Laundry Bag
Delicates Lingerie Bags , $7, Amazon
Bras take the most abuse in the washing machine, but when you don't have time to wash them all by hand, reach for this delicates lingerie bag instead. It's made from an ultra-fine mesh material that won't harm your lingerie (and will keep it from catching on other items and stretching out), but this bag is also durable, tear-resistant, and has a great quality zipper that won't snag.
Bustle may receive a portion of sales from products purchased from this article, which was created independently from Bustle's editorial and sales departments.
Images: Bustle (1); Amazon (10)