This Selfie Broke The Internet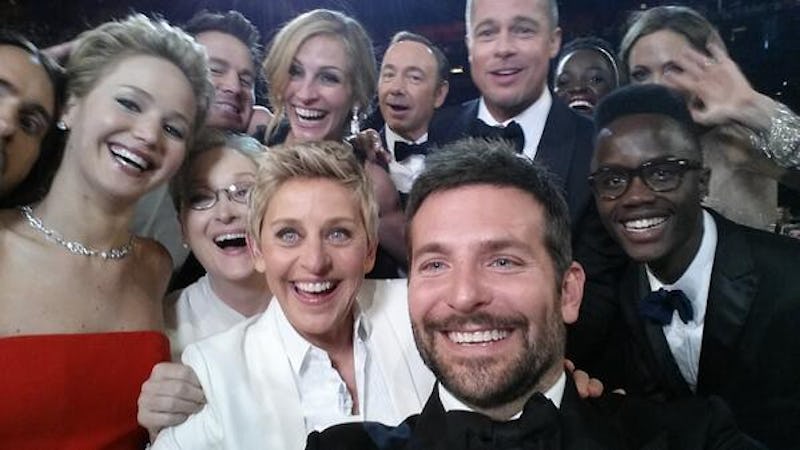 If there's one thing we love more than Ellen hosting the Oscars, it's us living vicariously through Ellen while she becomes the ultimate fan girl. Thus far, our favorite daytime talk show host/comedienne has been living it up, taking a selfies staring out into the audience, taking pictures with the nominees, and asking if everyone wants pizza (obviously). But when Ellen stepped out into the audience to take a selfie with Liza Minelli, she perhaps sparked the greatest, most ingenious idea of all time.
DeGeneres first tried to take a group pic, like every college sorority girl this side of the equator, except with ya know Meryl Streep, Julia Roberts, and Channing Tatum. OK, ELLEN, WHATEVER. Then, feeling like she may have left out a few important people, she got Lupita Nyong'o involved, nonchalantly called over Brangelina, Jared Leto and his easy, breezy, beautiful ombre, and of course, our favorite non-couple JLaw and Bradley Cooper.
There comes a difficult moment in every person's life when they come to the crippling realization that they may not be able get everyone in their groupie (note: selfie with a group). Thus, Ellen was at first distressed but alas, our beautiful hero Bradley Cooper saved the day. The American Hustle Best Supporting Actor nominee captured the greatest photo of all time and subsequently broke the internet because everyone in the universe (yes, everyone) tried to retweet it.
Ah, Hollywood.
Image: Twitter