'UnREAL' Season 3 Could Have A Huge Impact On TV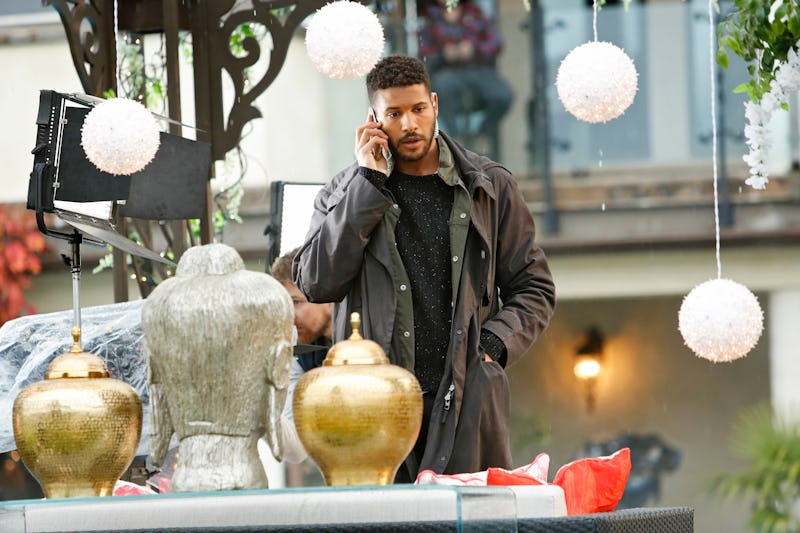 From the moment it first debuted on Lifetime, it became clear that UnREAL is a true force to be reckoned with. Full of complex and morally ambiguous characters who you love (or rather love to hate), this series is unapologetic and takes the concept of televised drama to a whole different level. But, it's about much more than the manipulation and mayhem it centers around. It also makes a point of highlighting what can and should be changed about the world of reality television. UnREAL Season 2 introduced its first ever black suitor — something that other reality TV dating shows like The Bachelor and Bachelorette have yet to do. And, according to Jeffrey Bowyer-Chapman, who recently spoke with Bustle about his character, Jay, UnREAL Season 3 could explore that concept even further and change the status quo of what should be deemed as "normal" on television.
When asked if he hopes introducing a black suitor will prompt shows like The Bachelor to follow suit, Bowyer-Chapman says he's confident that the bar UnREAL is setting will go on to impact some real positive change to the world. "I think it's a no brainer," the actor says. "It's a direct commentary and huge wake-up call the entertainment industry across the board that we need to be more inclusive and it's absurd that we aren't in many ways."
And, even though society has come a long way over the years, it's issues like this that remind Bowyer-Chapman (and all of us) how far we still have to go. "It just really shines a light on the way we've been conditioned to see the world, to see why we place certain people in the position of heroes or the leading man or the love interest and why is that always white men." he says. "It's time to change the narrative... it's time to start including all shades of humanity, no matter your gender or race or sexuality.
But, thankfully, UnREAL offers up a great platform on which to address these important topics that can extend not just to race, but also gender and sexuality. In fact, Bowyer-Chapman's hopes for future seasons include broadening that scope even more by introducing female, gay, bisexual, and transgender suitors down the line.
"I think it would be fun next year, if we were to stay in the world of Everlasting, to do a female suitor, a suitress, and have 25 male contestants," Bowyer-Chapman says, adding, "I think it would be so fascinating to have a bisexual suitor and then have male and female contestants, and see which one they go for. Or a transgender suitor. I think there are endless stories that could be told."
Thanks to shows like Orange Is the New Black and Transparent, we're starting to see more and more characters represent the LGBTQ community on a larger scale, so having UnREAL join the conversation would certainly be an exciting prospect.
But, his acting career isn't the only way Bowyer-Chapman is going out bringing positive change to the world. The actor also had a BGB Studio scholarship named in his honor this year, specifically for LGBTQ identifying actors of color. "My answer was immediately and obviously yes," Bowyer-Chapman recalls when he was first approached about the scholarship. "Each applicant writes how they heard about the scholarship and why they want to be an openly gay actor and what I came to realize very quickly is that my entire life I felt like, because I was the only one who was willing to stand up and speak my truth and to be honest about these issues, I felt like I was very much the only one," he says. "Then reading all of these applicants' stories, I'm not the only one. I'm far from the only one."
And now, thanks to this scholarship and Bowyer-Chapman's admirable influence, no one has to feel alone ever again. "It's time to start telling our own truth and in order to do that we need to reclaim our own power and do it ourselves," he says. And UnREAL is the perfect way to go about doing just that.
Images: Bettina Strauss/Lifetime; Giphy; Russ Lamoureux