What You Missed on 'The Walking Dead'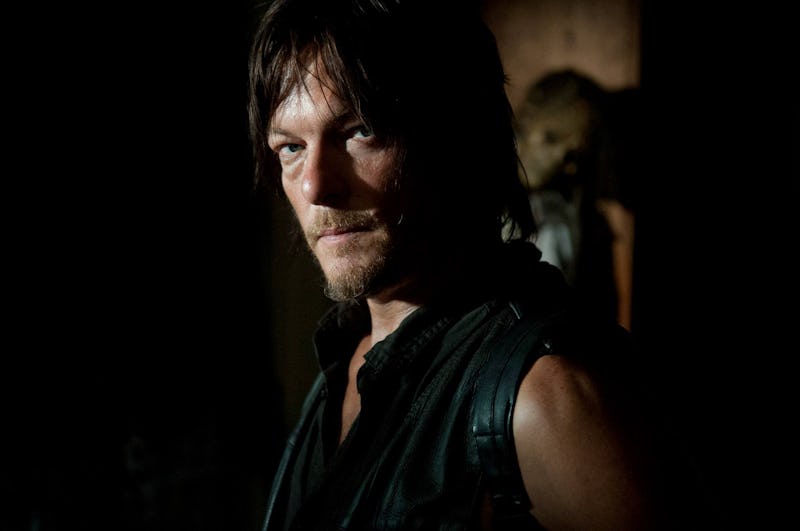 Since Sunday night's The Walking Dead conflicted with the biggest awards show of the year, most people probably didn't catch this week's episode — but don't worry, we have you covered. During the course of the show, we got an in-depth look at the Daryl-Beth storyline and a somewhat in-depth look at the characters. Here's a rundown of some of the top moments of the episode. (And honestly, if you were watching the Oscars, you didn't miss much!)
Beth + Booze
Beth has never been drunk. But she figured since her dad isn't around, she can make her own rules and convinced Daryl to help her find something to drink. Their first stop is a country club, where they encounter a disturbing scene of several dead bodies and a few walkers hanging from the ceiling. Beth manages to find a bottle of red wine, but seconds later has to use it to kill a walker. The next bottle she finds (which is the only other alcohol left) is a bottle of peach schnapps. She breaks down before drinking it — so Daryl smashes that bottle and the two move on from the country club.
Moonshine
At a shack in the woods, Beth finally gets her first drink: moonshine. She was reluctant at first, explaining that her dad used to say "bad moonshine can make you go blind." But Daryl reminded her that there isn't much left to see anyway. The pair end of playing a "Never Have I" type drinking game, which made Daryl break down and admit part of his past (and also, admit how much he resents Beth).
The Fight
Beth's "Never Have I" questions started to get under Daryl's skin. She started saying things like, "Never have I been to prison," which made Daryl think she pegged him as a criminal. This all led to a blowout between the two. The two exchanged a few harsh words, and Daryl basically admitted that he didn't think it was fair that Beth had survived this long. Ouch.
Daryl's Past
What Daryl did before everything "changed" was finally revealed. Daryl was a drifter — he hung around with Merle and did whatever Merle said they were going to do that day. There was a lot of suspense around knowing Daryl's past, and now it is all out on the table. Well, at least Beth knows. Beth commented how Daryl seemed to be made for the way things are in the world. But does this resolve anything about Daryl's character? Or just leave us with more questions?
Honorable Mention
Some other notable moments of Sunday's episode:
Daryl wasn't able to shoot a squirrel, so he chowed down on a "mud snake." Yum.
After Beth and Daryl get drunk, they decide to torch the shack they were staying in by pouring moonshine all over and then lighting a stack of cash (that Daryl swiped from the country club) on fire. Satisfied with what they'd done, the two stood there flipping off the fire...
Image: Gene Page/AMC