What Song Is In The 'Why Him?' Trailer?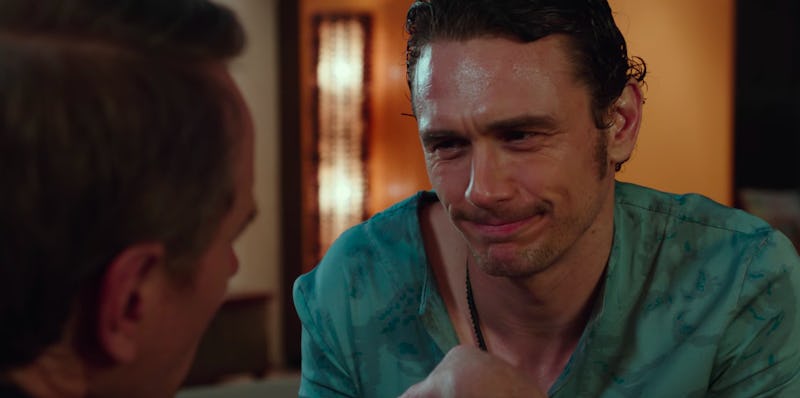 Most dads would be thrilled to hear that their daughter is happily in love with a tech zillionaire, but few dads have had to deal with a tech zillionaire as eccentric as James Franco's quirky character Laird in the upcoming comedy Why Him? The new film just dropped its red band trailer on Monday, and it makes even the most awkward of boyfriend/parent meetings look downright pleasant. When Bryan Cranston's Ned heads to Stanford to meet his daughter Steph's (Zoey Deutch) new beau, he soon realizes that Laird is hardly the man he would have wanted to date his daughter. The tatted-up Laird (who spends a good chunk of the trailer totally shirtless) is crass, inappropriate, and prone to dropping F-bombs around Steph's teenage brother. Like Laird, the trailer is totally bananas, and obviously the film needs a score that's just as cray. Fortunately, the song featured in the Why Him? trailer — or, rather, songs — is totally appropriate for the new flick.
In the trailer Laird doesn't get Ned's apprehension toward warming up to him — to Laird, his behavior is "totally normal," even when it's getting Steph's family's Christmas card inked on his back — but the trailer's soundtrack is a reminder that Laird is just a touch loopy. Though the first song featured in the trailer is a rendition of "My Girl," originally sung by The Temptations, the next song is definitely less sweet. Laird is then introduced to the tune of "Get Ugly," by Jason Derulo, which has lyrics like "people are around the world... get ugly." Perhaps this implies that the rivalry between Ned and his soon-to-be son-in-law will get, well, not so pretty?
The next song featured in the trailer is perhaps even more appropriate for Laird. It's Eminem's "Berzerk," which is pretty much exactly how Ned sees Laird during his family's visit to the tech wiz's home. It's also how Ned thinks he'll feel if Laird goes through with marrying his daughter.
Something tells me that Ned and Laird will be able to work out their differences for the person that they both love, but until they get there, I'm totally onboard for this crazy ride.
Images: 20th Century Fox/YouTube