11 Masculine Scents & Colognes To Steal Now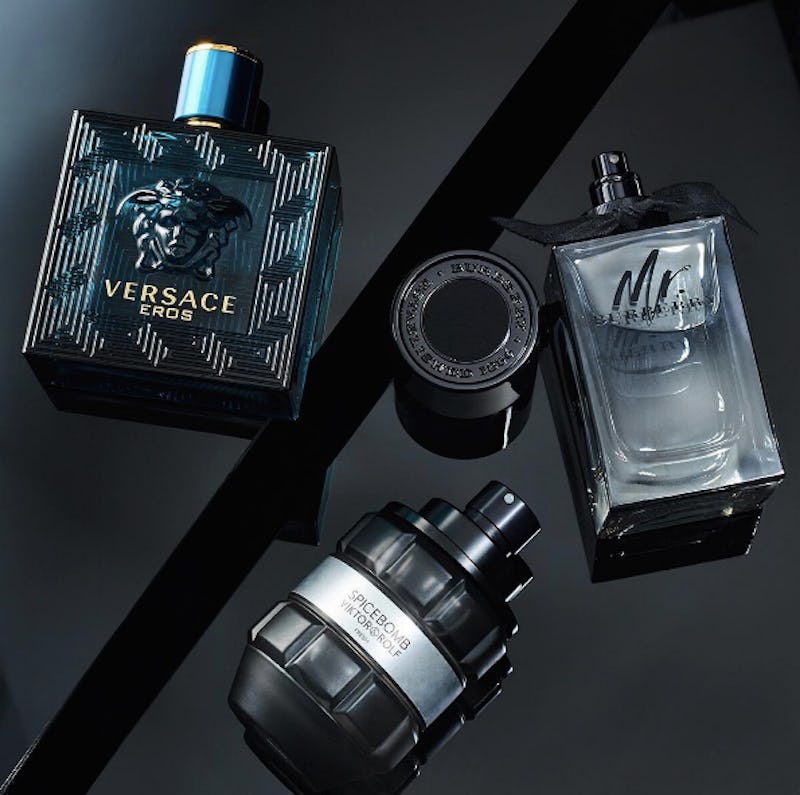 Personally, I've never been much of a fan of perfume. The fruity and floral ones marketed towards women are often much too feminine for me to truly warm up to. But once I started experimenting with androgynous and masculine fragrances, I developed a new appreciation for all things perfume. While floral scents can sometimes be nice (I love ylang ylang and rose), I learned that I like my fragrances best when they are complimented by something richer, like musk or patchouli.
Luckily, there are many fragrances I've encountered in life thus far that do an excellent job at capturing both the masculinity of muskier notes as well as some of the more mellow, botanical odors out there. That said, the labelling on the bottles combined with familial disapproval of my experimentation with my dad's colognes usually made me feel as though androgynous scents might be off limits to me.
The truth is, they aren't. The way we assign gender to certain scents, or limit our purchases based on a tag that says "for women" or "for men," is frankly silly. Many of the most powerful scents available reside in the men's fragrance section: A market that remains largely untapped by too many women and feminine people. Whether you're looking for something to affirm your gender fluidity or you're simply in search of a new and interesting scent to add to your collection, check out some of these masculine fragrances to ~steal from the guys.~
1. Crisp & Smoky
The Sum's description of a "clean, white smoke" aroma is pretty spot on when it comes to this one: A fragrance inspired by smoke and musk. The White is my personal favorite scent, formulated with iris, wood, and sterling silver to create a crisp and effective smell. Honestly, this is my go-to scent on most days.
2. Deeply Sensual
John Varvatos, $69, Sephora
Check out this fragrance for a delicious and complex musky scent that is in no way overpowering like so many other colognes centered around musky notes tend to be. Combining Medjool dates, Clary sage flower, and leather essence, to name a few ingredients, this scent is the perfect embodiment of masculine sensuality while being subtle enough to seamlessly move between formal and informal.
3. Scrumptiously Masculine
Cannabis Santal Eau de Parfum, $50, Fresh
This fragrance, formulated with patchouli, chocolate, and vanilla musk, is bold and perfect for the fanciest of gatherings. Use this scrumptious scent sparingly, as the musk can be overpowering depending on the size of your spritz.
4. Woodsy & Bright
Commodity's Book, $99, Sephora
This fresh and woodsy unisex perfume is infused with notes like eucalyptus, Haitian Vetiver, and amber to make for a rich and multi-layered odor.
5. Boozy With Class
Replica in Jazz Club, $125, Sephora
There are few things I love more in this world than Maison Margiela's Replica Collection, which captures moments and places through a single scent. This one is great for a very classically masculine musk. Infused with tobacco leaf, tonka beans, rum, and pink pepper, the fragrance truly captures the atmosphere of a jazz club in its gorgeous glass bottle.
6. Light & Seductive
Givenchy Gentlemen Only, $64, Sephora
As opposed to what the name might suggest, this scent is certainly not for gentlemen only. With its blend of mandarin, cedarwood, and patchouli, the fragrance is lighter and softer than a traditionally masculine cologne.
7. Sweet Sweet Java
A*Men Pure Coffee Eau de Toilette, $90, Mugler USA
Calling all coffee lovers: This is the scent for you. The rich and energizing fragrance is infused with coffee, vanilla, and patchouli, and is certainly a powerfully unexpected statement as far as fragrances go.
8. Rich & Floral
Clean Reserve Velvet Flora, $90, Sephora
This delicious, androgynous scent is the perfect balance of feminine and masculine. With notes like musk, moss, and patchouli complimenting lighter notes of lily, amber, and saffron flower, this scent is the perfect blend for anyone trying to channel gender fluidity in their fragrance repertoire.
9. Deeply Soothing
L'Occitan Eau de Toilette, $59, L'Occitane
This fragrance's blend of lavender, black pepper, and burnt wood makes for a very balanced and soothing experience.
10. Alluring
Etat Libre d'Orange Dangerous Complicity, $149, Sephora
This fragrance mostly contains notes usually to be found in more feminine fragrances, like coconut, ylang ylang, and sandalwood, but still evokes an alluring air of masculinity IMO.
11. Best Of Both Worlds
Comme Des Garcons' Serpentine, $95, Sephora
This unisex fragrance contains unusual scents like grass, ozone, black musk, and benzoin. Meant to combine the urban scents of London and the botanical ones of England's Kensington Gardens, the perfume truly captures two extremes.
Regardless of how it's marketed or what the bottle says, all fragrances are for all people. So if you're looking to try something new, check out some of these delicious scents ASAP.
Images: sephora/Instagram (1); Courtesy Brands