9 Pairs Of Underwear To Borrow From The Boys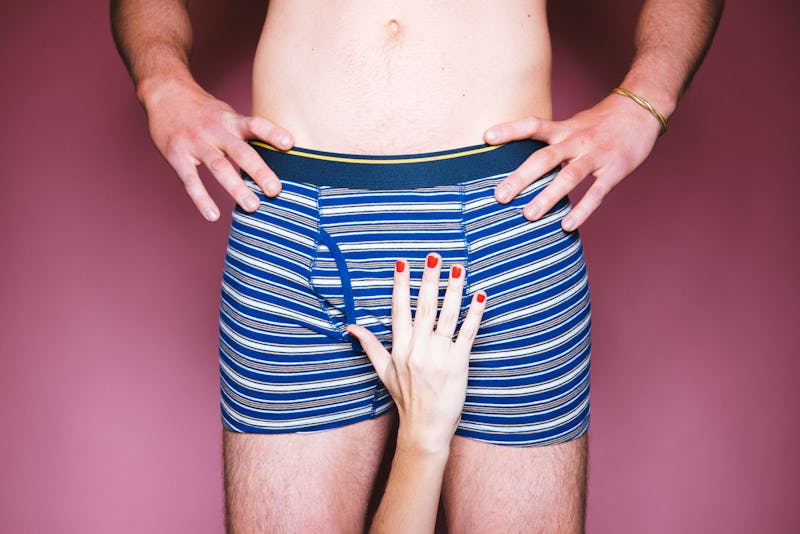 When I think of a woman wearing men's underwear (which I'll admit, isn't something I think about often), the first thing I think of is Carrie Bradshaw looking super chic in Aidan's tighty-whities while the two of them brushed their teeth together. And let me tell you, Ms. Bradshaw was seriously onto something.
My mom always told me that her marriage mantra was "never wear ugly pajamas in front of your husband." While these days it sounds a little old fashioned, it's something that has always stuck with me and that I've tried to implement into my own life. Since bringing my own pajamas to every adult sleepover started to become a major pain, I learned how to finagle cute bedtime outfits out of what was readily available to me, which most of the time was men's underwear.
But then, a funny thing happened.... I started to love sleeping in men's undies so much that I ordered some for myself.
I know that sounds creepy, but hear me out: It's no secret that sleeping in guy's underwear is a lot more comfortable than sleeping in a thong (take it from someone who has done the experimental research), and they tend to be really soft and cozy. Don't believe me?
Here are seven pairs of men's underwear that you'll want to add to your wardrobe, too.
Modern Cotton Stretch 2 Pack Boxer Briefs, $30, Calvin Klein
If these classic Calvin Klein black boxer briefs are good enough for Bieber, they're definitely good enough for me.
Even Strips Trunks, $12, Gap
These striped cotton boxer briefs look more like sleep shorts than men's underwear... minus the whole "open fly" thing.
AEO Striped Boxer, $13, American Eagle
Who says the tie dye trend can't also work in the bedroom? These super soft striped shorts could easily double as beachwear.
BOSS Hugo Boss Pack Of Three Boxer Briefs, $23, Bloomingdales
Can't get enough men's undies? Try this super-affordable pack of three from Hugo Boss, and you'll never have to buy pajamas again!
Baby Rib Brief, $14, American Apparel
Trying to ease your way into rocking men's undies? This baby pink pair somehow feels tough, yet feminine.
Classic Fit Cotton Boxers, $9, Nordstrom
These classic fitting blue striped boxers are so preppy and comfortable looking, they'll have you dreaming of the cute boy from college who always wore a polo shirt and a backwards hat to class.
Hanes 6-Pack Briefs, $23, JCPenney
If you want to look like Carrie and Aidan in their matching tighty-whities, these classic Hanes briefs are for you.
Diesel Star Print Trunks, $32, Saks
Show off your American pride in a red, white and blue star print pair of underwear.
Zig Zag Boxer Brief, $14, Happy Socks
These are literally the most fun underwear I've ever seen.
Images: Andrew Zaeh/Bustle; Courtesy of Brands