People You Didn't Realize Were In 'ID4'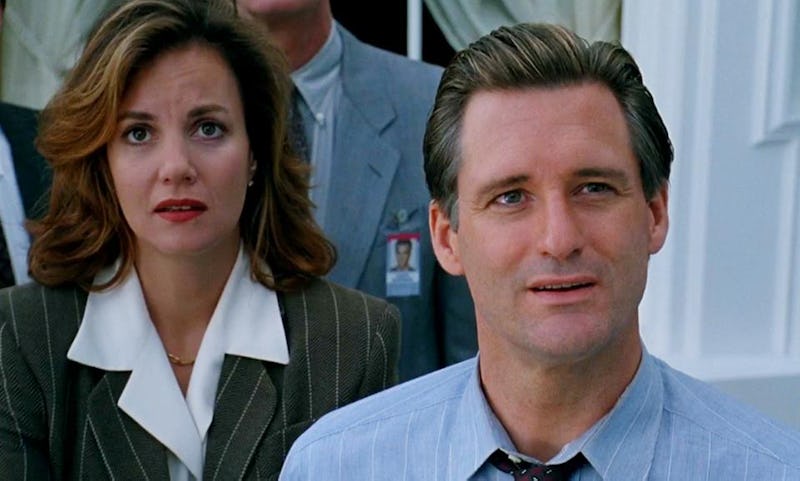 It's hard to believe that 20 years ago a 1996 blockbuster movie called Independence Day became the signature flick for the Fourth of July and included memorable roles for cast members. While Will Smith broke out as a super star after the film's release, there were so many people you didn't realize were in Independence Day like teen heartthrob Andew Keegan, Randy Quaid, and My So-Called Life actor Devon Gummersall, actor/singer Harry Connick Jr. and many others. Since the movie deals with, you know, the entire world being threatened by alien spacecrafts, the film had an expansive cast.
The sequel Independence Day: Resurgence was released in theaters and continues the alien invasion story of the original film, featuring most of the original cast members like Jeff Goldblum and Bill Pullman. I mean, it would be hard to bring everyone back because the 1996 movie's cast was so vast and had so many recognizable actors in roles large and small. It's no wonder that the aliens were no match for the talented human (cast) back then. Although some of the actors are now well-known for other roles, they still played a part in making Independence Day the July 4th classic it is today.
Here are 9 people you may not have realized were in Independence Day.
1. Randy Quaid
Sometimes I feel like Quaid appeared in every single movie from the '90s. He was played a key role in ID4 as Russell Case, who claimed to once be abducted by aliens and became a laughing stock — until he saves the world, of course.
2. Vivica A. Fox
The now-popular movie and TV actress played Smith's love interest Jasmine, a single mom/exotic dancer who was pretty darn resourceful during an alien attack.
3. Harvey Fierstein
The Broadway actor played Marty Gilbert, who works with David Levinson (Goldblum) at the cable company. Unfortunately, he got very trapped in a traffic jam while New York City was trying to evacuate.
4. Kiersten Warren
Saved By The Bell fans might recognize this actress from the series' failed spin-off Saved By The Bell: The College Years. ID4 fans know her as Jasmine's friend Tiffany.
5. Devon Gummersall
After the ABC series My So-Called Life ended, the actor had a small role in the movie as Phillip.
6. Dan Lauria
Famous for playing the dad on The Wonder Years, this actor played a commanding officer in Independence Day.
7. Harry Connick Jr.
The singer has also become well-known for his acting roles, including Independence Day, where he played Captain Jimmy Wilder, a friend to Smith's Steven Hiller.
8. Margaret Colin
Before she was known for her role as Blair Waldorf's mom on Gossip Girl, the actress played Constance Spano, the White House communications director and ex-wife to David who tries to manage the chaos.
9. Andrew Keegan
This teen hearttrob and current religion founder (yup) made an appearance in Independence Day as the older boy who tries to hook up with a girl as the aliens are invading.
Image: 20th Century Fox