21 Literary Wedding Readings About Hope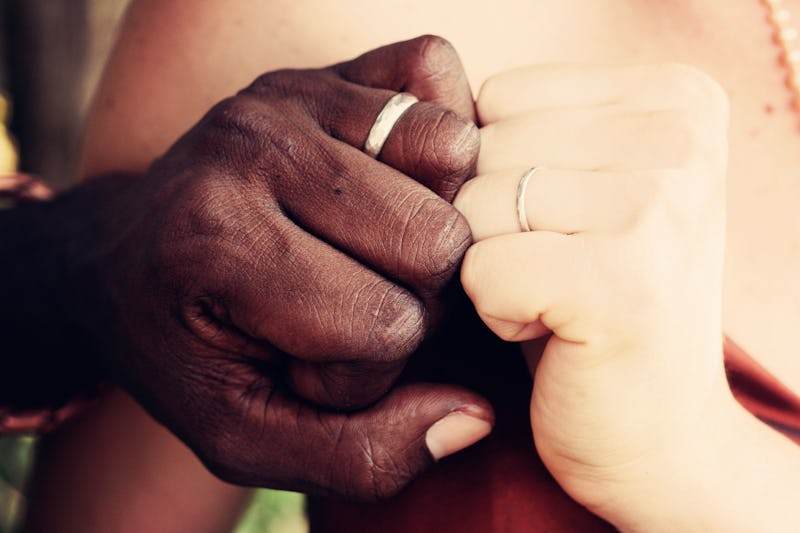 What is a wedding if not the ultimate leap of hope and faith? Two unique spirits, agreeing to be intertwined 'til death do you part, for better or for worse. That's why, if you're a book-lover who's getting ready to tie the knot, and are searching for the perfect book quotes for your wedding vows, this list of literary wedding readings about hope are exactly what you need. (Especially since this year's wedding season has kicked into high gear, and if you're a summer 2016 bride, chances are you're a little behind on your vow-writing deadline about now — am I right? Get on it, girl!)
Even the most optimist of us could use a little more hope these days — and I don't know about you, but I'm always down for celebrating the fact that #LoveWins — and what better time and place to do so than at your own wedding? These book quotes about hope will definitely help you out, and will give you all the vow-writing inspiration you need. You'll deliver a vow your spouse will never, ever forget.
Here are 21 book-inspired wedding readings about hope from Barbara Kingsolver, John Green, J.R.R. Tolkien, and more that you and your soon-to-be-wed are bound to love.
1. "The very least you can do in your life is figure out what you hope for. And the most you can do is live inside that hope. Not admire it from a distance but live right in it, under its roof."
― Barbara Kingsolver, Animal Dreams
2. "We need never be hopeless because we can never be irreparably broken."
― John Green, Looking for Alaska
3. "The world is indeed full of peril, and in it there are many dark places; but still there is much that is fair, and though in all lands love is now mingled with grief, it grows perhaps the greater."
― J.R.R. Tolkien, The Fellowship of the Ring
4. "Me and you, we got more yesterday than anybody. We need some kind of tomorrow."
― Toni Morrison, Beloved
5. "When we love, we always strive to become better than we are. When we strive to become better than we are, everything around us becomes better too."
― Paulo Coelho, The Alchemist
6. "To be fully seen by somebody, then, and be loved anyhow ― this is a human offering that can border on miraculous."
― Elizabeth Gilbert, Committed: A Skeptic Makes Peace with Marriage
7. "This new day is too dear,with its hopes and invitations,to waste a moment on the yesterdays."
― Ralph Waldo Emerson, Collected Poems and Translations
8. "It's the possibility that keeps me going, not the guarantee."
― Nicholas Sparks, The Notebook
9. "We would be together and have our books and at night be warm in bed together with the windows open and the stars bright."
― Ernest Hemingway, A Moveable Feast
10. "Anyway, I keep picturing all these little kids playing some game in this big field of rye and all. Thousands of little kids, and nobody's around ― nobody big, I mean ― except me. And I'm standing on the edge of some crazy cliff. What I have to do, I have to catch everybody if they start to go over the cliff ― I mean if they're running and they don't look where they're going I have to come out from somewhere and catch them. That's all I do all day. I'd just be the catcher in the rye and all. I know it's crazy, but that's the only thing I'd really like to be."
― J.D. Salinger, The Catcher in the Rye
11. "Let's just be fabulously where we are and who we are. You be you and I'll be me, today and today and today, and let's trust the future to tomorrow. Let the stars keep track of us. Let us ride our own orbits and trust that they will meet. May our reunion be not a finding but a sweet collision of destinies!"
― Jerry Spinelli, Love, Stargirl
12. "We are not trapped or locked up in these bones. No, no. We are free to change. And love changes us. And if we can love one another, we can break open the sky."
― Walter Mosley, Blue Light
13. "You will learn a lot about yourself if you stretch in the direction of goodness, of bigness, of kindness, of forgiveness, of emotional bravery. Be a warrior for love."
― Cheryl Strayed, Tiny Beautiful Things: Advice on Love and Life from Dear Sugar
14. "So don't be frightened, dear friend, if a sadness confronts you larger than any you have ever known, casting its shadow over all you do. You must think that something is happening within you, and remember that life has not forgotten you; it holds you in its hand and will not let you fall."
― Rainer Maria Rilke, Letters to a Young Poet
15. "I believe in magic. My life and most people's lives are a series of little miracles — strange coincidences which spring from uncontrollable impulses and give rise to incomprehensible dreams."
― Colin Clark, My Week with Marilyn
16. "The bottom line is, what defines you isn't how many times you crash, but the number of times you get back on the bike. As long as it's one more, you're all good."
― Sarah Dessen, Along for the Ride
17. "There was no harm in taking aim, even if the target was a dream."
― John Knowles, A Separate Peace
18. "People don't settle for people. They resolve to be with them. It takes faith. You draw a circle in the sand and agree to stand in it and believe in it."
― Zadie Smith, The Autograph Man
19. "It's enough for me to be sure that you and I exist at this moment."
― Gabriel García Márquez, One Hundred Years of Solitude
20. "After all this time?""Always," said Snape.
— J.K. Rowling, Harry Potter and the Deathly Hallows
21. "There is only one page left to write on. I will fill it with words of only one syllable. I love. I have loved. I will love."
― Audrey Niffenegger, The Time Traveler's Wife
Images: Désirée Fawn, Evan Kirby, Andrew Itaga, Mayur Gala, Gianni Scognamiglio, davide ragusa, Alejandra Quiroz, Rachael Crowe/Unsplash