You Can Still Shop Ivy Park's Summer Collection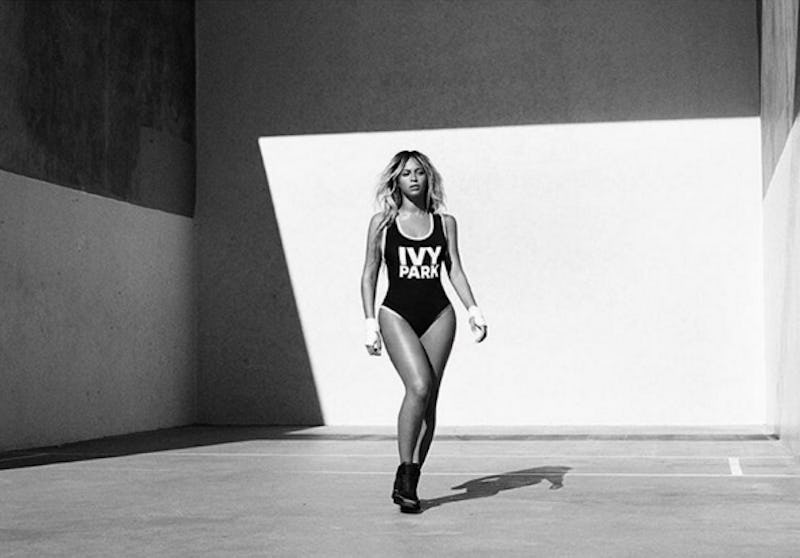 If you didn't get a chance to snag some of Beyonce's highly-coveted Ivy Park merchandise when they first launched back in April, you're in luck, because you now have another chance. Ivy Park's second collection has officially dropped, and it's chock full of stylish sportswear that you'll practically want to live in. You may now be wondering — is Ivy Park's summer collection sold out? I've got you covered with all the details.
If you haven't had a chance to check out the new offerings, I suggest you head to Topshop or Nordstrom ASAP. Similar to the first collection, this range includes plenty of ribbed tanks, cropped sweatshirts, patterned sports bras, and branded leggings. The color palette, however, is a bit different, skewing more towards shades of blue, green, gray, and white. There is even a new version of that black and red Ivy Park bodysuit, which was totally the star of the first collection.
Judging by the massive popularity of the line's first installment, it's likely this follow-up line will also sell like hotcakes. If you're already dying to shop some pieces for yourself, I have good news! Most of the pieces on Topshop and Nordstrom are still available, though a few sizes in varying items may be sold out.
This takes athleisure to a whole new level.
Sleeveless Logo Body by Ivy Park, $50, topshop.com
Once again, the bodysuit is the standout piece, and definitely my favorite.
Colour Block Detailed Sweatshirt by Ivy Park, $58, topshop.com
I'm completely obsessed with this color scheme.
Cropped Logo Detailed Hoodie by Ivy Park, $52, topshop.com
Cropped sweatshirts are totally all the rage right now.
Happy shopping!
Images: Topshop (3); WeAreIvyPark/Instagram (1)