Guess Who Is In Fergie's "M.I.L.F $" Video?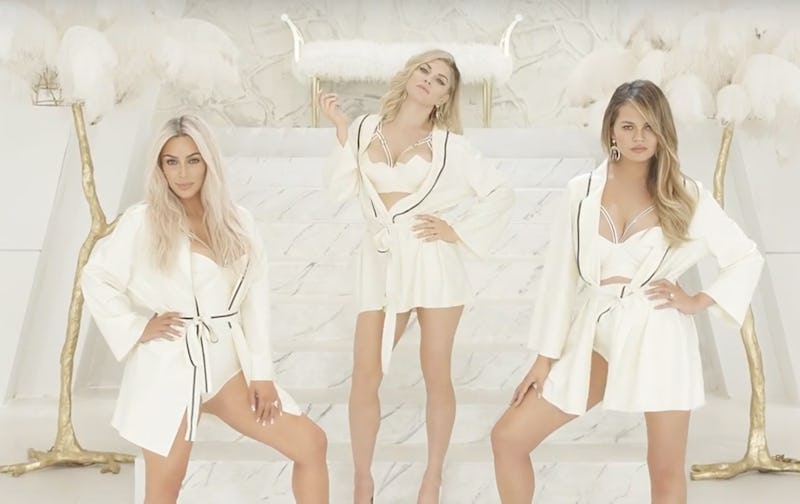 The moment has arrived: Less than 24 hours after Stacy Ferguson dropped the long-awaited followup to 2014's "L.A. Love (La La)," she released the vid that goes along with it. And oh, what a vid it is! On Friday, Fergie's "M.I.L.F. $" music video hit the internet, and as promised, it is up to its candy-coated eyeballs in celebrity cameos. You want the names of the actresses, models, and musicians who are in Fergie Ferg's vid? Oh, you got it. As Entertainment Weekly oh-so quickly observed, the "Fergalicious" singer is joined onscreen by Kim Kardashian, Ciara, Chrissy Teigen, Alessandra Ambrosio, Devon Aoki, Gemma Ward, Angela Lindvall, Amber Valletta, Tara Lynn, Natasha Poly, and Isabeli Fontana.
In addition to being a bonafide cameo extravaganza, the "M.I.L.F. $" music video also showed up to the party with a lot of fantastic choreography, a bevy of attractive dudes, a heaping helping of dairy products, a topiary that's shaped like a dolphin, background dancers sliding down poles and into giant glasses of what appears to be Pepto Bismol, and an alternate meaning for the M.I.L.F. acronym ("Moms I'd Like to Follow"). What more could you want?
Wait, what that you say? You want screengrabs of the cameos? Oh. You. Got. It.
Kim Kardashian
Hey, gorj! Lookin' mayj!
Ciara
Ciara got that fire like oh!
Chrissy Teigen
My favorite Bravo superfan just killin' it like always.
Alessandra Ambrosio
Whew, she is nothing short of legendary.
Devon Aoki
Yesssss. Deadly Little Devon. (Man, it's been waaaay too long since I last watched Sin City.)
Gemma Ward
Gemma's no stranger (har har har) to slaying.
Angela Lindvall
Hey now, you're an all star! (A supermodel/actress/environmentalist/former host of Project Runway All Stars, that is).
Amber Valletta
Blood & Oil? More like Power Suits & Flames Emoji. (Really rolls off the tongue, doesn't it?)
Tara Lynn
The stunning H&M spokesmodel is nothing short of Hypnotic & Magical.
Natasha Poly & Isabeli Fontana
Gettttt ittt, Vicky's Angels!
You can watch the "M.I.L.F. $" music video here:
Images: FergieVEVO/YouTube (11)