Videos Of Past Nathan's Hot Dog Eating Contests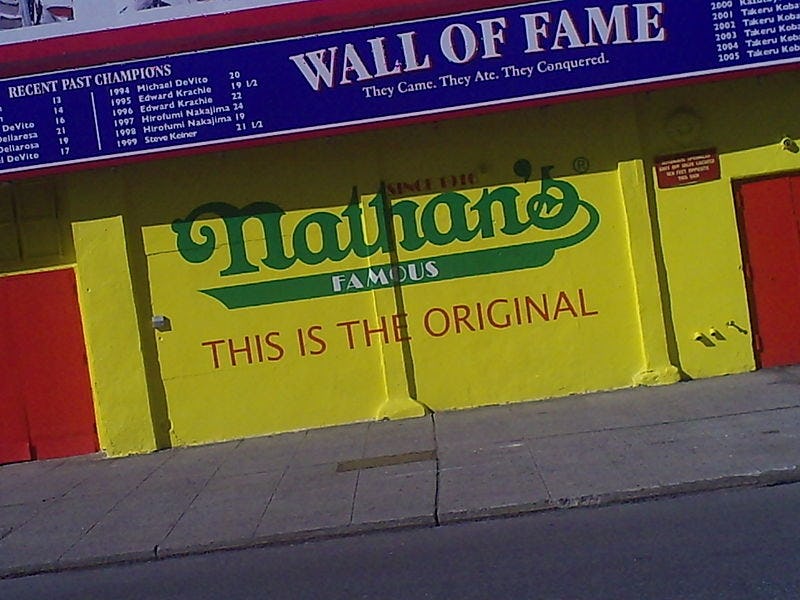 I consider myself a fairly patriotic person. I mean, at the very least, when I backpacked through Europe in college I didn't tell anyone I was Canadian. For the life of me, however, I can't understand why some choose to celebrate America's independence by jamming 60 or so hot dogs down their throat. The increasing fascination with Nathan's Hot Dog Eating Contest in New York's Coney Island is a complete mystery to me. So I decided to watch videos of past Nathan's Hot Dog Eating Contests to try and gain a better appreciation for the sport that has captured America's attention since the 1970s.
Now, I love a good hot dog as much as the next person, but have you ever eaten a soggy hot dog? That seems to be the preferred method of choice for consuming mass amounts of hot dogs in a short period of time in contests. I ate one — once — out of childish desperation. I was at a particularly well-attended birthday pool party when disaster struck and my dog slipped through my fingers and landed, with a plop, in the pool. Not one to raise a ruckus as a child, I did what any hungry kid raised on episodes of MacGyver would do. I fished it out with a pool noodle and ate it.
The last two Nathan's Hot Dog Eating champs — current title holder Matt Stonie and eight-time champion Joey Chestnut — both hail from my hometown of San Jose, California. It's a fact we seem fairly proud of, making me question if this is the best San Jose has to offer. I don't mean to disparage these athletes' talent. Clearly, they have a skill not many of us can boast.
In 2015, Stonie caused an upset in the world of championship eating with his shocking upset of long-time defending champ Chestnut. The crowd seemed ready for a new champion, however, as chants of "Stonie, Stonie" rang out as the two men dunk and chew. There may have been a slew of other competitors, but the competition quickly became a two-man event. If you watch, don't skip straight to the eating — the MC's epic introductions of each eater are comedy gold.
It was a close contest in 2014 but Chestnut — who'd proposed to his girlfriend on live TV as part of the festivities — managed to pull away from Stonie in the last few minutes of the competition to down a total of 61 hot dogs.
Although no one came close to matching Chestnut's speed, Nathan's Hot Dog Eating Contest proved a thrilling competition in 2013 with the defending champion breaking the world record for hot dog consumption — which he'd set in 2009 — by downing a total of 69 hot dogs in just 10 minutes.
Unfortunately, 2012 was a bit of a lackluster year for fans of Nathan's Hot Dog Eating Contest. Chestnut won by matching the world record of 68 dogs he'd set in 2009, breaking well away from the others about halfway through with no other competitor coming close to chowing down as many dogs as he did. He appeared on the verge of barfing in the final 30 seconds but held it all in to claim his sixth "mustard belt."
In 2011, Nathan's held separate competitions for men and women for the first time (a tradition that has since continued) with Sonya Thomas claiming the women's title. That year was also Stonie's first year as a professional eater and his first Nathan's Hot Dog Eating Contest, though he did not place among the top three eaters.
While I can't say I'm sold on competitive eating quite yet, (in fact, I think I'll pass on the hot dogs and opt for a hamburger this Fourth of July) I can see how the festivities of the event appeal to people.