Was Elie Wiesel Married? He's Been Wed Since 1969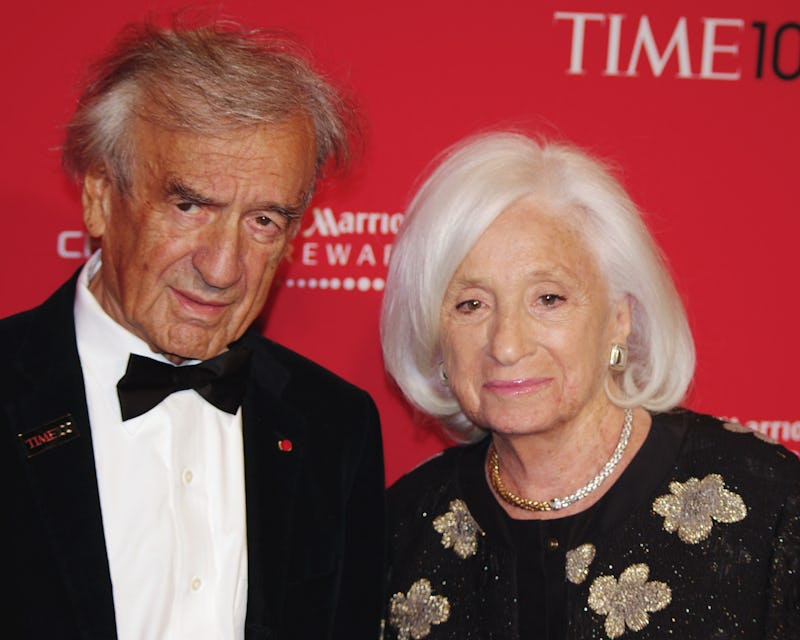 Nobel Peace Prize winner and author Elie Wiesel died on Saturday at the age of 87. Best known for his memoir, Night, the author and activist fought hard his entire life to combat indifference and create a world where tragedies like the Holocaust cannot occur. Because most of us read Night in high school, we know much of his life as a teenager during the Holocaust. But many of don't know too much about Wiesel's life since then. You may wonder: was Elie Wiesel married?
Elie Wiesel has been married to Marion Wiesel (born Marion Erster Rose) since 1969. Marion Wiesel has two children: Jennifer, a daughter from a previous marriage, and Elisha, the son she shares with Elie Wiesel.
According to a biography published by Central Synagogue, Marion Wiesel was born in Vienna and is also a Holocaust survivor. She and her family escaped Austria during the Holocaust by hiring a guide to illegally transport them to Belgium, but when the Nazis invaded Belgium, they were sent to an internment camp in France. They escaped to Switzerland in 1942, and stayed there until 1947.
When she met Elie Wiesel, she was in the process of getting divorced. They married in Jerusalem in 1969, and became a writing and translating team. In fact, she translated some of his works, including the 2006 edition of Night, which was originally written in Yiddish.
Her humanitarian work extends beyond the page. In 1986 — the same year Elie Wiesel received his Nobel Peace Prize — she and her husband founded The Elie Wiesel Foundation for Humanity, an organization dedicated to combatting indifference, intolerance, and injustice through international dialogue and youth-focused programs. Like her husband, Marion has truly dedicated her life to fighting indifference and hate.
Images: David Shankbone/Wikimedia Commons