21 Tankinis That Your Early 2000s Self Would Love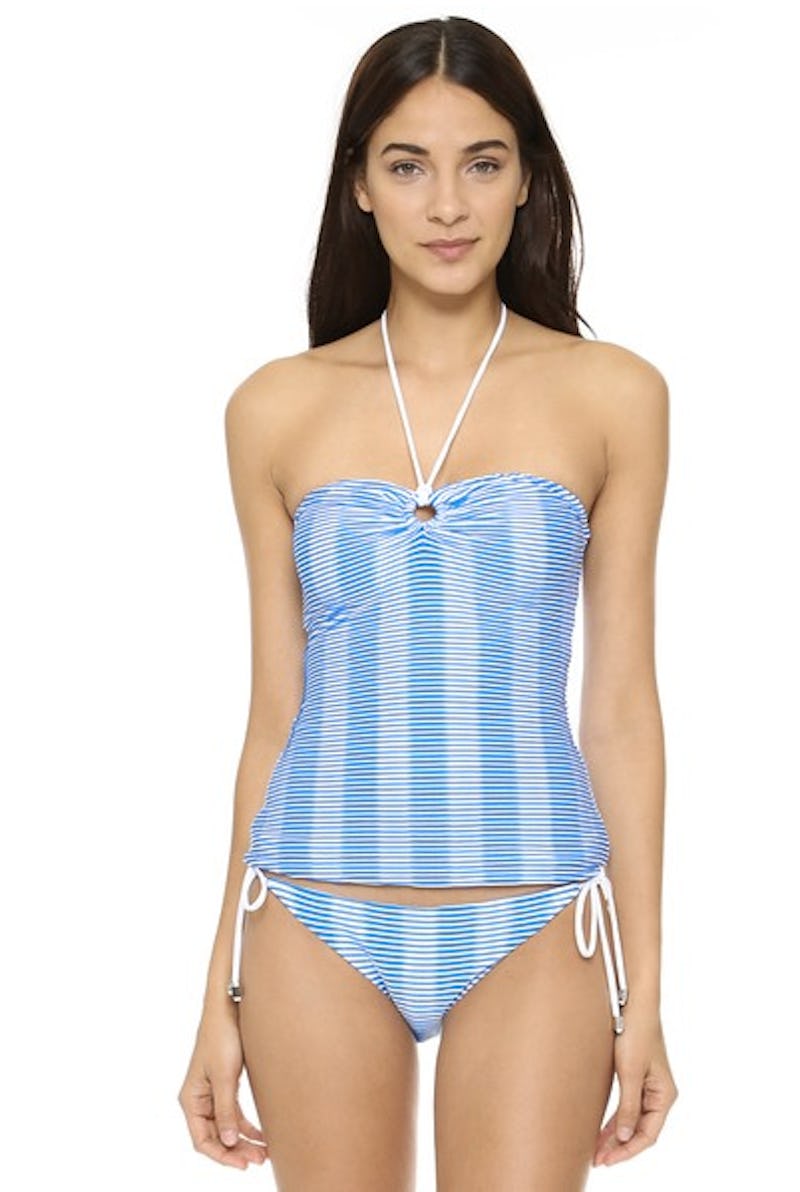 Fashion is always cyclical, and just like how mom jeans, tie dye, and flannels are back, tankinis have taken the swimsuit world center stage. Forget the teeny, tiny bikinis of the past—this summer, it's all about plunging one pieces, super cool cutouts, and the infamous tankini (which, I'm pretty sure I haven't worn since the sixth grade, but hey, times are changing).
Growing up with three older sisters, I wanted nothing more than to be able to wear their clothes—crop tops, halter tops, spaghetti strap dresses, denim skirts, and most of all, bikinis. I'd sift through my older sister's closet, sneaking around and trying on all her coolest pieces. One of them in particular was a purple tankini with pink trimming. Showing off your midriff was apparently très chic, and you pretty much weren't a cool kid without a bathing suit that showed it off. Oh, how disillusioned we were back then. Little did we know that this little swimsuit trend would come back.
By middle school, I had gotten my very own. It was electric blue with white flowers, complete with a little bow on the top piece. I felt instantly cooler. Gone were the days of my plain black one piece that I wore to the town pool and swam laps in. In this blue baby, I was more confident and ready to take those summer pool parties on.
Looking back, that was one of the swimsuits that pretty much defined my sense of summer style. And now that I look around, I see that this trend is back and better than ever. These are the tankinis our 2000s selves would've absolutely fawned all over.
1. This Amazing Fringe
Luxe by Lisa Vogel Fringe Benefits High-Neck Tankini Swim Top, $76, Nieman Marcus
Imagine the movement in this top?
2. The Ultra Colorful
Gossip Girl Tropical Matrix High Neck Tankini Top, $44, Nordstrom
Obsessed with all the prints in this one.
3. The Crochet
Hula Honey Crochet Cutout Bandeau Tankini Top, 19.99, Macy's
Love the see-through portion.
4. The Half Lace
MICHAEL Michael Kors La Vie Boheme Crochet-Lace Halter Tankini Top, $102, Nieman Marcus
I'm all about summer whites.
5. The Polka Dot
Christina Women's Ocean Pearl Flare Bandeau Tankini With Molded Underwire Cups, $41.23, Amazon
Love how this is paired with a minimal black bottom.
6. Pinks And Reds
Becca Metropolis Colorblock Tankini Top, $38.98, Nordstrom
I'm obsessed with how retro this looks.
7. Pretty Stripes
Vince Camuto Women's Shore Side Underwire Bikini, $61.29, Amazon
So simple, yet so good.
8. The Floral
Women's Plus Size Slender Blouson Tankini Top, $109, Land's End
And it matches with nearly every bottom.
9. The Super Colorful
Profile By Gottex Flyaway Tankini Top, $65.66, Nordstrom
Love the shiny jewels on this one.
10. The Mesh
Luxe By Lisa Vogel Sport High-Neck Tankini Swim Top, $48.75, Last Call
All the detailing in this one is to die for.
11. The Hot Pink
Shore Club Raspberry Flowy Tankini, $47.60, Swimsuits For All
Yes to this pink.
12. The Coral
Kenneth Cole Reaction Women's Suns Out Crochet Buns Flyaway Tankini, $22.99+, Amazon
This fun color is everything.
13. The Halter
Shoshanna Textured Stripe Ring Tankini Top, $165, Shopbop
Tankini, or optical illusion? Both.
14. Purple Power
Magicsuit Tiered Ruffle Tankini Top, $58.99, Macy's
This one's so cute, you could even wear it as a regular top.
15. Pattern Central
Laundry By Shelli Segal Women's Maharaji Border Bandeau Tankini, $68.58+, Amazon
Who knew all these patterns could look so good in one?
16. The Scarf Print
Lucky Brand Scarf-Print High-Neck Tankini Top, $39.99, Macy's
So boho.
17. The Tie Up
Becca Grommet-Lace Crochet Tankini Top, $53.99, Macy's
Such a simple detail, yet makes such a difference.
18. Pretty Florals
Jessica Simpson Women's Sweet Treat Tankini, $40.93, Amazon
Love the little cutout, too.
19. Stripes
Anne Cole Striped Bandeau Tankini Top, $38.99, Macy's
This one might be my fave.
20. Simple
Cole of California Women's Plus Size Super Stripe Draped Halter Tankini, $34.92+ Amazon
Can't get better than classic colors.
21. The Slip Style
MICHAEL Michael Kors Cascading Chain Solids Layered Tankini Top, $60, Lord & Taylor
Love how simple and silky this looks.
This summer, don't underestimate the power of a long two piece. Tankinis are back and better than ever, and you certainly won't regret picking one up for your next pool or beach side adventure.