These 'Bachelorette' Villains Are Worse Than Chad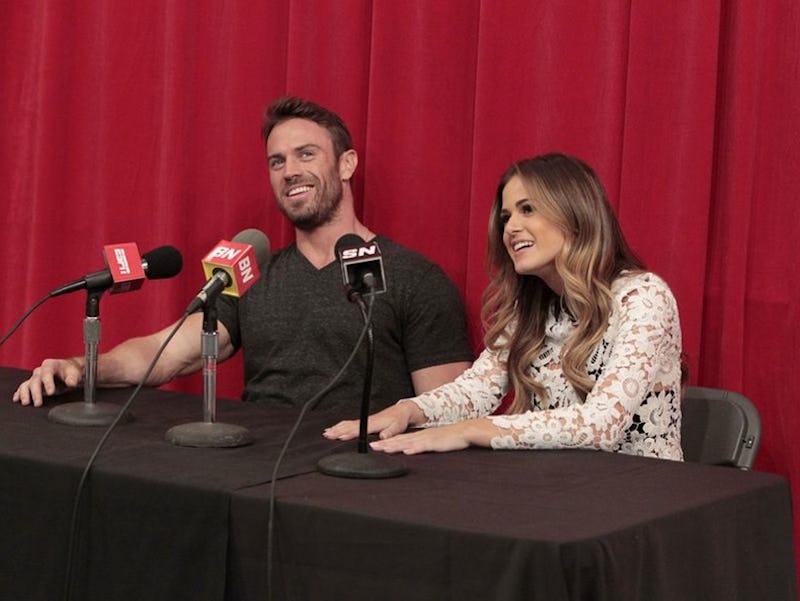 I love every season of The Bachelorette for different reasons, and where JoJo Fletcher's season is concerned, that reason is Chad Johnson. Since the first time he stepped out of that limo and onto the hallowed grounds of the Bachelor mansion, he has been nonstop entertainment, so I was really bummed to see him go after his ill-fated two-on-one date. It seems pretty obvious that Chad was the villain of this particular season of The Bachelorette — like, from the very beginning — but was he the worst one ever? No way. Not by a long shot. There have been so many Bachelorette contestants who are worse than Chad, so that's not really a crown he can claim just yet.
I mean, I'll be the first to admit that there have been plenty of times Chad has been out of line. Seeing him eat deli meat is hilarious and all, but it was definitely inappropriate when he got so scary that he needed his own security detail. However, his threats and his violence aren't the worst The Bachelorette has ever seen, and this list is full of people who could give this guy a run for his money.
Here's an idea: For the next season of Bachelor in Paradise, let's put all these guys on an island, Hunger Games style, and see who the most evil really is. The ratings would be insane!
1. Kalon McMahon
In case you've forgotten Kalon, he was the dude on Emily Maynard's season who dared to describe her daughter, Ricki, as "baggage" — a decision that didn't exactly gain him favor with the other men. In fact, he was tattled on pretty quickly, and Emily made sure he was out of the running for her heart. Chad's done a lot of sketchy things, but what's worse than insulting someone (and her child) like that? However, it did give us one of the most epic moments of Bachelorette history (Emily going "West Virginia hoodrat" on him, duh) so I have to thank him for at least that.
2. Joe Bailey
The key to Joe's evil is the fact that it was just so surprising. On The Bachelorette, Joe seemed like a total gentleman based on his interactions with Kaitlyn Bristowe, but once he headed to Bachelor in Paradise, everything changed. He left Juelia Kinney high and dry for Samantha Steffen (a relationship that didn't last, either) and was open about the fact that he was playing her to get the roses he needed to stay on the show long enough to meet Sam. And not only that, but he was also really aggressive toward the other men, seemingly for no reason. Not cool, dude.
3. Ian Thomson
Ian may not have terrorized his fellow contestants the way Chad did, but he put Bachelorette Kaitlyn through a lot. In fact, he filled her in that her sense of humor was far too immature for him, and that in any other situation, the women would be the ones lining up to compete for him. He actually thought he would make a good Bachelor, and boy was he wrong. Chad thinks a lot about himself, sure, but it doesn't compare to Ian's ego.
4. Clint Arlis
What was with Kaitlyn's season and all the villains?! Clint was one half of the epic bromance between him and JJ Lane, and he made it clear he wasn't on the show for Kaitlyn — just so he could be friends with JJ. Hey, at least Chad actually seemed like he was into JoJo!
5. Justin Rego
Obviously, not all guys come on The Bachelorette looking for love, but some of them even already have it. When Justin Rego came on Ali Fedotowsky's season having a girlfriend back home, too, she flew off the handle at him... and can you blame her?! And that's not just a scummy thing to do to Ali, either — it's pretty rotten of him to treat his girlfriend like that, too.
6. Wes Hayden
Not only did Wes have a girlfriend, just like Rego, but he also only used The Bachelorette to further his music career, which is even worse. Talk about the wrong reasons! Not even a guitar and the moonlight at the Bach mansion can change that.
7. Bentley Williams
On Ashley Hebert's season, Bentley did everything he could to get Ashley to fall in love with him, even though his feelings for her were not mutual. If Chad has one thing going for him, it's honesty.
Which of these guys is the most evil? It's hard to say, but they definitely give Chad a lot to live up to. And although Chad may have been booted off The Bachelorette, don't worry — there are plenty more villains where that came from in future seasons.
Images: Rick Rowell/ABC