This Cotton Candy Cocktail Is Infused With Gold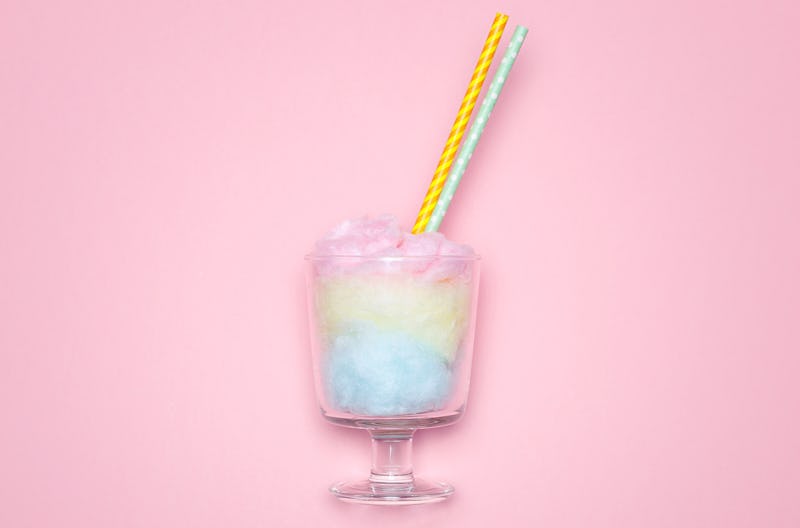 Last week, we had rosé-flavored gummy bears; and this week, there's a new inventive treat going viral: Gold-infused cotton candy cocktails. This is notable for two reasons: First off, gold-infused cotton candy exists, and second, it's been turned into a cocktail by the company that makes it. Sugaire, a couture candy company which specializes in cotton candy, makes the cocktail happen by mixing organic rose gold-infused cotton candy with sparkling water. The result is a swirling eddy of glitter and golden, sweet-tasting water, and it's so pretty, you might not even want to drink it. If it tastes as good as it looks, though? Well, let's just say all bets are off.
Unfortunately, getting your hands on the cocktail doesn't appear to be all that easy. To have Sugaire come to an event or party and bring their fabulous creations with them (which also include their hand-spun Fluffpops — best name ever, or best name ever?), you actually have to apply. Fine. Whatever. I didn't really want a rose gold-infused cotton candy cocktail anyway.
Yes I do. But hey, at least if you're just looking to get some of Sugair's cotton candy minus the cocktail bit, you can order on their website, FYI.
Check out the video below to see the cocktail in all its sparkly wonder. What a fun addition this would be to a party — and quite Instagram-worthy, I might add.
Worth noting is the fact that this isn't the typical cotton candy you'd get at the county fair. Not only is it organic, but according to Sugaire's website, their cotton candy is also vegan, kosher, gluten-free, handcrafted, and all-natural. Additionally, they're dye-free, and the colors used are plant-based.
Props to Sugaire for their more natural spin on a candy classic. And I don't want to forget the whole rose gold thing — that part is pretty badass, too. Other flavors of their cotton candy include Sea Salt Caramel and Banana Cream; furthermore, Sugaire also offers gourmet popcorn, if cotton candy isn't your thing.
Now if you'll excuse me, I have a fancy cotton candy cocktail party to plan. Because heck and yes.
Images: Fotolia