Trump Is Trying To Make Sure I Can't Stomach Him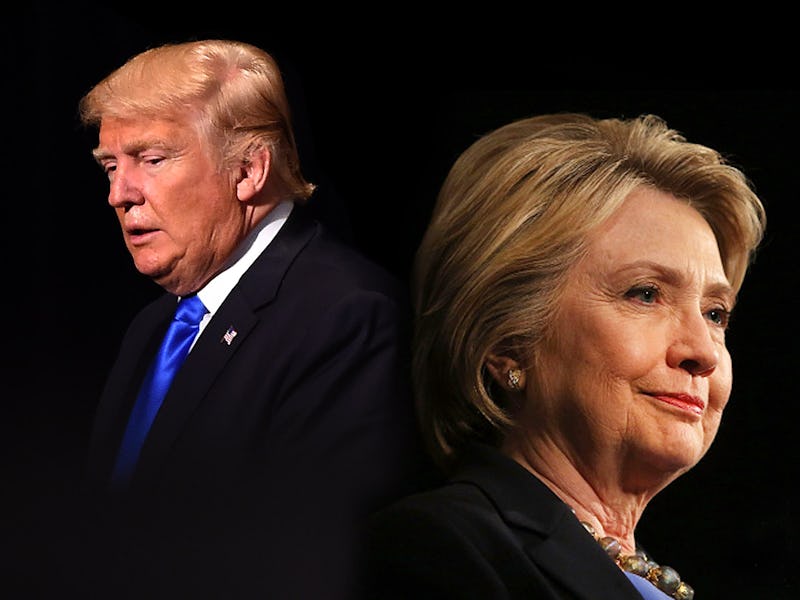 Lately, I find myself marveling less at how outrageous and offensive Donald Trump's campaign so often is and focusing more at how fantastically unhelpful and damaging it manages to be, just from the perspective of pure political strategy. The most recent example of his campaign's remarkable ability to shoot itself in the foot came on Saturday when Trump tweeted a now-infamous image of Hillary Clinton that has been interpreted as anti-Semitic by many people — and not without reason. The tweet featured Hillary Clinton's face against a pile of money with a six-pointed star, the shape of the Jewish Star of David, with the text "the most corrupt candidate ever." As reports later noted, that image previously appeared on an anti-Semitic, white supremacist message board.
Trump deleted the tweet hours after it was posted. His campaign has roundly denied any claims of anti-Semitism, though much of their rejection was directed towards Hillary Clinton's campaign's criticism of the tweet: "These false attacks by Hillary Clinton trying to link the Star of David with a basic star, often used by sheriffs who deal with criminals and criminal behavior, showing an inscription that says 'Crooked Hillary is the most corrupt candidate ever' with anti-Semitism is ridiculous," Trump's campaign said in a statement released Monday.
Trump's social media editor, Daniel Scavino, said in a statement "The social media graphic used this weekend was not created by the campaign nor was it sourced from an anti-Semitic site." He added, "The sheriff's badge — which is available under Microsoft's 'shapes' — fit with the theme of corrupt Hillary and that is why I selected it." Scavino also tweeted out on Tuesday:
I don't believe Trump, the man, is anti-Semitic. "There's no anti-Semitism in Mr. Trump's body, not one ounce, not one cell," Ed Brookover, a Trump aide, told CNN. As an American Jew who is sensitive to anti-Semitism, I'm willing to believe that Trump doesn't hate Jews as a uniform group — even without his daughter Ivanka stressing how supportive her father was of her conversion to Judaism. But even if I agreed with Trump's policies, I would find it incredibly difficult to support him as an American Jew. I don't think he's anti-Semitic, but I do find it disturbing how he says and does things that serve as dog-whistles for people who are anti-Semitic. Frankly, Trump's tweet doesn't perturb me as much as his unwillingness to denounce the anti-Semitic death threats lobbed against reporter Julia Ioffe after her GQ profile of Melania Trump. Oh, and the fact that former Ku Klux Klan leader David Duke quickly gave his stamp of approval — and upped the ante — to Trump's original tweet didn't exactly assuage my concerns. In fact, it only reminded me that Trump was disturbingly slow to disavow support from Duke earlier this year.
Trump's six-pointed star tweet blowup and backlash this weekend also completely overshadowed the fact that on the (far) other side of the political spectrum, Max Blumenthal, son of former Hillary Clinton adviser, Sidney Blumenthal (though by no means a Clinton supporter himself), spent most of Saturday trashing Elie Wiesel on Twitter. Blumenthal responded to the death of the Holocaust survivor and Nobel Prize winner by tweeting that Wiesel "did more harm than good and should not be honored." Frankly, I would have preferred seeing more coverage and debate over these comments, but Trump managed to steal the show that day (and that weekend) in the worst way possible.
I look at Trump's tweet and his campaign's response, and I shudder, as an American and as a Jew. And as a political analyst, I can only wonder, what was he thinking?
Image: Bustle/Dawn Foster