Are You & Your Partner Compatible In Bed?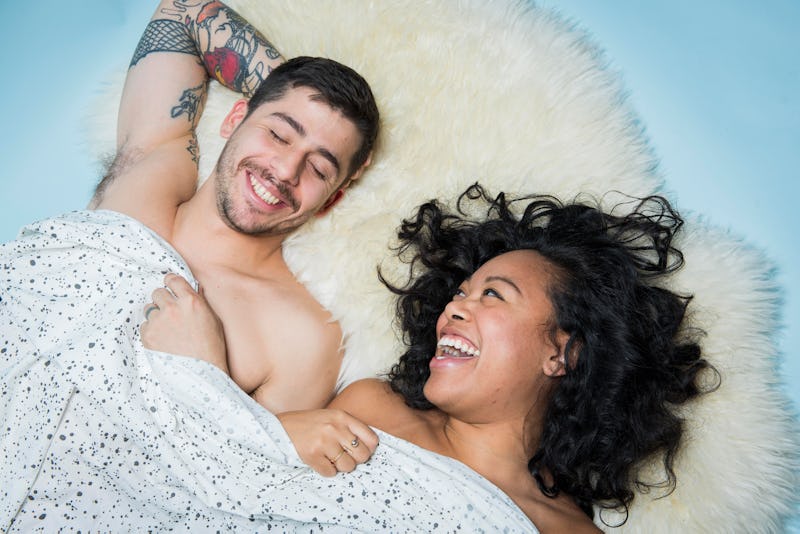 No matter how many relationship books and magazine tips you've read in your life, sometimes, the sex with one particular person is just inexplicably better. There are some surefire ways to tell if you and your partner are sexually compatible, even if an attraction to someone appears to be entirely subconscious.
I was raised Catholic, and the "waiting until marriage thing" may have been part of the reason I didn't lose my V-card until way later — even though, by that time, I'd already renounced Catholicism for my own spiritual beliefs. Now, while there's nothing wrong with waiting until the wedding night, I'm really glad I didn't, because even though the first guy I slept with was unbelievably sweet, trustworthy, and caring (not to mention one of my closest friends since childhood), the spark wasn't there, and the fact that we weren't sexually compatible boggled my mind. How could someone so great just not do it for me?
I consequently did a lot of research on what makes you and your SO sexually compatible, and why certain couples are just better for each other in bed. Check out these top habits of sexually-satisfied couples, and if you don't already have these tendencies with your partner, implementing them could make all the difference.
1. The Sex Is Fun And Lighthearted
Some people crave that deep and meaningful sexual experience, and that's wonderful — but with that craving often comes a lot of stress and a lot of pressure. Turn sex into a fun and lighthearted experience with Sex Stack, which is pretty much just sexy Jenga. Each block has a fun and innovative sexual suggestion written on it, and it also comes with a deck of cards for when you can't take the teasing anymore.
2. You Stimulate Each Other
Shibari Mini Halo Massager, $23, Amazon
Loads of couples are intimidated by the idea of bringing toys into the bedroom, but vibrators and rings can help to take a lot of the pressure off, as well as prompt better orgasms. This Shibari mini massager is a favorite among tons of adults (even the ones who have countless sex toys) because it's powerful, USB-rechargeable, waterproof, and has 20 different speeds and vibrational patterns.
3. You're Both A Fan Of Foreplay
Sensual Edible Aromatherapy Massage Oil, $15, Amazon
Foreplay helps to prepare both parties for intercourse, which makes the whole experience more comfortable and satisfying, but tons of couples skip it. Motivate yourselves to stay in the touching phase a little longer with this sensual edible aromatherapy massage oil. It's made with hydrating sweet almond oil and relaxing lavender oil to prompt a lot of massaging and maybe a little tasting.
4. You're Comfortable Communicating
How To Talk Dirty, $7, Amazon
Compatible couples learned to be compatible in the first place by communicating. If you need a little help saying "That feels good," or "Could you try doing this?" check out How To Talk Dirty by Denise Brienne. It's chock-full of ideas and suggestions that help you to voice your passions and needs in the heat of the moment, and reviewers say it's an excellent guide for couples of all ages.
5. You Make Things Comfortable
Sliquid Organics Natural Lubricating Gel, $11, Amazon
Sexual discomforts like vaginal dryness can happen at any age for a whole multitude of reasons, but a compatible couple can talk about stuff like this, as well as find ways to fix it. The Sliquid Organics natural lubricating gel is an all-natural lube that has no parabens or glycerin, but it's filled with organic botanical extracts that heal and support. Reviewers say it feels incredible, won't stain clothes or sheets, and a little goes a long way to reduce irritation and chafing.
6. You Pass Around The Dominance
Ziooer Couple Collection Bed Restraints Set, $36, Amazon
Equality in the bedroom is imperative, but that doesn't mean you can't get some serious satisfaction from switching up the dominant and submissive roles. This Ziooer bed restraints set makes for an awesome starter kit because it's strong, durable, and comes with everything from wrist cuffs to a blindfold. Best of all, they're adjustable and comfortable, so they can be worn by either partner.
7. You Know Your Own Bodies
Women's Anatomy of Arousal, $18, Amazon
It's nearly impossible to tell your partner what you're looking for if you, yourself, don't know. Women's Anatomy of Arousal is a user-friendly but scientifically-written manual by Sheri Winston that helps women to understand their sexuality, both physically and mentally, from the inside out. It's a favorite among men and women alike because it's "profound, fun, and life-changing."
8. You Spend Quality Time Outside The Bedroom
TableTopics, $25, Amazon
According to licensed clinical psychologist Jason Greenberg, "Couples often lose sight of the importance of feeling connected outside the bedroom and how that can affect their sex life." Stay connected with TableTopics, an exciting and stimulating game that helps to carve out some quality bonding time in your day. It comes with over 130 thought-provoking questions to help any couple rejuvenate their relationship on a daily basis.
9. You're Always Trying New Things
The Little Black Book of Kama Sutra, $11, Amazon
Missionary is fun and all, but if you're compatible in the bedroom, you're comfortable with trying new and exciting things. The Little Black Book of Kama Sutra is a modern how-to on the 1600-year-old favorite. It features everything from foreplay to actual positions, and because it's well-written and explanatory, it's sure to keep anyone's love life extra spicy.
Bustle may receive a portion of sales from products purchased from this article, which was created independently from Bustle's editorial and sales departments.
Images: Bustle (1); Amazon (9)