The One 'ESPN' Body Issue Photo You Need To See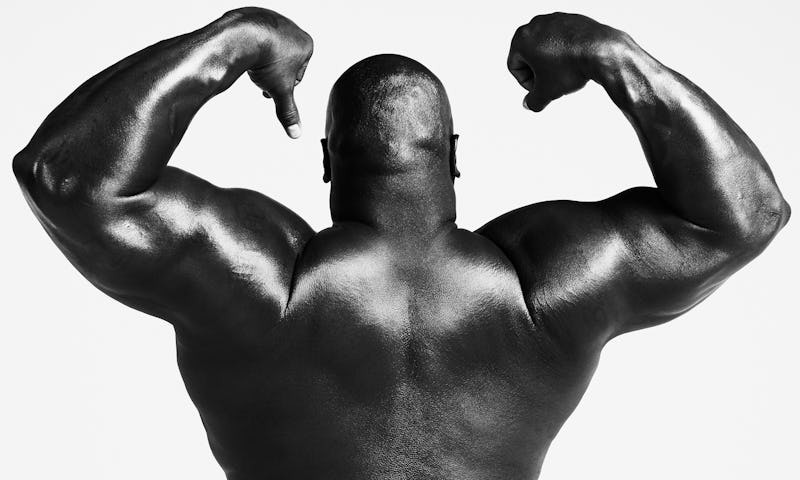 When it comes to sports stars posing nude, the practice is often left to those conventionally attractive enough to fit into traditional Sports Illustrated Swimsuit Issue-esque molds. The 2016 ESPN Magazine Body Issue, however, is leading the way in representing diverse body types in sports while challenging the notion that to be nude is to be inherently sexual. By replacing the vulnerability of nudity with the physical strength of the athletes featured, the Body Issue has arguably been promoting feminist ideals for the past seven years. And there's one photo from the 2016 publication in particular that deserves the spotlight.
The 2016 Body Issue of ESPN Magazine started gaining respect and accolades on social media before its official online release on July 6 and newsstand launch on July 8, largely thanks to cover star and NFL player Vince Wilfork's nude photos. By featuring a large, Black footballer on a cover and within its pages, ESPN has given us imagery that feels quite different to hammer thrower Amanda Bingson's Body Issue cover from 2015, but that similarly deserves quite a bit of praise in the realms of positive body image.
The cover photo is seemingly just as empowering for Wilfork as it is for those who might view it; and although it is a cover image, it's also one of the pictures that feels most revolutionary in the entire issue, along with Wilfork's muscular back shot. In the interview for ESPN, Wilfork and his wife notably commented that they "don't care" what people think about his nude imagery whatsoever.
Wilfork realizes the powerful impact that showing his naked body might have on a public that is becoming more and more open to the importance of diverse representation. When asked why he decided to star in a cover for the ESPN Body Issue, the football star commented, "I just think it's a good idea for people that are bigger-boned. If people can look at me, a guy that's 325-plus, doing an issue like this, I'm pretty sure that they might have a little confidence."
Although he does acknowledge that there'll likely be "critics" and those who might laugh at the pictures, it seems that empowering and representing those who might relate to his body matter more.
What the cover image and accompanying black and white back shot do, IMO, is represent plus size people in sports: The "people who are bigger boned," as Wilfork referred to those similar in shape to him; the people who may not be represented in sportswear advertising on the regular.
Featuring larger individual in sports media is a subject Wilfork's wife Bianca feels passionately about. "[The lack of representation] pisses me off because I know that there's not a lot of marketing advantages for him when it comes to certain outlets," she told ESPN. "You couldn't ask for a better fit ... he's just got a big tummy. I feel like it's almost discriminatory."
By not only modeling for ESPN Magazine, but by modeling in the nude, Wilfork is showing the beauty and power to be found in those of us with big stomachs. The cover image of the NFL player is striking in its sense of strength: A strength that is rarely associated with bigger bodies.
With the awareness that Wilfork's show about size discrimination, even if they don't specifically call it that, it's obvious that the choice to model for ESPN's Body Issue was a purposeful one. This isn't a shoot that feels about self-promotion, his brand, or even just his own body. It's something to represent everyone and anyone who has felt left out of (or literally been left out of) the world of sports because of their size. Not only is the notion that fat people can't do sports unfair, but it's also totally untrue.
Image: Courtesy Peter Hapak for the 2016 ESPN Magazine Body Issue