9 Empowering Moments From The 'ESPN' Body Issue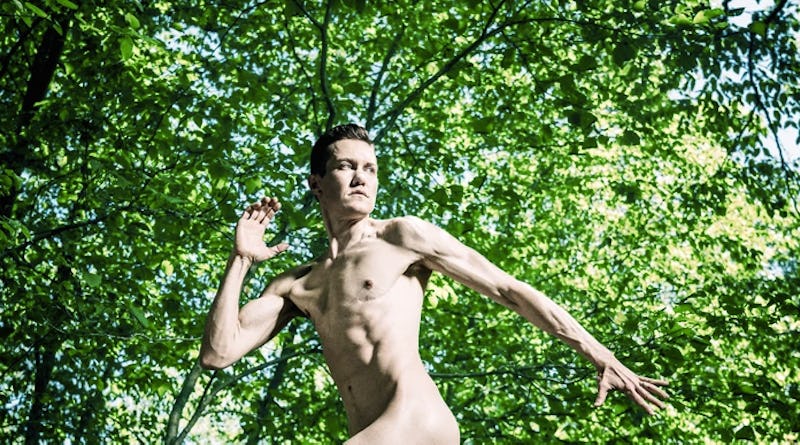 For the seventh year in a row, the ESPN Magazine Body Issue is here: An edition of ESPN Mag in which sports stars pose nude and discuss body image. Upon initial discovery of this issue, it may sound like an attempt at recreating the sexy Sports Illustrated Swimsuit Edition with a focus on athletes. But once you peruse, the opposite becomes true. This all-nude edition of ESPN is about de-sexualizing the nude form and empowering all different kinds of bodies; not just those that, by societal beauty standards, look good in a bikini.
Through this championing of diverse body types in sports, even those who don't participate or enjoy athletics might find empowerment. By representing a vast spectrum of body types, ESPN is making sure that nobody feels left out: Both the athletes themselves, who may not always get the recognition they deserve due to their body shape or size, as well as those who pick up a copy of the issue.
Inside this arch of empowerment created by ESPN's Body Issue, there are certain moments that will empower different individuals. Altogether, they make for a brilliantly diverse perspective on the human form. Here are some of best snapshots within this year's issue that will hopefully make you feel better about your own body image.
1. Vince Wilfork's Nude Cover & Back Shot
Wilfork specifically decided to do the Body Issue of ESPN Magazine in order to represent "people that are bigger-boned." In his interview with the publication, the NFL star said he hopes that his nude shoot will be inspirational (and in my opinion, it definitely is). He commented, "If people can look at me, a guy that's 325-plus, doing an issue like this, I'm pretty sure that they might have a little confidence."
2. Greg Louganis Representing Gay & HIV Positive People
Mainstream representation of LGBTQ people over the past decade has definitely improved, but for HIV positive individuals, the same cannot be said — at least not to the same degree. Enter Olympic diver Greg Louganis not only representing gay individuals, not only representing HIV positive individuals, but representing both in a sports environment and proving that having HIV doesn't have to end your life, your career, or your passions.
"HIV taught me that I'm a lot stronger than I knew," Louganis commented in his interview for ESPN Magazine.
3. Chris Mosier Breaking Boundaries For Trans Representation
Chris Mosier is the first transgender athlete to make a U.S. national team, as well as the first transgender athlete to grace the pages of ESPN Magazine's Body Issue. That, in and of itself, is a triumph for the body image and representation of transgender men both in and out of sports.
4. Christen Press Feeling Empowered By Her Body's Abilities, Not Appearance
Soccer champion Christen Press may seem to hit almost every societal beauty standard out there, but that doesn't mean this star is free of insecurities. As she told ESPN, "I've spent a lot of time being insecure about my body, but it's done so much for me. It's my tool, my vessel for my job. I'm very grateful for the way that I feel when I play — I feel very powerful, I feel fast, I feel unstoppable, and that's because of my body."
What we can all take away from Press' commentary on insecurity is that our bodies have so much more to offer than just appearance. By recognizing that, we might just learn to love ourselves in a totally new way.
5. Bianca Wilfork Calling Out Size Discrimination
Although Bianca Wilfork didn't get naked for ESPN Magazine, her husband, NFL player Vince Wilfork, did. Bianca, however, made many exceptional points about body shaming in sports and society for Vince's ESPN interview.
In particular, she called out the size discrimination that so often means sports stars like her husband don't get advertising deals. "[The lack of representation] pisses me off because I know that there's not a lot of marketing advantages for him when it comes to certain outlets," she told ESPN. "You couldn't ask for a better fit ... he's just got a big tummy. I feel like it's almost discriminatory."
6. Dwyane Wade Proving That Everyone Has Insecurities
"I had a fear of being naked in front of others and a fear of being judged. So to me, overcoming that is the biggest thing. Someone may look at me and think, 'Why would you have insecurity?' Well, this is real life and I'm human, and these are the things that I deal with that many others might deal with," said basketball player Dwyane Wade in his ESPN Magazine interview. Wade simultaneously empowered those with insecurities while representing others whose insecurities may get overlooked due to their appearance.
7. Courtney Conlogue Championing Strong Women
Courtney Conlogue is a champion surfer with brilliantly muscular thighs — thighs she didn't always adore, as she revealed in her ESPN Magazine interview. Now, however, Conlogue loves her figure and makes sure to promote strength in the female form. She told ESPN that "being a strong woman is a good thing." With no beating around the bush, this simple, powerful statement might mean a lot to any woman with a muscular frame.
8. Chris Mosier Feeling Empowered By Nudity
Triathlete Chris Mosier has wanted to be in the Body Issue for over a year, and thankfully, he found himself in the pages of the 2016 edition. In the years before transitioning, the star didn't feel comfortable in his body, especially when nude. Post transition, Mosier is empowered by his naked form and told ESPN, "[The reason] I felt so inspired to do [the Body Issue] is that I'm finally at a place where I feel very comfortable with my body. And as a trans person, being in a body that didn't really fit me for 29 years, now I feel very comfortable in my own skin."
Being comfortable with your nudity is, IMO, one of the key changing points in learning to love yourself.
9. Nathan Adrian Opening Up Against Ageism In Sports
"The age of a professional swimmer is ever-increasing," said Nathan Adrian, 27-year-old Olympic gold medallist. He refuses to take the credit, though. "[This is] thanks in part to people like Michael [Phelps], who are showing us that you can do it beyond what was previously thought to be your prime."
Adrian is standing up against the pressures of losing your youth in sports: A world where being 27 often means you can be considered a "veteran."
While I'm probably the person in this world furthest removed from the concept of being "sporty," the stories and images in this year's ESPN Magazine Body Issue have still impacted and inspired me. These people are so much more than their athletic achievements. Through their nudity and honesty, many are representing a diverse number of people who rarely see themselves in the pages of magazines.
Images: Courtesy ESPN Magazine Body Issue photographers Benedict Evans, Peter Hapak, Richard Phibbs, Carlos Serrao, Steven Lippman (4)