Here's How I Knew I Had a Drinking Problem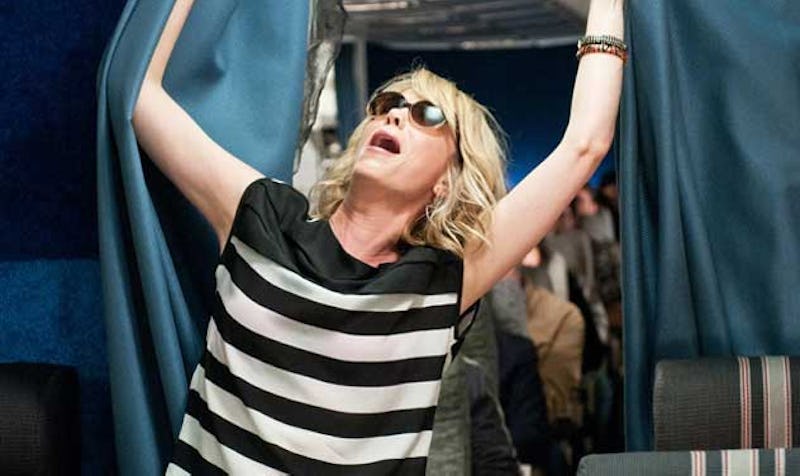 Once upon a time, I was a drinker. And when I say drinker, I mean DRINKER. I couldn't — and wouldn't — go a day without drinking something, anything, really. But I wasn't an alcoholic, of course. From Wednesday to Sunday, and sometimes through Monday, too, I was drunk almost every moment I was awake. You do realize the best way to get rid of a hangover is to just start drinking again the second you wake up, right?
Although I didn't really get hangovers in those days, that was my thinking: it was all just a preventative measure just in case a hangover was in the works. But one drink, two drink, three … and I was well on my way to being drunk again.
Why did I drink so much? Because I fucking loved it. I was also free of any major obligations in my life, and I was depressed. I could afford to go out until 4am, then get day drunk the next day. I had no one I had to be home for, no one to tell me I couldn't, and a partner in crime who made it all seem OK. At first, it was downright awesome.
But then it wasn't.
It's exhausting to drink that much. And what's even more exhausting is hiding beer and wine bottles around your family's home during the holidays, as you swear, up and down, hand to god, that you don't have a drinking problem. You know, because I didn't, no matter how much my speech slurred while I poured myself another glass of wine at Christmas dinner.
Here are the 10 incidents that made me realize I really needed to get my shit together.
I THREW A BEER BOTTLE AGAINST A WALL IN A BAR
Funny story! (Or not.) I insulted the DJ at a bar in the East Village, and he was not happy. (Apparently DJs don't like it when their music is insulted.) He complained to the bartender, so the bartender called me a "fat cunt" and demanded I leave. I told him I wouldn't leave until I finished my beer. He repeatedly called me a "fat cunt," because that's very original, and instead of finishing my beer, I threw it at the wall.
I was dragged out of the bar kicking and screaming … but not before telling some women by the door that they needed to "go back to Murray Hill and get out of my neighborhood."
I GOT INTO A VICIOUS FIGHT WITH MY Downstairs NEIGHBOR, BECAUSE…
...I firmly believed he had moved into my apartment. In addition to my drunken insanity, he was new to the building and had never even met me before, so he had no clue who I was. A neighbor, who did know me, was kind enough to point out that I needed to go one more floor up.
I WAS ARRESTED AND SPENT THE NIGHT IN JAIL
As I mentioned, I was in a dark place. My anti-depressants had just been adjusted earlier that day. My doctor told me that I was not, under any circumstances, to drink anything for the next few days. So, naturally, I went home and downed an entire bottle of red wine.
What followed was a drunken mess wherein I became convinced that my parents were trying to kill me (I was visiting for the week). So I called 911 on them, like you do. When the police arrived, my behavior was so belligerent that they arrested me, despite my parents begging them not to.
You'd think a night in jail in a bright orange jumpsuit would make someone consider sobriety, but no. I was drinking again less than two weeks later.
I WOKE UP NEXT TO A STRANGER…
...Too many times to count. On one such occasion, I woke up next to a stranger and covered in bite marks, with zero recollection of even having left my apartment, because I had started drinking alone at home. You can't hide dozens and dozens of bite marks very well mid-July.
I Tried TO SMACK A FELLOW FEMALE PATRON
Long story short: I was in love (and sleeping) with my best guy friend during these drinking years. One night, when he told me he was taking another girl home instead, I lost it. I ran back into the bar, my hand in the air ready for a girl-on-girl smackdown. Luckily, I was immediately grabbed by the bouncer and literally thrown onto the sidewalk. I don't condone violence in any way, but looking back, my anger was seriously misdirected.
I PASSED OUT IN THE LAP OF A STRANGER ON THE F TRAIN
I had long promised myself that I would never be one of those people who passes out on the train, but, well, drinking. I clearly remember a woman screaming at me "You think because I'm black I'm your own personal pillow, white girl?" I got off at the next stop, and don't remember the rest of the night.
I PURPOSELY THREW UP TO MAKE ROOM FOR MORE ALCOHOL
If the bathroom had a line, I took it to the sidewalk. If I had a penny for all the times I threw up on Bedford Avenue in Brooklyn, I'd be rich.
I FELL ASLEEP ON MY FRONT STOOP
I had no idea this had even happened until my neighbor found me the next morning.
A COP TOLD ME TO SHUT MY 'BITCH MOUTH'
After being given a ticket for drinking in public, I proceeded to rip into the cop who gave us the tickets with "scientific facts" about how cops have the lowest IQs in the world. I said some other privileged, spoiled-little-shit type of things that I barely remember, and it resulted in an additional ticket for disorderly conduct and being told by one of the cops to shut my "bitch mouth."
I WAS 'THAT' GIRL AT MY HOLIDAY WORK PARTY
While some of the people I worked with opted to do coke in the bathroom, I pretty much made love to the bar that kept handing me pink vodka drinks. The train ride home consisted of my boss, bless her soul, wiping vomit from my chin and sweater while I belligerently harassed other passengers — a lovely fact she told me on Monday. We've been friends ever since.
So what made me say goodbye to my former drinking ways? Simply put, it was exhaustion. There was no singular moment — just straight-up exhaustion. It's exhausting always feeling guilty or regretful, and it was even more exhausting trying to convince myself and everyone else that I didn't have a drinking problem.
While some of my incidents are definitely something to laugh at, alcoholism is not a joke. If you think you have a problem, do something about it now. Whether you choose to attend a local Alcoholics Anonymous meeting or confide in a friend, as they say — and yes, this is as cliché as it comes — admitting you have a problem is the first step to recovery.
Images: Universal Pictures;