Need New Furniture? 17 Cool Sites That Aren't Ikea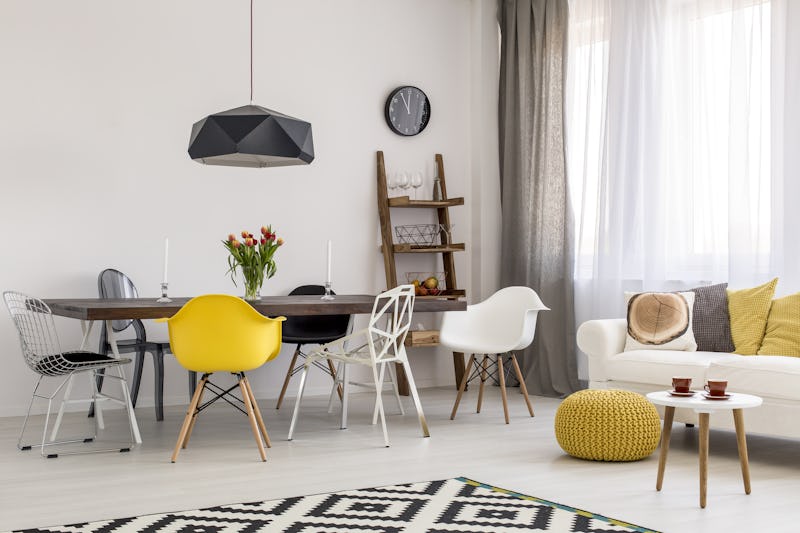 I've been weirdly infatuated with home decor, furniture, and interior design since I was a kid — I'm talking seven, maybe eight years old. Give me your Pottery Barn catalogues, your Coastal Living cottage decorating tips, your Target home furniture sales in the newspaper: I pored over them. Shopping affordable furniture stores online may have replaced the wayward junk mail, but there's something so transformative about finding the right budget-friendly home furniture for your space. Whether adding a pop of color to the corner bookshelf or doing a complete bedroom furniture overhaul, home decor makeovers are so underrated.
Having a where-to-buy furniture buying guide on deck before you start the process can help cut down the overwhelming feelings that happen once you dive into furniture shopping (with all the reckless abandon of Zooey Deschanel skipping through Ikea in 500 Days of Summer. Or better yet, find some modern affordable furniture Ikea-alternatives that you won't also find in every other friend's living room.) When you've got the best furniture websites for making your kitchen, bedroom, bathroom, and living room the cozy abode you've been dreaming of since your youth (what, just me?), coming home every day will be that much better.
You likely already order your books, home supplies, and other odds and ends from this online mecca — furniture shopping from home just became that much easier, too. Whether you're into retro modern charm or Parisian luxe, you'll find your preferences here.
Mid Century Modern Accent Chair, $171, Amazon; Succulent Cup, $8, Amazon; Kate Spade New York: All In Good Taste, $19, Amazon
Shop for furniture and home decor pieces by room, and take note that the sleek, minimalistic sofas and upholstered beds are the best-selling pieces on the site. Definitely scroll through the site's #Shop Our Feed section, too, which is arranged to look like your trendy friend's Instagram (if her home had dozens of colorful, perfectly styled living rooms).
The beauty of Ballard Design pieces are that they'll look like timeless pieces that have been in your family for ages (think: antique-looking chaise lounges in any fabric you can dream of, elegant four poster beds, and accent furniture that's as functional as it is pretty to look at).
Fab is your go-to site for cool-looking conversational items, like a neon light outlining your home state, or an ornamental tear drop shaped shelf that puts your succulents front and center.
Wooden Teardrop Shelf, $82, Fab
This site offers endless affordable options for decorating your place — depending on any room, mood, or style you're feeling. Not sure where to start? Head to the style gallery, where the site breaks down categories based off everything from 'tropical bathroom decor' to 'rustic-industrial kitchen.'
Your go-to stop for affordable staple style pieces does the same for your home. Find that throw blanket you've been meaning to get, a minimal wire basket for tidy (but pretty) bathroom storage, or the plain and simple bathroom mat that won't break the bank.
Large Wire Basket, $30, H&M Home; Bath Mat, $18, H&M Home
Jonathan Adler makes pretty things — it's as simple as that. Imagine cushy armchairs with streaks of gold along the feet and arms, metallic end tables with intricate geometric cutouts, or a jaw-droppingly gorgeous walnut bar pieces. Admittedly, these pieces are going to set you back a bit more than the others on this list, but they're undoubtedly statement pieces you can use as the design cornerstones of your room.
Joss & Main is the place to go for steep discounts on every room in the house, from sturdy office desks and polished bedroom vanities to bar carts and outdoor lounging pieces.
Ephron Writing Desk, $195, Joss & Main
You likely already know (and love) ModCloth for its quirky clothing and accessories, but bet you haven't yet ventured over to their home section. Find incredibly on-brand pom-pom flamingo dish towels, geometric wall hangings, and an otter shape dispenser (yes, you read that correctly).
The Museum of Modern Art's store is still one of my favorite places to shop during the holidays, as its gifts and home decor options are unlike anything you'll see elsewhere. Everything from wineglass lampshades (go look!) to streamlined, clean, and minimalistic chairs can be found here.
For those who prefer to have a one-of-a-kind interior layout, check out Of A Kind. The home goods site features different up-and-coming designers for limited time windows, letting you customize your home with truly unique pieces, like amoeba-shaped planters and splashy couch pillows.
If nothing relaxes you quite like having someone else design your space for you — you're in luck! You can hire someone from One King's Lane to do just that. Or, shop the site yourself, taking in the curated themes. Currently on rotation? Parisian Chic, Cabin Refinement, Coastal Charm, and many, many more.
Bergman Chair Multi, $219, One King's Lane; Lacie Contour Stool, $129, One King's Lane
If you're like me, Overstock may have been your go-to for inexpensive style essentials — sunglasses, seasonal footwear, the usual — but you can find on-sale furniture here for every domain of the house. Hammocks, glitzy bar carts, kitchen islands, and more await you in this majestic land of discounts.
Serena and Lily has really light and fresh-feeling solutions for organizing (generously sized wicker baskets), sprucing up an entryway (patterned rugs in muted palettes), and breathing a little life into your living room (shiny ceramic side tables). Think 'elegant beach cottage of your dreams' territory.
OK, so Target's competitive home goods game isn't exactly a surprise. But it's so good it deserves a spot on this list. Head here for your seasonal rotational pieces — the patterned throw pillows, gilded vases, and even trendy fluorescent word lamps. (The Oh Joy! section, in particular, is a gold mine).
Oh Joy Ceramic Vase, $13, Target; Oh Joy Decorative Pillow Blue Floral Print, $25, Target; HEY LED Lamp, $50, Target
This site is for your smaller home decor pieces, like smartly designed shelving, catch-all trays, pillows, rugs, and lighting. (Hint: This is also one awesome place for thoughtful present shopping that will make you look like the fairy godmother of clever gifting.) The pieces will look super unique in any space, seriously.
Suspension Bridge Shelf, $80, Uncommon Goods
The retailer home to hipsters of all walks of life houses seriously on-point (and thankfully affordable) home decor, too. UO's home section gives off bohemian cozy vibes: This will be your favorite place for quirky chairs, cloud-like bedding, and artfully arranged mirrors sized just-so to fit that awkwardly sized blank wall by the bed.
Bohemian Platform Bed, $479-$779, Urban Outfitters
Bustle may receive a portion of sales from products purchased from this article, which was created independently from Bustle's editorial and sales departments.
Images: Fotolia (1); Amazon (3); Fab (1); H&M Home (2); Joss & Main (1); One King's Lane (2); Target (4); Uncommon Goods (1); Urban Outfitters (1)