This Sweet Treat Is Coming To Starbucks Soon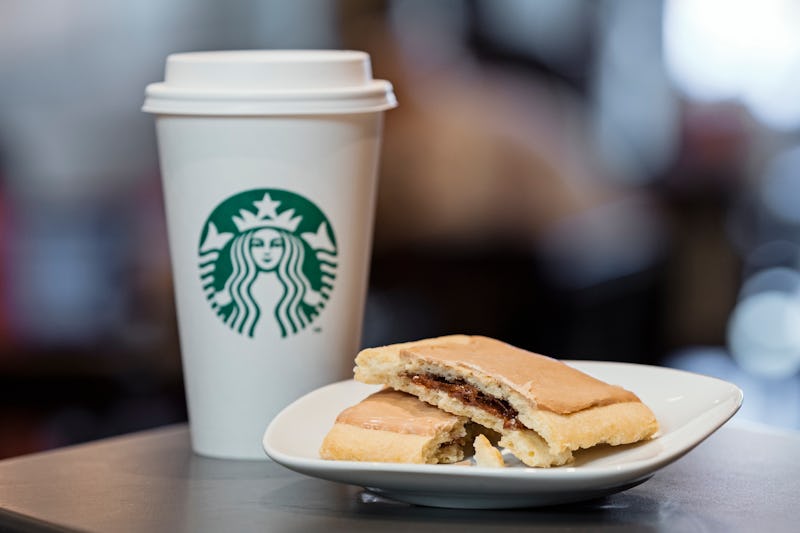 If you love both Starbucks and '90s nostalgia, you're in a lot of luck, because a fun treat is coming to the coffee giant that's sure to tickle both your tastebuds and your memories of childhood: Starbucks will have Megpies soon — on July 12, to be exact. What are Megpies? They're delightful little hand pastries that look kind of like fancy, grownup Pop-Tarts, and, well... what's not to love? Sometimes, you just need a sweet kick to your morning on those days when a bagel simply isn't cutting it.
You may not have heard of Megpies before; I hadn't, largely because they're a local delicacy that hails from New York. I have to confess, though, that they sound delicious — and the story behind their creation is pretty sweet, too. Meghan Ritchie is the genius behind Megpies (get it? Megpies?). As a press release from Starbucks explains, she had originally gotten her start by selling donuts from her front stoop in Brooklyn. Ritchie had moved to New York at 18 to attend the American Academy of Dramatic Arts, during which time she worked a number of odd jobs to make ends meet; she also took up baking as a hobby, and then, along with her roommates, found a way to parlay that hobby into something to bring in a little extra cash. Later on, Ritchie began selling pies and scones — and then in 2011, she created a frosted, handheld tart with a flaky crust and jam in the middle. Thus, Megpies were born. Neighbors loved them, and the small business kicked off.
Starbucks approached Ritchie in 2014 about selling her pastries in select New York City Starbucks locations — and they were a total hit. Now, on July 12, they will be available in all company-operated Starbucks locations across the country.
Megpies at Starbucks are available in two flavors: Strawberry and cinnamon and brown sugar. They're also all-natural, which can make you feel a little better about your morning pick-me-up. Personally, I think it's pretty cool when companies work with small businesses and local sellers to get their products out there to the masses, so even though I'm not based in NYC, I'm pretty excited to try these myself! I have a feeling this flaky, jam-filled treat will quickly become part of the morning rotation for many '90s kids, because nostalgia is pretty sweet.
Images: Starbucks (2)