How To Know If You Have The New Snapchat Update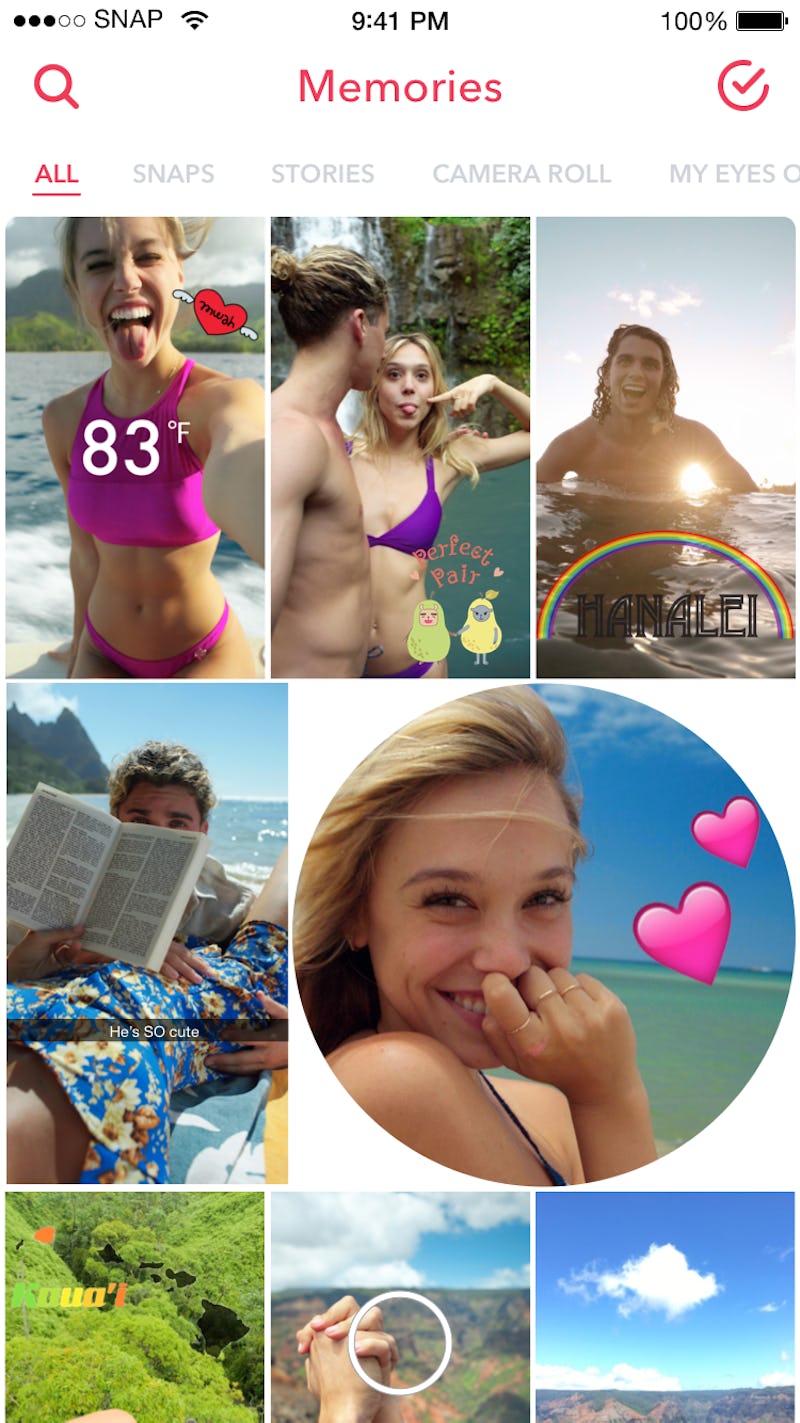 Attention, my fellow Snaplings: Once again, the app has released an update that will undoubtedly have all the other social media giants scrambling to keep up. As of this afternoon, there's just one question on everyone's minds, and that's how to tell if you have the Snapchat Memories update. Unless you're the kind of person whose life doesn't revolve around social media, of course; in that case, you probably have other things going on, like retirement plans and responsible life habits, and I wish you all the success in your adulting. If you're as Snap-happy as I am, however, this is Big News.
On Wednesday, Snapchat announced the creation of the new Memories feature, which functions as a sort of interactive favorites collection. Snaps saved to Memories are accessed by swiping up from your camera screen. There are three important bits to the update: First, Memories are searchable by captions or objects, so you can find what you're looking for without scrolling through other photos; second, you can edit and send Snaps from Memories to your friends or share them on your Story; and finally, the update introduces the aptly-named My Eyes Only feature, which gives users the ability to password-protect certain photos.
It's awesome stuff, but you might not be able to get your hands on the update for a while. According to Snapchat, they're rolling out Memories to Android and iOS users "selectively over the next month or so." Fortunately, they'll notify you when the day comes; Snapchat wrote on its blog that you'll receive a Chat from Team Snapchat as soon as you receive the update.
Although users have always been able to save their photos (first by screenshots, then by saving to their phone), The Verge points out that it's not the best way to save important moments, not least because of the volume of photos people save each day. Memories, however, saves to Snapchat's servers, so you don't have to worry about losing photos if your phone is lost; furthermore, the search function will make finding old photos much easier.
This the latest in a series of major changes Snapchat has made to the app since its creation; other notable updates included Chat 2.0, geofilters, and the beloved Lenses. Judging from the success of these features in the past, Memories will quickly become a staple of Snapchat communication. Considering the absurd number of people using Snapchat every day, that's no small feat.
Image: Snapchat