20 Back-To-School Dorm Gadgets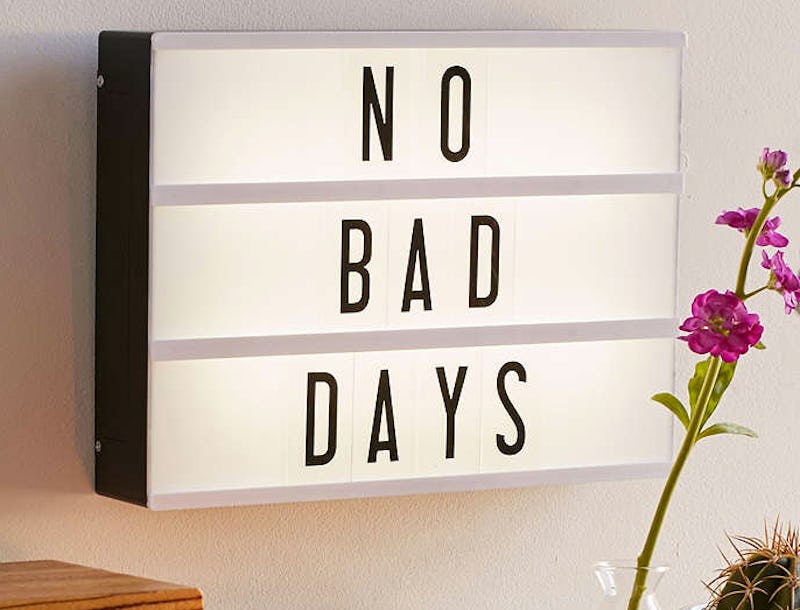 If you're heading back to school at the end of summer, it's time to think beyond your required textbooks and requisite twin XL sheets. Though your dorm room is small, modest, and just a nine to 10 month commitment, you can upgrade your college living experience with a few well-chosen additions. To ensure your study sessions, all-nighters, and down time go smoothly (and stylishly), here's a roundup of dorm room accessories to add to your shopping list.
Make an impressive dorm room statement with these cool gadgets that keep you on trend as well as incredibly organized. Maximize your square footage with storage options that combat clutter and give everything a place. Spruce up your workspace with modern office accessories and cord keepers that promise to eliminate future headaches. Clear your desk with over-the-chair storage and metallic wall mounts that tuck away your knick knacks. When it's time to head out on campus, do your makeup and fix your 'do without having to hit the communal bathroom down the hall. Then step out knowing you have all your necessities and a phone that's guaranteed to stay charged from your morning meeting to your last lecture. Take a break from your summer reading and read below to elevate your dorm room to its full potential, and gear up for another great school year.
1. Start your day right
Wake up on the right side of the bed every morning with this modern addition to your nightstand. Just clap your hands to make the time appear in red LED lights against the chic white wood veneer.
Alarm Clock Wood Cube White, $30.00, Kikkerland
2. Keep your desk clearly organized
These acrylic desk accessories make organizing your workspace crystal clear. Their sleek minimalism makes a statement while staying out of sight.
Format Desk Accessories, $7.95-$29.95, CB2
3. Stay tangle-free
Keep your cords and small devices in order with this heavy aluminum catchall. Its multiple slots are excellent for organizing cords, cables, chargers, headphones, and notepads.
Cordies Executive Cord Keeper, $26.98, Quirky
4. Keep your books handy without using desk space
Have your books, pens, pencils, and notepads an arm's reach away with this over-the-chair storage pocket organizer. The handy design fits over most chairs, keeping everything close while you're deep in a study session.
Over-The-Chair Gridlock Storage Pockets, $18.00, Urban Outfitters
5. Sanitize your smartphone
In addition to providing an endless number of apps at your fingertips, your smartphone also presents plenty of germs, acting as a breeding ground for unwanted bacteria and viruses. This sanitizing case cleans up your cell's act using ultraviolet lights to kill off the bugs it may have picked up throughout the day, while also bringing it back to a full charge.
PhoneSoap Smartphone Sanitizer, $19.95-59.95, Uncommon Goods
6. Print your 'grams
Make some real-life photos to decorate your dorm with this smartphone photo printer. The device creates 4"x6" color prints directly from your phone or tablet, and works with an app that lets you crop, edit, make collages, and add borders.
Smartphone Photo Printer, $149.99, Sharper Image
7. Hang it up
Make the most of your dorm's wall space with these sleek modern iron wall pockets in silver, gold, or matte white. Perfect for mail, magazines, and school supplies.
Revere Wall Mounted Storage, $14.99-49.95, CB2
8. Bring the power to you
Tackle your dorm room's strangely placed outlets with this nine-foot extension cord that brings you power everywhere you need it. Adhesive pads keep the pods in place so nothing comes between you and your charge.
Pod Power Extension Cord, $49.99, Quirky
9. Primp without leaving your room
Forget venturing down the hall every time you're in need of a touchup. This minimal over-the-door mirror fits over your door frame for a quick look before you head out, and a handy shelf for your beauty essentials or anything else you need to grab before you hit the road.
Over-The-Door Mirror, $69.99, Urban Outfitters
10. Stick up your makeup
Maximize your dorm space and turn any steel surface into place for your makeup or other small items. The clear plastic organizers are super chic and beat the jumble of a makeup bag or counter of clutter.
MagnaPods, $9.99, The Container Store
11. Make your toothpaste go farther
"Paste, not waste" says the distributor of this toothpaste squeezer. You'll be guaranteed to use every last drop with this aluminum design that makes conquering the tube a cinch.
Tube-Wringer, $24.95, Uncommon Goods
12. Bring your songs into the shower
While singing in the shower might be frowned upon by your hall mates, you can bring your tunes with you using this colorful sealed pouch containing a water-resistant speaker.
Pouch Speaker, $19.00, Dot & Bo
13. Let your shower sundries hang
Portable caddies can become slippery messes, and sometimes there's no place to set them in the communal shower. Tackle both problems with these playful squid shower caddies fully equipped with nine adjustable tentacles for gripping all your bath time needs. It even holds bottles upside down so you can maximize your use to the very last drop.
Shower Squids, $36.00, Uncommon Goods
14. Streamline your style
Keep your corded items tucked away tangle-free with this convenient styling station with steel mesh slots that keep your hairstyling tools organized and cool. The contraption can also mount to the wall to free up even more dorm room space.
Style Station Pro, $15.99, The Container Store
15. Make scents
Get rid of those funky dorm room odors with this sleek diffuser that spreads scent throughout your dorm using ultrasonic waves to create a delicate mist. The Japanese design doubles as an LED light source.
Ultrasonic Aroma Diffuser, $59.50, Muji
16. Read without waking your roomie
Engage in late night reading sessions from the comfort of your bed without disturbing your roommate. This clothespin light is easy to clip on to anything to enjoy instant illumination.
Booklight Clothespin, $8.00, Kikkerland
17. Clean up your closet
Use your closet space for more than just hanging clothes with this origami hanging organizer inspired by the art of paper folding. The 10 cotton canvas pockets are perfect for everything from shoes to handbags.
Origami Hanging Organizer by Umbra, $39.99, The Container Store
18. Never lose a thing
No matter how messy your dorm room gets during midterms, keep your keys, purse, and other knick knacks just a smartphone click away with these trackable waterproof beacons.
Lost Item Locator 3-Pack, $59.99, Sharper Image
19. Charge up while you're out
Not only is this reversible tote the chicest vegan leather book bag you could sport around campus, but it promises to keep your smartphone powered up all day long. Never miss another call, text, or tweet while carrying this charging tote.
Smartphone Charging Reversible Tote, $119.95, Uncommon Goods
20. Brighten things up with a daily dose of inspiration
Light up your mantra or a favorite quote to get you through the day. This cinema marquee-inspired sign will add instant style to your dorm room and act as an endless source of inspiration.
Cinema Box LED Light, $59, Urban Outfitters
Images: Kikkerland (2), Urban Outfitters (3), CB2 (2), Quirky (2), Uncommon Goods (4), Sharper Image (2), The Container Store (3), Dot & Bo, Muji