Teresa & Jacqueline Are Going To Clash On 'RHONJ'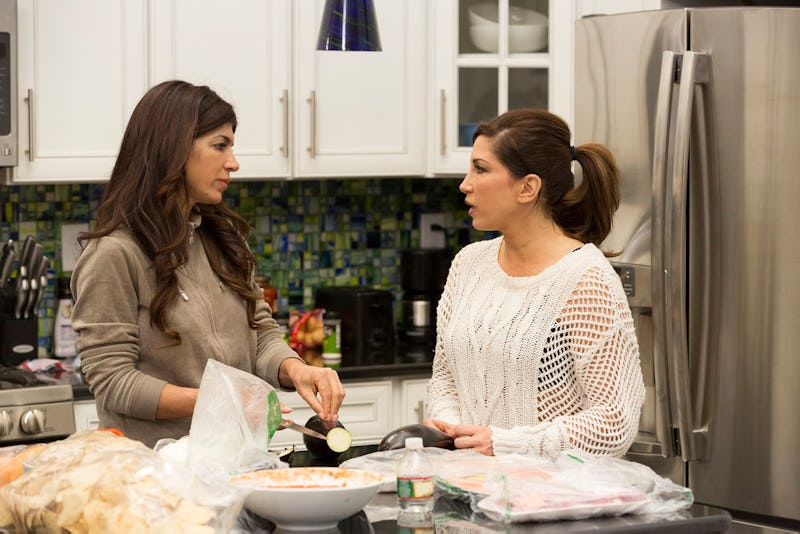 Almost all of the Real Housewives of New Jersey Season 7 premiere revolved around Teresa Giudice returning from prison to her life and family, with the rest of the cast, including new Housewives Siggy and Dolores, amicably hanging out and celebrating Christmas. But the "this season" promo promised that Jacqueline and Teresa will fight throughout RHONJ Season 7, possibly dividing the cast in another turf war. The preview makes it look like Jacqueline will have the new ladies on her side, while Teresa will be relying on the support of her husband, brother, and, surprisingly, Melissa, her sister-in-law and former arch-nemesis.
Throughout the season premiere, Teresa and Jacqueline both talked about how they wanted to turn over a new leaf, and possibly repair their formerly very close friendship. After their falling out a few years ago, the two have barely talked. There seemed to be a little bit of progress between them after the Housewives went on a trip to Montana, but that bond over RVs and s'mores didn't last once they came back to New Jersey. Earlier in the premiere, Jacqueline mentioned that Teresa had written her a note from prison and commented that she was surprised to hear from Teresa, since the two hadn't spoken for a while. Jacqueline had to laugh that Teresa's note started with the somewhat confrontational "I heard you were talking about me..." before segueing into a more general message about her desire to catch up when she's released.
And now that Teresa is out of prison, her mobility will be temporarily limited while she has to readjust to life on the outside. Perhaps Jacqueline will be annoyed with Teresa's inability to attend some kind of event that she's throwing, or maybe one of the new cast members will hear some Teresa gossip and tell Jacqueline something that she wasn't meant to know. And, of course, it's always possible that somehow the old conflict between them comes back, either because they can't agree over who's at fault or who owes who an apology.
Teresa and Jacqueline are like the yin and yang of Real Housewives of New Jersey — the more they are complete opposites, the more they work perfectly together to create great TV. If they're going to arguing throughout the season, maybe this installment of RHONJ will be one of the best yet.
Image: Greg Endries/Bravo