Here's How To Mix The Kylie Lip Kits & New Glosses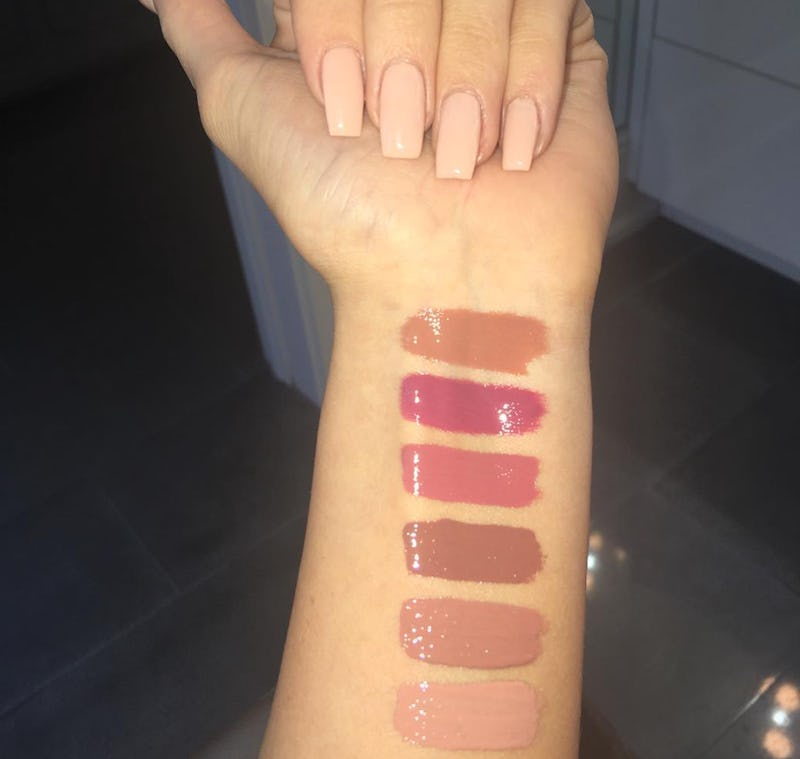 Several Kylie Lip Kit shades are getting a maj makeover. Everybody relax. Do not panic!!! The original Lip Kit shades aren't going away. They're just getting a makeover and are being offered in an additional texture. Four Kylie Lip Kit Shades are being turned into Kylie Glosses. Jenner confirmed via her Snapchat that Candy K, Exposed, Koko K, and Posie K are being transformed into gloss versions. I'll stop for a sec and let you absorb, process, and celebrate that good news. There haven't been any new Kylie Gloss shades since the OG trio Like, Literally, and So Cute debuted in April, so it's about time.
Jenner is revamping "classic" and popular KLK shades. They will be available to purchase on July 15. It has me wondering this: Can you pair the Kylie Lip Kits with their matching gloss shade? Can you wear them... together?
Well, my first thought was, "Hmm. That defeats the purpose." The Lip Kits are matte and the glosses are wet and shiny. It's nice to have to have options — the same color in two different textures and looks— to suit your makeup mood.
But then I thought, "Well, you'll get double the pigment." That's also true. But glosses tend to wear off quicker than a long-lasting, matte liquid lippie. You could end up with a mess.
Next, I was like, "OK, so add a little of the matching gloss in the center of your lip after the Lip Kit dries and sets for a little somethin' somethin'.
But then it really hit me. Here is how to wear the original Kylie Lip Kit shade with its new gloss counterpart.
With the Lip Kit liner! Previously, Lip Kit liners were not sold separately. But Jenner is now selling select liner shades as singles. If the Candy, Exposed, Koko, or Posie liners go on sale as singles on Friday, July 15, then you can grab one of those, along with the accompanying gloss. It's like a Lip Kit in gloss iteration.
Or if you already own a Kylie Lip Kit in, say, Koko, you can grab the Koko gloss when it goes on sale and then pair it with your Lip Kit pencil.
Gloss is not as precise a look as matte lips, so you don't always need a liner with gloss. But I like it, since it gives the gloss something to adhere to and can give lips a fuller, more defined shape.
Koko and Posie aka The Pinks are getting gloss makeovers! Yay! You can still pair the matte lipsticks and the glosses if you so desire. It's makeup and there are no rules, right?
Images: Kylie Cosmetics/Instagram (5)