Ulta's First Vlogger Palette Is Coming Soon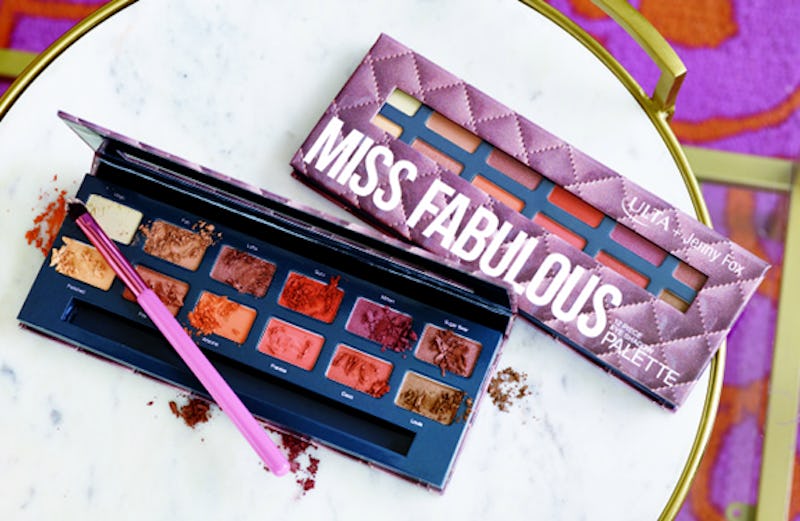 There's another new beauty blogger collab you need to know about. It's not as high-profile as the champagne-drenched BECCA x Jaclyn Hill collection or the upcoming Too Faced x Nickie Tutorials palette. But it is stunning and equally deserving of your attention. YouTube makeup queen Jenny Fox, aka MissJenFabulous, and Ulta have teamed up for the Miss Fabulous Eyeshadow Palette. When can you buy this super pretty palette, which mixes both bright and neutral shades for totally customizable looks?
It's coming so, so soon! According to a press release that Bustle received from Ulta's PR team, the limited edition, 12-pan, slim case palette lands at Ulta on Sunday, July 10.
UPDATE: Ulta's PR team confirmed that the palette is available online on the July 10 and then in stores at the end of the month.
This palette is a special makeup moment and not just because the shadows are beautiful and pigment-packed. The Miss Fabulous palette also marks the first time that the retailer has collaborated with a digital influencer. Major makeup brands and companies really and truly are looking online for trendsetters.
The product will be available through December and it boasts both matte and shimmery, glittery textures. It also features a mix of seasonal shades that can still be used all year long. With 12 wowza hues, you have endless combos and possibilities.
Want to know something even more awesome? The palette is just $20, making it a supreme steal.
This palette is certainly not for those who avoid bright pops of color!
Why not grab one for you and a few for your friends so that you can give them as gifts during the holiday season? Fox notes in her caption that the palette is available online on July 10 and in stores on July 24. Also, her case is a different shade than the one in the photo provided by Ulta. It could be a prototype or perhaps there are two different shells.
If you don't know Jenny Fox yet, she rocks really rad nail art. She has nearly a million YouTube followers and she has a knack for trendy and fun looks, which are evidenced by slaytastic shades in her palette.
Images: Courtesy of Ulta (1); Jenny Claire Fox/Instagram (2)