You Can Now Shop Kardashian Beauty Using A Hashtag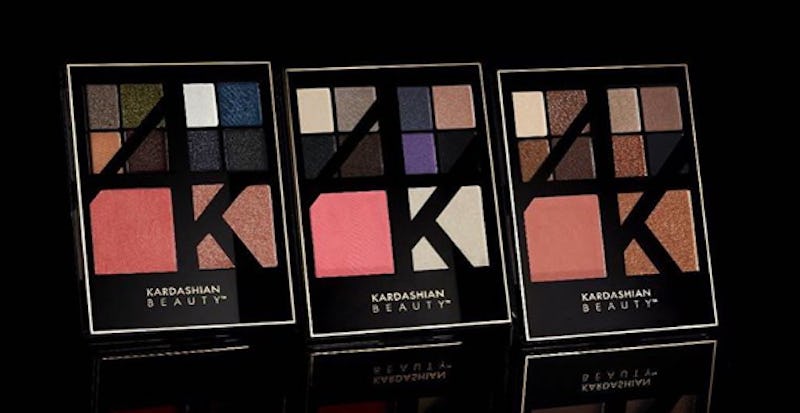 Having trouble finding the Kardashian's beauty products in stores? No problem. Bust out those smart phones, because you can now buy Kardashian Beauty with a hashtag. It's officially never been easier to buy a makeup product. Leave it to the Kardashians to switch things up using social media to their advantage.
If this company isn't on your beauty radar yet, then they will be now. The A-listers are completely revamping their Kardashian Beauty products. From the packaging to the way you shop, the Kim, Khloe, and Kourtney have thought of it all. Buying the Kardashians new collection is as easy as texting your best friend. This is not a joke, people.
According to the company's Instagram post, all you need to do to buy exclusive bundles of the Kardashian Beauty's new Fierce collection is use #hashtags. Just text "hello" to 81000 and create an account. After that, you just use the hashtags and get to shopping.
This is far from the first time that the Kardashian sisters have their online presence to benefit business. Normally it's their little sis Kylie Jenner using social media to tease her makeup ventures and sell products, so it looks like they're taking a page out of her book.
What is the new Fierce collection, that you'll be buying? Well, there's something for everyone. Whether you're a lipstick lover or looking for a new contour kit, the Kardashians have revamped the collection to include five new products in tons of color shades.
Here's a quick rundown of all the new products that you can get your hands on using the hashtags.
1. No Apologies Face Kit
No Apologies Face Kit, $16.99, kbeauty.com
These three different palettes offer eight shadows, a blush, and a highlighter.
2. Lip Slayer
Lip Slayer in Bye Felicia, $9.99, kbeauty.com
With nine different shades to choose from, these are the creamy lipsticks that are completely different than the Kylie Lip Kits.
3. Kontour Kase
Kontour Kase, $15.99, kbeauty.com
Now you can contour just like a Kardashian.
4. No Apologies Liquid Makeup
No Apologies Liquid Makeup in Satin Base, $12.99, kbeauty.com
Their new foundation comes in eight different shades.
5. No Apologies Koncealer
No Apologies Koncealer, $8.99, kbeauty.com
To round out the basics, they added a concealer into the mix as well.
Who knows what they'll come out with next!
Images: kbeauty.com (5), KardashianBeauty/Instagram (1)