This Makeup Won't Cause Breakouts & Lasts All Day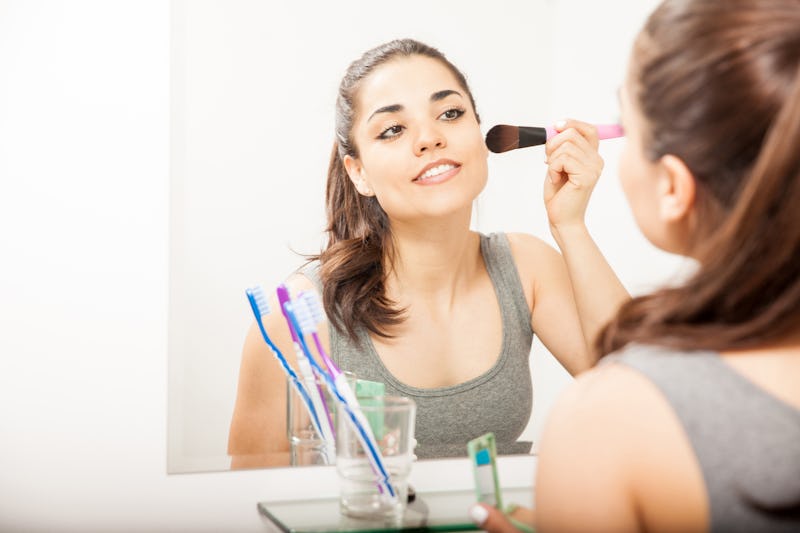 When I get a breakout, the last thing I want to do is put makeup all over my face. I get worried that it's just going to aggravate the skin, flake, or cake off, meaning I'll need to reapply the pore-clogging formula later. Finding makeup for acne-prone skin that lasts all day is the happy medium, as it allows me to get adequate coverage without further fueling breakouts.
Thankfully there are great makeup products for acne out there that specifically target pimple coverage without irritating such sensitive skin. You can find concealers, primers, and foundations for acne that will not only cover blemishes and make skin appear smoother, but they'll actually help treat them and prevent further ones.
I'm always looking for makeup that heals breakouts and covers them up simultaneously. The simple trick to finding it? Just look for ingredients that you would find in your everyday acne-fighting skin care products. Be sure to also check that the makeup is non-comedogenic (this means that it won't clog pores or irritate skin — because adding skin irritation on top of an acne flare-up is the worst). Then, all you have to worry about is applying your makeup in the morning, and going about your day. Your makeup will last as long as you want the coverage, and it will be fighting stubborn blemishes all the way.
1. Medicated Foundation With Salicylic Acid Diminishes Redness
Clinique Acne Solutions Liquid Makeup , $27, S hop Spring
A light foundation that has salicylic acid in it is a great way to fight acne and control oil while providing you with the coverage you may want. This lightweight, non-irritating, and oil-free makeup will diminish redness and not only hide blemishes, but treat them, too. The foundation comes in seven different shades, so you can find your best match.
2. Tea Tree Oil & Aspen Bark Promote Clearer Skin In Powder Form
Blemish Remedy Foundation , $28, Shop Spring
If you prefer powder to liquid, you can still treat acne and excess oil while covering up breakouts. You can customize your coverage with the medium to dark weightless layers, and the mineral power foundation will help you see a clearer-looking complexion, thanks to its tea tree oil and aspen bark formula.
3. Saw Palmetto Peptide Complex Clears & Mattifies Skin
bareMinerals Blemish Remedy Mattifying Prep Gel, $24, S hop Spring
Before you put your makeup on, prep your skin using a primer made for acne-prone complexions. Like the powder above, this primer is formulated with Aspen bark and tea tree oil, which will help eliminate redness and promote clearer skin. The primer protects pores and dries invisibly, creating the perfect canvas for foundation.
4. Botanical Extract Tinted Moisturizer Keeps Skin From Drying Out
Sisley-Paris Tinted Moisturizer , $120, Shop Spring
If you want to apply as little makeup as possible when you have a breakout, a tinted moisturizer will be your best friend. It's a lightweight product that has the benefits of a regular moisturizer but also gives you a naturally tinted look. Ingredients like sunflower oil and plum oil will make your skin glow, and it will feel hydrated all day without being shiny or greasy.
5. Kaolin Clay Conceals Spots, While Drawing Out Pore-Clogging Oils
bareMinerals Blemish Remedy Concealer , $22, Shop Spring
bareMinerals has awesome makeup products for people with acne-prone skin. One of their best ones is their concealer. It comes in a stick, and the formula is super creamy and very blendable. The small product conceals pimples, reduces redness, and controls shine. Aspen bark, tea tree oil, and kaolin clay provide you with the coverage you want, all in an easy-application twistable stick.
6. Stop Aggravating Oily Skin — Oil-Free Products Give Skin A Rest From Greasy Formulas
Phyto-Teint Eclat Oil-Free Foundation , $122, S hop Spring
If your biggest cause of acne is your super oily skin, you need to reevaluate your makeup collection and only work with oil-free products. This light, liquid foundation is oil-free and non-comedogenic, so you won't have to worry about the makeup getting trapped in pores. It also hydrates skin with natural ingredients like gardenia, woodmallow, and Linden blossom for an even-complexion that lasts all day.
Lancome La Base Pro- Oil-Free Makeup Base , $42, S hop Spring
If the palmetto peptide primer above isn't your jam, check out this other oil-free primer that keeps pores clean. Your first layer of makeup should protect your skin, and this product does just that. The primer features "Exclusive Lancome Elasto-Smooth technology" — it purifies skin, leaving it with a smooth and clear finish. By starting off your routine with a primer, your air-brushed looking skin will be glowing all day.
7. Electrolyte-Packed Primer Water Keeps Makeup From Drying Out Skin
Smashbox Cosmetics Photo Finish Primer Water , $32, S hop Spring
A lot of people skip primer because they either forget about it, or they don't want to keep layering products onto their skin. If you want to skip primer, but don't want makeup to dry out your skin and cause breakouts later, try a primer water. This water is packed with electrolytes, and entirely free of silicone, alcohol, and oil.
8. Buildable Coverage BB Cream Controls Oil & Shields Skin From Sun
Clinique Acne Solutions BB Cream Broad Spectrum SPF 40 , $38, Shop Spring
With this mattifying BB cream by Clinique, you'll get protection from UVA/UVB rays and your pores' appearance will be minimized, shine will be gone, and breakouts will be totally avoided. This product is oil-free and super long lasting (you can wear it for 12 budge-free hours). Free of parabens, sulfates, and phthalates, your skin will be thanking you for wearing it.
9. Fast-Acting Concealer Brightens Dark Acne Scars
Chantecaille Le Camouflage Stylo Concealer Pen , $49, S hop Spring
What happens after your breakouts clear up? I don't know about you, but I'm almost always left with dark acne-spots. I am always on the hunt for a great concealer that not only covers those stubborn spots, but also brightens them. This click pen is very blendable because of its smooth brush, and it's packed with awesome ingredients that actually work to reduce skin's production of melanin — which will stop the formation of dark spots.
Bustle may receive a portion of sales from products purchased from this article, which was created independently from Bustle's editorial and sales departments.
Images: Fotolia (1); Shop Spring (10)