You Can Now "Request A Selfie" On This Dating App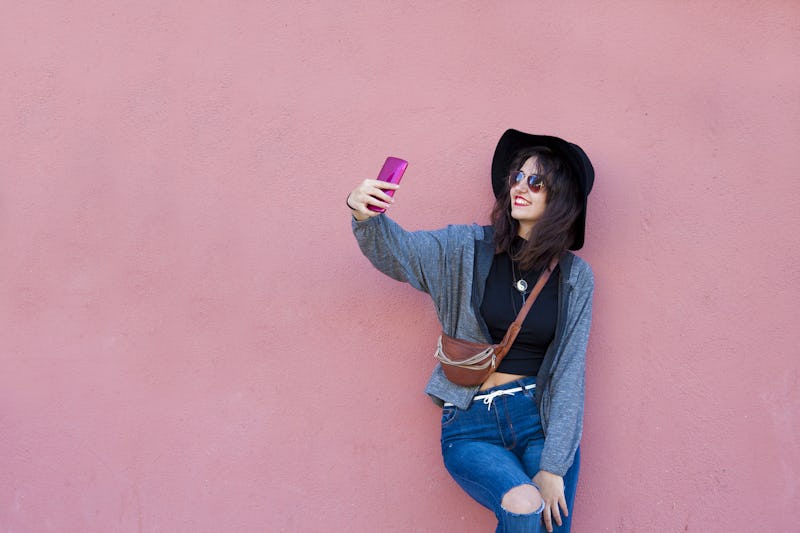 If you're experienced in the world of online dating, it's probably all too easy for you to spot a fake dating profile. But if you're somewhat new, it can be intimidating to figure out whether people are being totally honest — about their looks, jobs, hobbies, and everything in between. Thanks to the popular MTV show Catfish, some light has been shed on the fact that not everyone is always truthful online. No matter how experienced you are, online dating can honestly be a little scary — we've all heard the horror stories. Luckily, one dating site is trying to make things a little bit safer, particularly for women.
UK-based dating network Badoo has a new feature for heterosexual female users called the "Selfie Request" that allows women to ask men in-app for a selfie to verify that they're not a catfish or otherwise unfairly misrepresenting themselves. The man on the receiving end has the option to accept or decline the request. The aim is to put female users at ease by confirming that their match is using an accurate photo — something that I think is a serious plus. A Badoo representative tells Bustle this feature will be LGBT-friendly by end of August/mid September.
"The Selfie feature gives users another level of security in knowing that their matches are genuine," Badoo dating expert Joey Hadfield tells Bustle. "It offers a humanizing element to online dating, where a user can immediately request to see an image, right then and there. It's tapping into an IRL feeling, without actually needing to be in-person."
Personally, I've been doing this for years, but in a much more roundabout way. After texting someone for a while, I like to initiate the "Snapchat test": It lets me see how strong their selfie game is, and more importantly, ascertain that they are who they presented themselves as online. It may sound weird, but seeing a funny selfie of someone I'm interested in helps me feel more connected to them even before we meet, which is something Badoo is clearly tapping into with this feature.
Here's how the selfie request looks on the woman's end:
And on the man's side:
Currently, only women have the ability to request a selfie, because Badoo wants to put the safety and comfort of women at the forefront of their mission. "We pride ourselves on a female-focused mantra — we want to make sure that women feel empowered to initiate and engage in a conversation online without worrying about safety or security," Hadfield says.
To be totally fair, I think men should be able to request a selfie, too — both genders are capable of misrepresenting themselves or using old photos, and everyone should be given the option to confirm that who they're talking to is genuine. Nevertheless, this is a cool step forward, and one that can hopefully be replicated in similar ways on other popular dating apps.
Ultimately, the idea of the selfie request is a fun, quirky way to make online dating feel a little more human and safe. It may seem silly to take precautions when it comes to online dating, but it's better to be safe than sorry. As someone who's been around the block with online dating, I think this is an awesome step towards making conversations with matches feel more genuine, and it certainly doesn't hurt that it also acts as a barrier against dishonesty and catfishing. If you need me, I'll be working on finding that perfect selfie angle.
Images: Fotolia; Courtesy of Badoo (2); Giphy (1)