13 Insecurities You Can Blame On Adult Films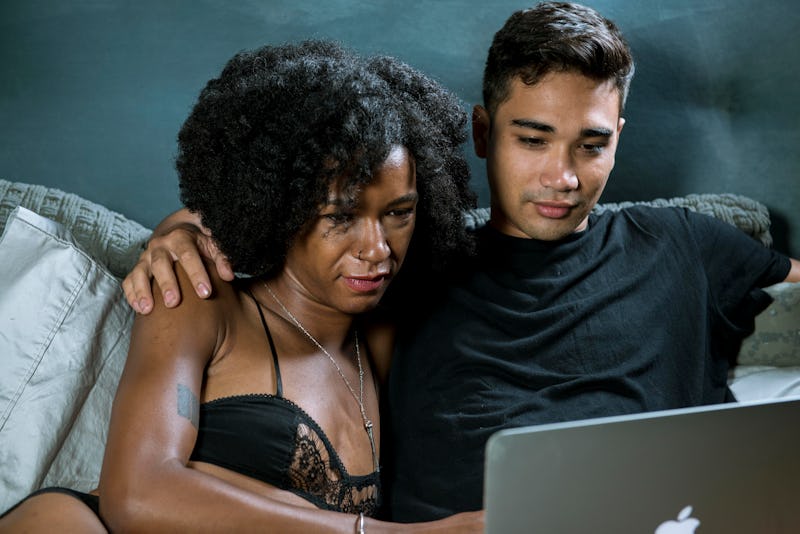 It can be really hard to watch mainstream porn and not start making comparisons. "Should I suck in my belly when I'm on top? Was the noise my vagina just made super weird? Do I smell? Am I too hairy? Should I get my butthole bleached?" Those are all legit things that have gone through my mind during sex that I can link directly back to mainstream porn — but that doesn't mean I'm anti-porn. It's just got me thinking about how porn makes us feel.
Carlyle Jansen, sex educator and co-founder of the Toronto sex toy shop Good For Her and the Feminist Porn Awards, tells Bustle that, in her experience and the experience of her clients, insecurities around porn fall into two main categories: appearance and performance. Those categories tend to cover people of all genders, races, and sexualities, but if you belong to anything outside the "mainstream" (read: white, heterosexual, young, and thin) then you have a whole other set of potential issues when it comes to porn. "So often, anyone who's not young, white or thin is fetishized," Jansen says. "So they might not like how they're portrayed on screen either. I especially find that fat women are put down for being fat as opposed to being celebrated for being fat."
Porn is a pretty integral part of our intimate lives these days but the amazing thing about the internet is that we now have access to so many kinds of porn. If the mainstream stuff is getting you down, don't watch it. Check out some alternative porn options — like basically everything that has ever won a Feminist Porn Award — and see what works for you.
And speaking of alternative porn, Cindy Gallop, the founder of MakeLoveNotPorn, — who has been quoted time and time again saying that's she's "pro-sex, pro-porn, and pro-knowing the difference" — thinks that the blame for these insecurities lies not on pornography but on how our society deals with sex.
"I'm frustrated about the fact that we keep laying issues at porn's door, that should be laid at society's," Gallop tells Bustle. "If we were fully accepting of the fact that we're all sexual beings; if we took the shame and embarrassment out of sex and normalized it by teaching our children about it as early as possible; if social media platforms welcomed the sharing of sexual self-expression and self-identification as much as the sharing of everything else — then everyone would know that all labia look different; that any size penis is fine, that people come in wonderfully individual ways that may or may not involve audibility; that just the fact that you are taking off your clothes makes the other person ridiculously grateful just to be there; that you don't have to deep throat to give a great blow job; and that jackhammering can be painful, unpleasant and unwelcome."
So porn is the symptom, while society's treatment of sex is the disease. However, it's a very visible, very blame-able symptom and while we're working on creating a more sex-positive society, here are 13 insecurities from porn that a lot of you are probably very familiar with.
1. Anxiety About The Shape Or Size Of Your Labia
Labia in mainstream porn tend to have even lips and no hair at all. While that's fine for those women, your labia might have long outer lips or no outer lips or lots of hair or sparse hair or uneven or… You get the idea. Labia and vulvas are unique to every person who has one but the ones we see in mainstream porn would have you believing something else. To counter that message, Jansen recommends checking out a book called I'll Show You Mine, which includes 120 photographs of 60 different vulvas.
2. Thinking That You're Not Making Enough Noise
Just because porn stars scream the walls down doesn't mean you have to. If your orgasms are quieter — or don't include any sound at all — that's totally fine. It's really easy to fall into imitation of the noises porn stars make but the best sex is sex that's authentic to you and if that doesn't include noise? That's awesome.
3. Worrying About Your O-Face
The close-up of women "orgasming" is popular in mainstream porn but just like you know how to make a certain face for your best selfies, porn stars know how to make their "best" face for those shots. Faces do all kinds of weird things when people orgasm. It doesn't have to look one way or another and no matter how it looks, it's conveying pleasure. And that's hot.
4. Thinking Your Partner's Penis Is Too Small
You know that porn penises are larger than average to massive, right? Don't ever, ever compare your partner's penis to the ones you see in porn. If you're digging what they're doing — whether it's with their dick or their hands or their mouth or that awesome toy you love — they're doing it right. A bigger penis does not necessarily equal better sex.
5. Feeling Like Your Weight Is Wrong
There are approximately a million different cultural influences telling us that our weight is wrong and porn is one of them. I just want to remind you that your body is beautiful and your partner thinks your body is beautiful too.
6. Worrying That You're Not Good At Taking Off Your Clothing
Um, has someone invented a sexy way to take off jeans yet? Because I'm bad AF at it. Oh yeah, socks too. Seriously guys, sex is silly and the taking clothing off part is often one of the silliest parts. Don't ever feel like you're doing it "wrong" just because you can't strip out of all of your clothing in less than a second, all while slithering sexily. There's a reason why the de-robing part is rarely included in mainstream porn.
7. Not Being Able To Deep Throat
Just because porn stars can take it way down doesn't mean you have to. Deep throating is a skill that those people have developed and if you want to develop it, that's awesome! But it's sure not a requirement. I don't have a penis but I've heard that blow jobs can be just as great (and maybe even sometimes better) without.
8. Not Being Able To Have Really Hard Intercourse
I know it's an eighth grade boy term but we do call it getting "banged" for a reason. Most body parts that can be penetrated, be it a mouth or a vagina or a butt, can't take a serious "banging" for a prolonged period of time. And if the penis or sex toy is particularly large? Forget about it! Once again, the stuff you see in mainstream porn is done by professionals. They've worked up to that point. Don't feel bad if you never get there — that's not the only way to have sex.
9. Thinking Your Boobs/Butt/Waist Is Too Big Or Too Small
More body image stuff — ugh, right? Our culture has a very narrow view of what "beauty" is. Remind yourself of that the next time you find yourself worrying that some part of your body isn't "right" compared to the body of a porn star.
10. Feeling Bad About Not Liking Anal Sex
Anal has become more and more popular both onscreen and off but that doesn't mean that anyone is obligated to do it. If you love it, awesome! If you don't? Awesome! You are allowed to have preferences about the sex acts you will and won't do, including popular ones.
11. Worrying That You're Orgasming Wrong — Or Because You Don't Orgasm
Mainstream porn orgasms tend to be pretty uniform but everyone's orgasm is different. And you know what? Sometimes people don't orgasm and as long they're OK with that, that's perfectly fine too.
12. Feeling Weird Because You Don't Ejaculate
"Unfortunately female ejaculation is the latest party trick," Jansen says. "I think that porn sometimes sensationalizes that and makes you feel inadequate if you don't."
But not everyone does! And that's OK! Some bodies can do it; some bodies can't; but all bodies having orgasms however they orgasm are awesome.
13. Thinking You're Doing Kink Wrong
While the conversations, negotiations, and consent that are necessary for a good and safe kink experience are often modeled in alternative porn, mainstream porn tends to go right for the intense stuff. Jansen also points out that even the kinky stuff you see in mainstream porn tends to follow specific plot lines. Kink is wide and varied and involves a lot of talking. Don't believe everything you see on the computer screen.
Remember, just because you see a lot of the same looks and sex acts repeated in mainstream porn, there's certainly not just one way to look sexy or one way to have sex with a partner — and that's one of the most beautiful things about sex in real life.
Images: Andrew Zaeh for Bustle; Giphy (13)