New Yorkers On What They Think When They See A Cop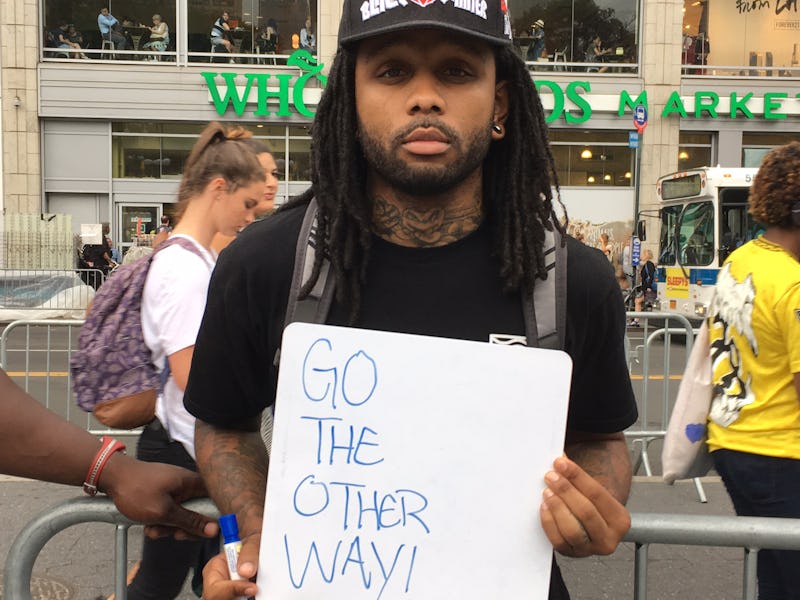 In light of the multiple shootings this week, it's not surprising if you feel a little differently — or even more sensitive than usual — when you spot a police officer, especially if you are black. Because of this, on the Friday that ended a week that included the deaths of Alton Sterling and Philando Castile at the hands of police, and five police officers being killed at a Black Lives Matter protest in Dallas, I asked people at New York City's Union Square what they think when they see a police officer.
I expected that there might be a range in the answers, and while there was one, it was pretty narrow. Rather than people saying "protected" at best and "awful pigs" at worst, one of the most positive answers was from someone who felt "conflicted." Perhaps it was to be expected. Not only was the survey done after two horrible incidents involving police shooting citizens, but it was done in one of the most liberal cities in the country.
But to dismiss their answers as simply being affected by the location in which they were given would be similar to someone saying "all lives matter" in response to "black lives matter." These people's responses matter even if not everyone feels as negatively about the police as they do, and their answers go to show that a ton of people do feel very negatively about police and that's something that needs to be fixed. And not by people changing their views of the police, but by the police system itself changing so tragedies like the ones that took place this week stop happening.
Here's what 17 people had to say about what they think when they see the police:
1.
2.
3.
4.
5.
6.
7.
8.
9.
10.
11.
12.
13.
14.
15.
16.
17.
Images: Lia Beck/Bustle