The True Brown Kylie Lip Kit Is The Best '90s Look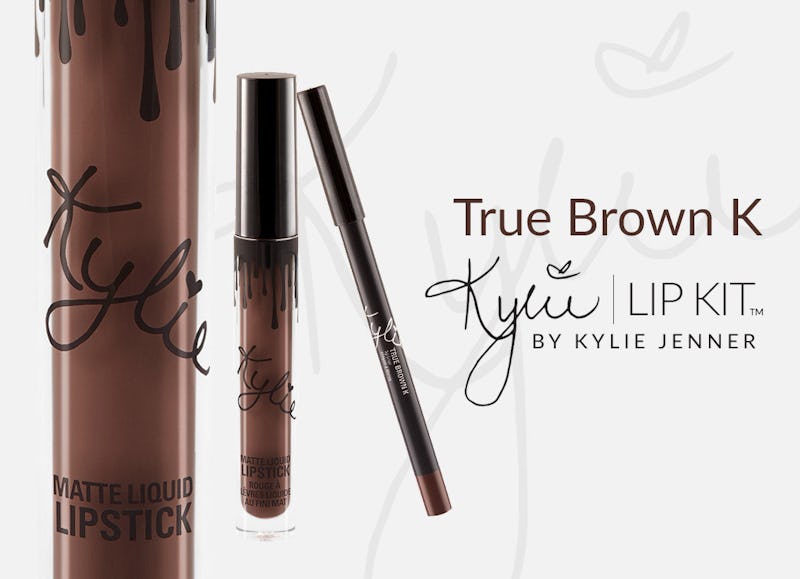 The primary reason that I currently do not own any of K. Jenn's makeup line, particularly the Kylie Jenner True Brown Lip Kit, is because Kylie Cosmetics products are sold out almost constantly. Thankfully, however, there are a heck of a lot of K. Cosmetics products still available on the store's e-site since the giant Kylie Lip Kit restock of June 2016, as well as the launch of Kylie Lip Kit lip liners and liquid lipstick singles.
So why is the True Brown shade of particular interest to me, you ask? Well, it has to do with the '90s. Kylie Jenner was barely-even-born then, sure. But my point is this: The True Brown Kit is the shade to solve all your grunge makeup needs forever.
As a wise woman (aka my mom) once told me, all you really need to survive the walk home after a one night stand is a good lipstick and a big pair of sunglasses. If you're a grunge kind of gal, I'm sure you'll want to opt for a brown lip for such an occasion — and probably many others, too.
The Kylie Cosmetics brand actually features a few brown shades, but none of them are as browny a brown as True Brown. In fact, I'd probably wager that this is the brownest brown lipstick that ever browned. Luckily for you, the True Brown Kylie Lip Kit, as well as single lip liner and single liquid lipstick, are still available online for you to purchase immidiately.
True Brown Kylie Lip Kit, $29, kyliecosmetics.com
If you've already got the kit, or if you currently own a lip liner or lipstick you prefer for your perfect '90s brown lips, then the single options of True Brown may be what you need in your life.
And if you're a clumsy or forgetful human, replacing only one part of the kit will work out a hell of a lot cheaper than investing in an entirely new one. Basically, Jenner finally has us covered across all pouty departments.
True Brown Lip Liner, $14, kyliecosmetics.com
True Brown Liquid Lipstick, $17, kyliecosmetics.com
Whether you actually experienced and adored the '90s brown lip trend or you're just here for the revival, this is the only lip color you need to truly rock the grunge aesthetic. Dress things down with some plaid and Daisy Dukes or dress 'em up with your favorite LBD. Either way, this bold lip hue is going to get you noticed.
Images: Kylie Cosmetics