How Did The Huge Kylie Lip Kit Restock Fare?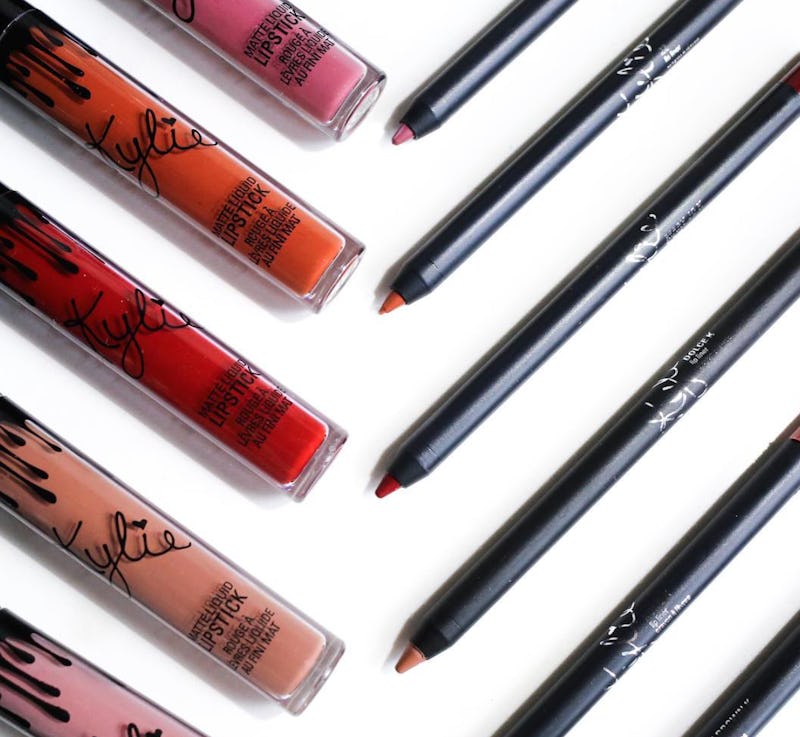 She kept her word and has likely made a lot of customers incredibly happy. Kylie Jenner confirmed the biggest Kylie Lip Kit restock in her burgeoning brand's history last week, noting that she hates that her Lip Kits constantly sell out. The teen make maven promised that fans would be able to shop through the Fourth of July holiday weekend and at their leisure. She also decided to start selling the lip liners and liquid lippies separately, starting with the crimson Mary Jo K and the rosy nude Candy K. So what's the status of Kylie lip products, which have usually always sold out within an hour of going on sale? Which Kylie Lip Kits are still available?
Here is what the brand's inventory looks like. Plenty of the much-desired Lip Kits still available. As of press time, the Exposed Lip Kit, the 22 Lip Kit, the Skylie Lip Kit, and the Freedom Lip Kit are all sold out. So one neutral and the two blues are gone. However, the Candy K Lip Kit is still available. The solo Candy K liquid lippie is no longer available as a single, but its matching liner is.
Below is the screen shot, which is basically a graphic of the details posted above.
Despite some sellouts, there's still plenty of product to shop.
Here's more visual evidence.
The only Metal Mattes still available are King K and Reign. Unfortunately, the bundle of Heir, King K, and Reign is gone. The single Heir is also gone. So is KyMajesty, which is the black x silver x blue Metal Matte that was supposedly going to be unavailable for a while.
The Glosses are all available as singles, but the neutrals bundle is sold out.
It's refreshing to see so many Kylie Lip Kits still available for purchase, after so many months of frustration when trying to shop them.
Hopefully, the drained stock will be replenished and fans can continue to shop whenever they feel like. For the longest time, you needed a serious game plan to successfully shop Kylie Cosmetics products, especially Lip Kits.
Images: Kylie Cosmetics/Instagram (2); Kylie Cosmetics (4)