The 'Ghostbusters' Post-Credits Scene Is So Spooky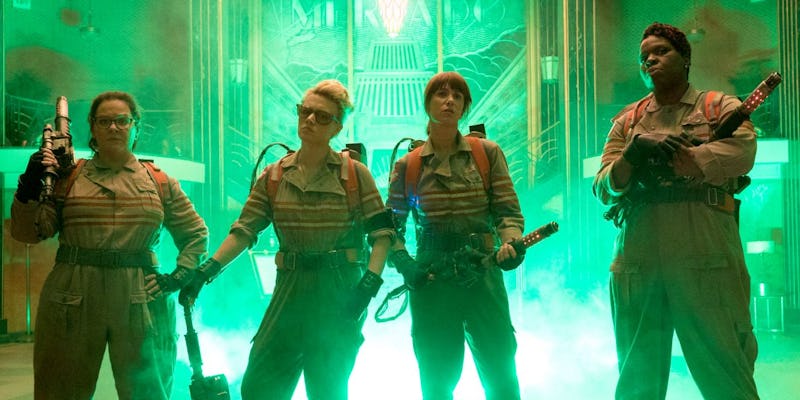 One of the most highly-anticipated movies of 2016 has finally arrived, and it is fantastic. The new Ghostbusters will thrill fans of the original and captivate newcomers alike, as it's full of sharp humor and action-packed scenes that are impossible not to enjoy. From the all-around great acting to the hilarious one-liners to the genuinely creepy ghosts, the Paul Feig-directed film is a total must-see, and, like many summer movies, it's one you should really stay until the end for. The Ghostbusters post-credits scene adds another fun element to an already great movie, and trust me, you're gonna want to stay in your seat to see it in theaters.
But be warned, only read on if you're ready for some serious spoilers. OK? Good. So the new Ghostbusters ends on a hilarious note, with funny photos of Chris Hemsworth's Kevin and short scenes featuring Melissa McCarthy's Abby getting Chinese food playing over the credits. But don't think that just because the names of the cast and crew are rolling that this Ghostbusters mid-credits sequence marks the actual end of the movie. There's also a real post-credits scene, not seen until, well, after the credits end. And believe me, it's a good one.
In this scene, set in the Ghostbusters' new headquarters, Patty (played by Leslie Jones) is seen listening to an EVP recording using one of Holtzmann's (Kate McKinnon) inventions, while the other two stand nearby. When Patty listens, she asks the others what the name Zuul means — a moniker that fans of the original Ghostbusters are already familiar with. In the 1984 movie, Zuul was the Gatekeeper who possessed the body of Dana (Sigourney Weaver) and caused major mayhem throughout the city.
So what does the shout-out mean? Is Feig hinting that Zuul will somehow be present in a future Ghostbusters movie and thus setting him up to be the Big Bad of the new franchise, or is he just having some fun by throwing it back to a character fans of the first movie will remember? It's unclear, but one thing's for certain: Ghostbusters definitely has the potential to be the first in a franchise full of hilarious, badass films.
Image: Columbia; Giphy