The New 'Ghostbusters' Theme Song Is So Different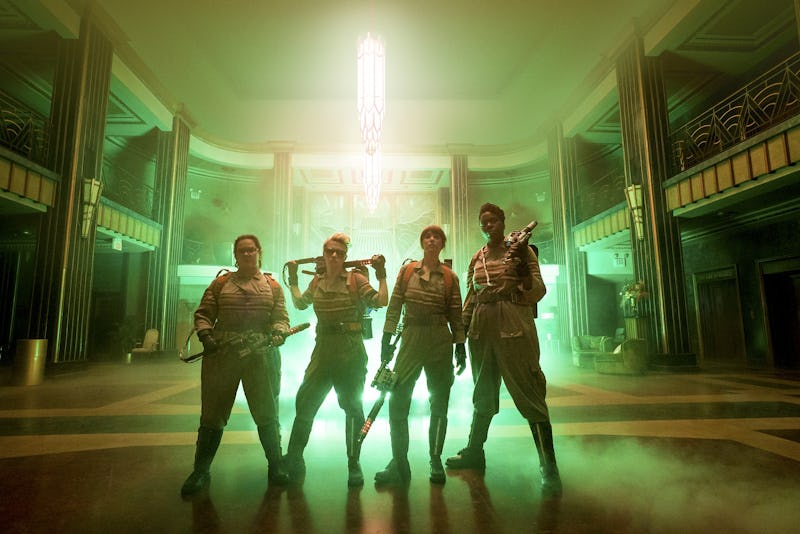 If you're anything like me, you're totally pumped for the Ghostbusters reboot. Kristen Wiig, Kate McKinnon, Melissa McCarthy, Leslie Jones... what could possibly make this movie better? I'll tell you what: a soundtrack featuring everyone from 5 Seconds of Summer to Passion Pit to DMX. But of all the songs on the new soundtrack, the one that has ostensibly received the most attention is the new Ghostbusters theme song by Fall Out Boy featuring Missy Elliot. If you're a FOB fan, or if you loved Ray Parker Jr.'s original version of the song, you might be wondering where to get the new Ghostbusters theme song. Thankfully, it's pretty easy.
Although the soundtrack itself has a July 15 release date, Fall Out Boy's theme song "Ghostbusters (I'm Not Afraid)" was released on June 23, and can be purchased as a single on both Amazon and iTunes. So that means you can rock out to the new theme before the movie is even released, and then you can catch up on the rest of the soundtrack once Ghostbusters hits theaters. Also, if you're content just to listen without downloading, you can hear the theme song on YouTube, as Fall Out Boy released the new track's audio exclusively on their Vevo channel.
More good news: in the event that you get tired of listening to FOB and Missy Elliot's revamp of the song, you'll soon have the option to listen to some other versions, too. When the original motion picture soundtrack is released on July 15, it will come with an additional three versions of the theme. Two are totally new renditions of the song — one from Walk the Moon and one from Pentatonix — while the other is none other than Ray Parker Jr,'s 1984 classic. So basically, no matter what your taste, there is something on the soundtrack for everyone.
If you want to dive even deeper in the world of the new Ghostbusters, you can also listen to the score when it it released on July 15. All of the music was written by Theodore Shapiro, who is known for his work on everything from 13 Going on 30 to Zoolander 2. The score will come with 21 original tracks that correspond to the narrative of the movie, so you can stay in the story long after you've left the theater.
With so many ways to listen to the new Ghostbusters theme song, it's hard not to get excited. So get busy listening to Fall Out Boy's "Ghostbusters (I'm Not Afraid)" now, and look forward to the other new versions of the theme song that will be here so very soon.
Images: Columbia Pictures (2)