'Bachelorette' Star Chase's Job Is So Intense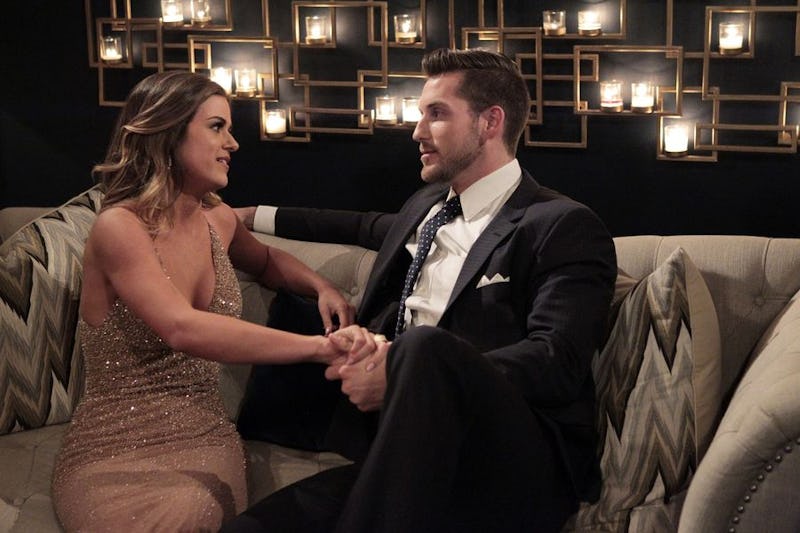 On The Bachelorette, the heat is on in the race to win JoJo's heart. Sure, Jordan Rodgers is the frontrunner in her quest for true love, but don't count the others guys out yet — there are still many roses to give out and Chase McNary has gotten his share so far. Outside of The Bachelorette, what is Chase McNary's job? According to his Bachelorette chryon, he's a "medical sales representative," but there's more to it than that. Chase's LinkedIn profile states that he is currently employed as a Territory Sales Representative for Zimmer Biomet Spine with Mountain States Medical.
What that means is that Chase is in charge of sales of spinal implants to orthopedic and neurosurgeons who do spine surgery, according to his LinkedIn profile. It sounds like he's not just in the business of sales, but also helping doctors save people's lives. That's a big job, but it seems like Chase is up to the challenge — he's been held the position for more than a year and went into medical sales in 2015 after working in several other sales positions. But can he sell JoJo on giving him yet another rose? Well, once she learns more about what his job is, that may be another mark in his column.
Training
In 2014, Chase completed a trauma and orthopedic reconstruction sales course at Medical Sales College in Littleton, Colorado, according to his LinkedIn profile. It's a job that doesn't require a medical degree, but does require the most training in the sales field, reported AOL.
Salary
According to MedReps.com, the average compensation for the medical sales rep is $145,147 annually. There is no official word on how much money Chase makes in his job.
Working With Doctors
His job description also includes two very important aspects on LinkedIn: "Bring expertise and value to the operating room in every way possible; Assist the Surgeon in instinctual decision making based on knowledge of product and circumstance." That's heavy stuff. According to AOL, medical sales reps sell directly to doctors or to hospitals. Sometimes medical sales reps even go into the operating room, according to Business Insider.
Relationship Building
It's no wonder Chase has made it this far on The Bachelorette — his job requires him to be a pro at building relationships. According to his job description on LinkedIn, he builds "strong relationships with management and associates to grow business." I'm sure this also includes doctors, as well as hospital administrators.
Time
Chase's training is in trauma and orthopedic reconstruction sales. According to AOL, trauma sales reps are on-call 24/7, just like doctors. "Medical device reps don't count their hours," Jerry Goodman, vice president of sales, orthopedics at Smith & Nephew, told AOL.
Know The Body
In any job, you need to know your stuff. And Chase needs to know sales as well as anatomy and physiology for this job, reported AOL.
So even if JoJo doesn't give Chase the final rose, it sounds like he has a pretty good career to head back home to do.
Image: Rick Rowell/ABC