Urban Decay's Moondust Palette Just Dropped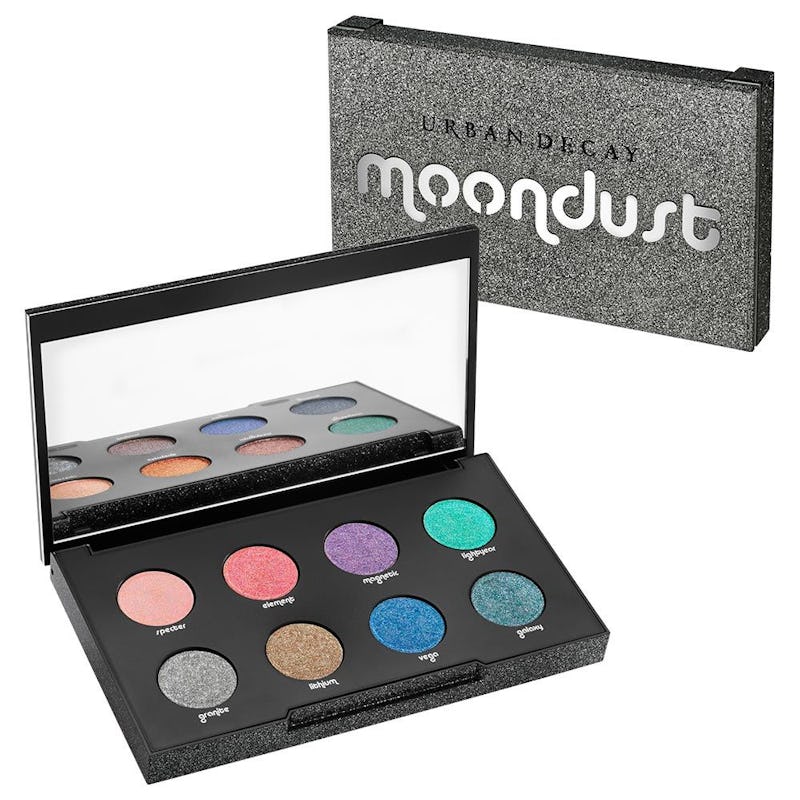 It's here! Urban Decay is known for its blockbuster palettes, from the Naked series to the recently reintroduced Naked Vault to the lived-up-to-its-hype Alice Through the Looking Glass edition. Yes, it's true that Urban Decay slays palettes. The Urban Decay Moondust Eyeshadow Palette is part of the brand's Fall 2016 collection and it landed on Sunday, July 10 via the brand's site. The palette houses eight super sparkly shades in one of the brand's most popular textures. It's the first-ever Moondust palette and it comes packaged in a shimmery and silvery gunmetal case. As for the eyeshadows, they are bright and bold, offering plenty of customized eye looks. Now that it has landed, is the Urban Decay Moondust palette sold out? Or can you still purchase the palette in all of its super-refined glittery goodness?
I have great news, Beauty Junkies and those of you with a passion for palettes, making you "palettistas!" The Moondust palette is still available for purchase on the Urban Decay site. The collection will set you back by $49.
The brand even noted in the product description that Beauty Junkies have been requesting a Moondust palette ever since UD launched this shadow texture. The brand certainly listens to customers and delivers.
The best thing about the Moondust texture is that the shadow has maaaj sparkle but it's sophisticated. No chunks of rave-like glitter here! Instead, you get a 3-D, metallic, diamond-like look. So yeah, the Moondust formula is grown up glitter.
Expect to hit pan on more than one shade in this sparkly palette.
Even the outer shell is a edgy and cool. It's always about the details with Urban Decay — both inside and out. Brand founder Wende Zomnir teased the palette earlier this summer and BOOM! It's here already. Not a moment too soon, either.
Images: Courtesy of Urban Decay (4)