15 Best Prime Day Sales On All Your Toiletries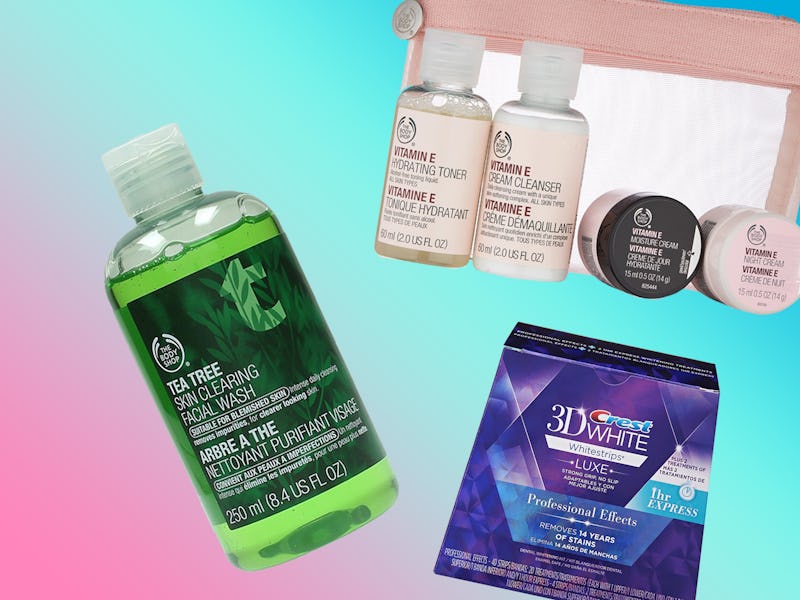 While buying makeup and hair products could be fun, spending good money on toiletries can be a little painful. Because of that, take advantage of today's Amazon Prime Day toiletries sales, where you can stock up on all the razors, toothbrushes, and lotions your heart desires for a fraction of the cost. No one really gets a zing out of putting down their credit card for a new razor or electric toothbrush, but sometimes you just have to go out and buy it — especially when they're part of the best Prime Day deals.
Hundreds of thousands of items are discounted across Amazon for today only for Prime members, beginning at 12 a.m. PST. And what could get you a little more jazzed over those tools is the knowledge that you're saving a ton of money on hair removal, face washes, and more while getting it. So don't miss out on Amazon Prime Day's toiletries sale today, where you can get lotion kits, body butters, and scrubs, clippers, and electric toothbrushes for a margin of the original price. In an effort to help you narrow down the choices, below are 15 great toiletries sales, ranging from oral care to skin repair. Happy shopping!
(Not a Prime member? Sign up here for a free 30-day trial!)
Save up to 35% off beauty and grooming products essentials, today only!
Oral-B Pro SmartSeries Electronic Toothbrush, $89.99 (Was $120), Amazon
This toothbrush rotates and pulsates to break up and remove up to 100 percent more plaque than a normal toothbrush. It has six modes: Daily Clean, Gum Care, Sensitive, Whitening, Deep Clean, and Tongue Cleaner, and it tracks habits over time, motivates with helpful oral care tips, and senses when you brush too hard.
Gillette Venus Silk-Expert Hair Removal System, $299 (Was $439.99), Amazon
Inspired by professional salons, the Venus Silk-Expert is clinically tested and offers permanent hair reduction. With continued use, it's supposed to stop unwanted hair reaching the skin, and it lets you treat a leg or arm in just eight quick minutes.
Crest 3D White Luxe Whitestrips Professional Effects 20 Treatments, $29.50 (Was $68), Amazon
Professional Effects is supposed to remove 14 years of teeth stains for a whiter smile, and 1-Hour Express removes years of stains in just 1 snappy hour. The latter is perfect to use if you have an occasion coming up and don't have a lot of time to mess around with bleaching.
The Body Shop Vitamin C Brightening Kit, $22.75 (Was $33), Amazon
Vitamin C helps restore radiance to tired, dry skin for a healthy looking, glowing complexion. This kit contains the Amazonian camu camu berry ingredient, which is known to have one of the highest contents of vitamin C in nature. It comes with the vitamin C daily moisturizer SPF-30, vitamin C skin boost, and vitamin C microdermabrasion sachets.
Waterpik Aquarius Water Flosser, $42.99 (Was $79), Amazon
An easier way to floss, this tool offers healthier gums and brighter teeth when you use it for just one minute every day.
The Body Shop Vitamin E Skin Care Starter Kit , $17.50 (Was $25), Amazon
According to The Body Shop, vitamin E helps protect your skin against environmental elements such as the sun, pollution, and cigarette smoke, keeping you safe and hydrated as you go about your day. This kit contains vitamin E cream cleanser (2 fl oz), vitamin E hydrating toner (2 fl oz), vitamin E moisture cream (.5 oz), and vitamin E nourishing night cream (.5 oz).
Wahl Groom Pro Total Body Grooming Kit, $19.49 (Was $24), Amazon
Do you have an undercut and don't want to hop into the salon every two weeks? Do you have a buzz cut that you could trim on your own? Or maybe don't want to bother with a razor when shaving? Then this could be a great choice for you. This body grooming kit comes with a variety of different attachments, and the high carbon steel blades stay sharper longer.
The Body Shop Tea Tree Skin Clearing Facial Wash , $8.40 (Was $12), Amazon
This face wash helps prevent blemishes and removes oil in a way that doesn't leave your skin over-dry. It contains lemon tea tree and tea tree oil, which helps fight blemishes, while the Tamanu oil helps to calm irritation and redness.
AHAVA Dead Sea Water Mineral Body Lotion (24 fl oz), $29.40 (Was $49), Amazon
This is a quick-drying lotion where the aloe vera extract soothes and provides natural moisture, and the witch hazel extract smooths and revitalizes skin.
Conair Men's Super I-Stubble Trimmer, $42.99 (Was $84.95), Amazon
The trimmer has an advanced ultra-flexing contouring head that makes it easy to move about the curves of your face or body. It's also 100 percent waterproof, which means it can be rinsed under the tap or taken into the shower.
The Body Shop Shea Butter Duo, $8 (Was $12.35), Amazon
This kit comes with one 50ml tub of shea body butter and one 50ml shea body scrub, as well as free bath gloves. This is just the thing to make your bath time extra pampering.
Panasonic Arc3 Electric Razor Men's 3-Blade Cordless, $69.99 (Was $93), Amazon
Fully waterproof and cordless, this razor lets you take it into the shower with minimal worries. It has three blades for extra-close shaves, and it has a built-in pop-up trimmer to trim and detail hair.
Remington Shortcut Clipper Pro Haircut Kit, Hair Clippers, Hair Trimmers, Clippers, $39.99 (Was $60), Amazon
It comes in an ergonomic design, where the clipper fits comfortably in your hand, letting you easily move it about your head and to tricky-to-reach-spots, like behind your ears and neck. It's also a nine piece kit, providing you with many length-adjusting combs.
AHAVA Dead Sea Mud Dermud Intensive Foot Cream (3.4 fl. oz.), $15.90 (Was $27), Amazon
Repair and hydrate your cracked, rough soles with the help of aloe vera and shea butter. This special blend of Dead Sea mud, minerals, and plant derivatives helps to moisturize and repair any scaly, damaged skin.
The Body Shop Seaweed Balancing Kit , $21.75 (Was $29), Amazon
Enriched with minerals, this kit includes seaweed deep cleansing facial wash, seaweed toner, seaweed mattifying day cream, seaweed clarifying night cream, and seaweed ionic clay mask.
And these are just 15 out of many products available on sale today! Get your card ready because these are some amazing deals - check them all out here!
Bustle may receive a portion of sales from products purchased from this article, which was created independently from Bustle's editorial and sales departments.
Images: Amazon (15)