11 Times Hello Kitty Influenced Fashion & Beauty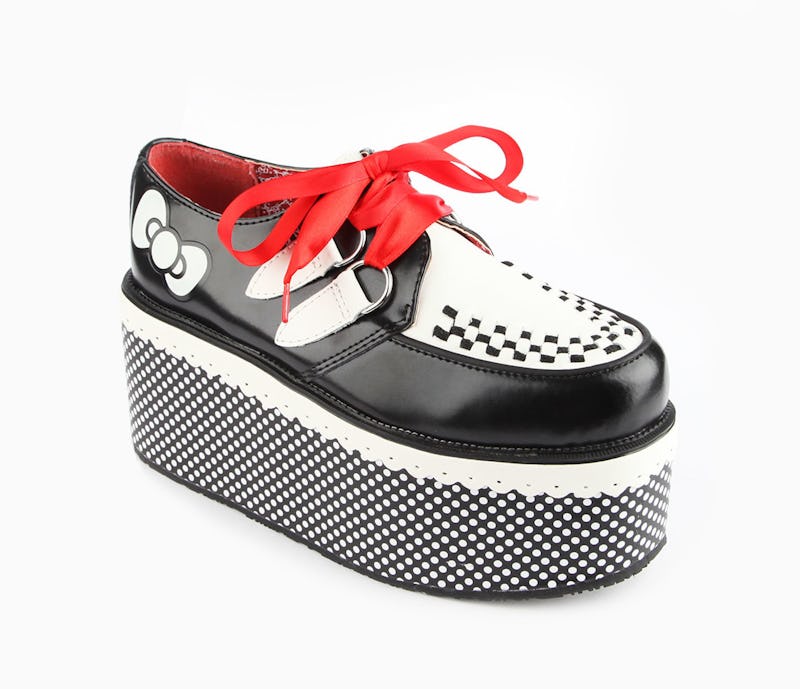 The Hello Kitty brand is a global phenomenon. Imagery centers around a seemingly minimalist drawing of a cat, but there's something undeniably adorable about this little kitty nontheless. So much so that Hello Kitty brand collaborations are announced on the regular from big brands and small companies alike. Hello Kitty was even a category on RuPaul's Drag Race during Season 7, when the participating drag queens had to create two looks based on everyone's favorite cartoon feline.
The impact of this cat has lasted for over 40 years and I feel confident in claiming that Hello Kitty is as iconic a figure as Mickey Mouse — but maybe that's just personal preference. Whether you love her or hate her, however, this kitty cat is here to stay. Both through the formidable Sanrio brand and in her lasting legacy on the worlds of fashion and beauty, she's been a hero to many.
Because of this, there are a plethora of different times and ways that Hello Kitty has influenced fashion, beauty, and style. From Spice Girl-esque platforms to traditional baseball caps, these are just a few of the most iconic instances — as well as my personal favorites — for Hello Kitty aficionados to appreciate.
1. Vans
One of the most iconic shoe brands ever met one of the most iconic characters in the world in the Vans x Hello Kitty collaboration circa 2014. Vans has worked on multiple collaborations with Hello Kitty, but these sneaks are definitely my favorites.
2. Nooka
In 2011, the watch brand Nooka collaborated with Hello Kitty, combining its minimalist designs with the most minimalist cartoon to create a simple but super cute watch. Unfortunately no longer available, it's still fair to say that the Hello Kitty x Nooka watches were totally adorable.
3. Major League Baseball Caps
Although the hat from the Los Angeles Dodgers and Hello Kitty collaboration in 2014 may not be available anymore, there's still an amazing amount of Hello Kitty baseball merchandise shop-able online for a variety of teams. This Hello Kitty collaboration in particular proves that you can literally make anything Hello Kitty-themed and it'll still be cute as hell.
4. O.P.I.
The O.P.I. x Hello Kitty collection launched in Dec. 2015 and left an impact as one of the cutest Hello Kitty collabs of all time. The line featured a heck of a lot of gorgeous pink tones as well as the three primary colors one would need to bring Hello Kitty nail art to life.
5. YRU
YRU x Little Twin Stars Qozmo Lo Star & Moon, $130, Sanrio
This collaboration is technically with Sanrio brand Little Twin Stars, but these bomb-ass platforms were a must to include on this list. Not only are they still available to purchase, but those cut-out soles make me scream every time I look at them. If you love kitsch, cutesy kicks and platforms, YRU is a brand you should know already.
6. MAC
Back in 2009 before I could afford MAC products and I pretty much only wore black eyeshadow and nothing else, Hello Kitty collaborated with MAC and cemented this cat's icon status in the world of beauty forever.
7. Yohji Yamamoto
Mar. 2015 saw the announcement of Yohji Yamamoto's Hello Kitty collaboration and the following Autumn/Winter '16 line failed to disappoint. It combined high fashion with the Hello Kitty motif in an entirely unique way.
7. Rosette
Rosette Hello Kitty Sweet Peach Wash, $12.99, Amazon
Beauty brand Rosette and Hello Kitty have a full range of Hello Kitty skincare products to allow this kitty into your life before you've even left the bathroom.
9. Jam Home Made
Japanese brand Jam Home Made collaborated with Hello Kitty in 2016 to create a line of jewelry that was as far removed from kawaii as Hello Kitty can possibly get. The gothic rings and necklaces proved that Hello Kitty is as versatile as she is adorable.
10. T.U.K.
Hello Kitty x T.U.K. Mondo Sole Creepers, $58, Sanrio
Clearly, Hello Kitty collaborations are popular with shoe brands. This one, however, is especially punk rock, as Hello Kitty-inspired T.U.K creepers are undeniably badass. In fact, if you're searching for any and all types of creepers, T.U.K is the best brand to check out, IMO.
11. Ju-Ju-Be
Be Prepared Diaper Bag, $188, Ju-Ju-Bee
It only makes sense for a mom-and-baby brand to collaborate with Hello Kitty because, as many of us tend to forget, Hello Kitty is meant to be for children. Although I'm far from having my own child, the Hello Kitty diaper bag is super cute and will definitely be bought as a present for one of my friends should they ever choose to bring life into this world.
Some of these brands may be of the past — or available used on eBay — but you should definitely consider investigating the collaborations still available. Not only are they super cute and consistently cool, but all Hello Kitty items are collectable and could possibly be sold for pension money someday.
Images: Courtesy Brands